Best reissues: design classics revitalised with brio
The Wallpaper* Design Awards 2022 celebrate three design reissues – from Cassina, Flos and UniFor. Plus, explore more midcentury designs reimagined for the future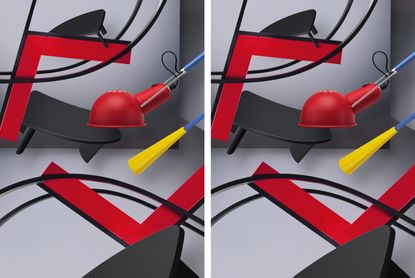 (Image credit: Pim Top)
We celebrate the best designs of the past, reissued for the future with modern technologies and sustainable updates. From Flos' rediscovery of a classic in a new chromatic composition, to UniFor's tribute to Aldo Rossi's perfect office, and Charlotte Perriand's own desk design, these are the best reissues from leading brands and design masters.
'Parigi' armchair by Aldo Rossi, for UniFor
At the end of the 1980s, Italian architect Aldo Rossi drafted his perfect office. The furniture collection of this ideal space included the 'Consiglio' table, 'Cartesio' bookcase and 'Museo' office chair, as well as the 'Parigi' armchair. The last featured a curiously slanted black aluminium frame supporting an apparently rigid bright red seat and backrest: made of polyurethane foam with a red finish, the seat is surprisingly soft. This design – now reissued by UniFor and winning a Wallpaper* Design Award 2022 – perfectly exemplifies Rossi's desire to think about the office as a domestic space, and to combine a furniture functionality with his architectural background. 'This is more or less my idea of design: to be able to translate fantastic, personal elements into rational, repeatable pieces, rather than one-of-a-kind creations,' wrote Rossi.
'Petit Bureau en Forme Libre' by Charlotte Perriand, reissued by Cassina
Part of Charlotte Perriand's freeform design experiments, Cassina's 'Petit Bureau en Forme Libre' was originally designed for her own Montparnasse studio. Perriand's pioneering design approach is evident in the curved forms of the home office desk, allowing users to approach the piece according to their needs and allowing flexibility of use. An innovative design when it was first conceived in 1952, the desk remains a marvel of furniture design to this day. Made of solid Canaletto Walnut and also available in black, Perriand's design was discreetly updated with an optional compartment for sockets and cables, combining its modern form with an added functionality, and winning a Wallpaper* Design Award 2022 in the process.
'265 Chromatica' by Paolo Rizzatto, for Flos
Designed by Paolo Rizzatto for Flos in 1973, the '265' was the Italian architect's first foray into lighting design. Though produced in black and white, the lamp was based on colour-coded original drawings – blue for the moving arm, yellow for the counterweight and red for the half-spherical lampshade. 'Light is what allows our eyes to distinguish colour, so using colour to define the design of a light seemed like a natural progression of the concept,' says Rizzatto. When presenting '265', Rizzatto used colour to easily explain the lamp's mechanics: 'I am an architect, my first approach to light was based on its function within architecture,' he explains. Set in Rizzatto's primary colours, the new '265 Chromatica' celebrates the architect's thinking, and wins a Wallpaper* Design Award 2022.
More reissues from our archives'
'Butaque' chair by Clara Porset
Celebrating the Mexican vernacular, Luteca has reissued the work of Cuban-born designer Clara Porset. Living and working in Mexico since the 1930s, Porset worked closely with Luis Barragán and created some of the most iconic Mexican furniture of the 20th century. 'Clara Porset persists in the search for her own design, a design that reflects the cultural and social conditions of Mexico with the intention of turning it into a national design,' said Mexican curator Ana Elena Mallet. Her best known piece was her reinterpretation of the classic Latin American 'Butaque' (which she designed in the 1940s), a traditional chair merging Spanish colonial forms and pre-Colombian ritualistic seats. Luteca collaborated with the National Autonomous University of Mexico to recreate Porset's original design.
'Pavilion' and 'Exposior' collections by Paul McCobb
CB2 has acquired some pieces by American designer Paul McCobb, with collections of indoor and outdoor furniture as well as lighting now available through the American furniture company. McCobb's 1952 'Pavilion' collection of outdoor chairs and tables features delicate iron frames, class elements and upholstered seats (in Sunbrella fabrics), while the 'Exposior' lighting range, designed in 1951, is defined by timeless compositions and details in brass, wood and travertine. FORM Portfolios, the company preserving Paul McCobb's legacy, worked closely on the collection. Managing director Mark Masiello described the partnership as 'an authentic extension of Paul McCobb's vision, also honouring his legacy by creating a collection that is attainable for those who appreciate and seek good design'.
'Camaleonda' sofa by Mario Bellini
It may be 50 years since Mario Bellini designed the 'Camaleonda', yet this modular sofa looks utterly contemporary, and now B&B Italia is reissuing it with a sustainable spin. Keeping the aesthetic of the 1970 original, the company redeveloped the sofa from the inside. Made of FSC (Forest Stewardship Council) certified beech wood and recyclable materials, the inner structure is easy to take apart at the end of the sofa's life, while the feet are made of recycled wood. Ever reconfigurable, the sofa is, of all Bellini's pieces, 'perhaps the one that better represents a sense of freedom', he says.
Tables by Marcel Breuer
Very Good & Proper and Isokon Plus have reissued two tables by Bauhaus designer Marcel Breuer. The paths of the two companies merged last year when VG&P founder Ed Carpenter acquired the iconic brand whose archive includes designs by Marcel Breuer, Ernest Race and Barber Osgerby. 'We shared the same ethos,' observes Carpenter, who has since been working closely with Isokon Plus director Mark Smith and his team. The two companies' values align neatly: both believe in creating sustainable furniture, create high-quality, long-lasting products and support an ethical use of materials. 'One of the great things about joining forces with Mark and Isokon were the archives,' says Carpenter. Earlier this year, Carpenter and Smith came across some blueprints for a pair of pedestal tables, originally designed by Marcel Breuer in 1937. One was made at the Bauhaus, the other was never produced. The duo devised a way to bring the designs back to life using a more energy efficient and environmentally conscious process but still keeping the original features intact. The tables' designs were largely experimental, but their new editions leverage the same technologies as nine decades ago, when they were initially conceived. 'There is an intrinsic value to the modernist community,' says Smith. 'An honesty to the materials that we both love.'
'Duc-Duc' sofa by Mario Bellini
Mario Bellini first designed the 'Duc' sofa in 1976, a piece that reflected the free design spirit that was emerging at the time. That same year, Bellini drafted a modular furniture range called 'The Book of Furniture' for Cassina, an investigation into the language of living and its archetypes. Bellini had worked closely with the Italian design brand's R&D department on experiments that resulted in the sofa's first iteration, leveraging sophisticated technologies and materials to achieve its simple form. The new 'Duc-Duc' remains faithful to Bellini's original design, with updated measurements and details redeveloped for added comfort. The project was led by Cassina LAB, a new research arm of the company, in collaboration with Poli.Design at Milan's Politecnico. The result features a rigid panelled frame encased in polyurethane foam and wrapped in a 100 per cent recycled fibre made of PET recovered from the sea.
'Menhir' tables by Giotto Stoppino
Since 1870, Italian furniture company Acerbis has played a pioneering role in the development of the Italian furniture industry. has played a quietly pivotal role in Italian design, collaborating with a number of high-profile artists and designers. It was one of the first Italian companies to work with Japanese designers, adding metallic inserts and new materials to the wood of northern Italy's Val Seriana. Acerbis was recently relaunched following acquisition by the MDF Italia group, and with a new creative direction by industrial designer Francesco Meda and Milan-based Spanish architect David Lopez Quincoces. The pair have been operating a quiet revolution of the company, bringing back to life iconic midcentury designs by the likes of Nanda Vigo, Gianfranco Frattini and Giotto Stoppino whose 'Menhir' tables (pictured above) were created together with company founder Lodovico Acerbis and feature a totemic composition of colourful marble modules.
'Arkade' chair by Nanna Ditzel
Danish furniture brand Brdr Krüger revisited a previously chair design by Nanna Ditzel. The 'Arkade' chair was originally designed in 1983 during a decade-long collaboration between the company and the late Danish designer. Ditzel's commitment to traditional craftsmanship, new materials and novel techniques made her a perfect match with the furniture brand, originally founded as a woodturning workshop in 1886 and devoted to reinterpreting midcentury Danish design for a contemporary audience. Ditzel's fondness for soft shapes and circular forms are expressed through her signature postmodern, elegant geometries in works like her 'Hanging Egg' chair design, and the combination of materials and techniques in the 'Arkade' chair (woodturning, steam-bent wood, metal and upholstery) articulate the designer's love for decoration and colour. The chair is available in Kvadrat's 'Hallingdal' fabric, originally designed by Ditzel in 1965, but the material can be modified with different finishes to allow for customisation.
'Kyoto' table by Gianfranco Frattini
Gianfranco Frattini was a key figure in the development of modern Italian design who believed in the postwar reconstruction of the country, moving seamlessly between scales, from jewellery to buildings. Active during a pivotal shift in Italian furniture manufacturing, from the painstakingly handmade to the factory-made, he collaborated with the industrial entrepreneurs of the time. But it is his relationship with craftsman Pierluigi Ghianda that resulted in some of the most memorable designs of his career, such as the 'Kyoto' table, which has now been given a new lease of life by Poltrona Frau. The table was first produced in 1974, following a trip to Japan and the discovery of century-old techniques that, Frattini and Ghianda observed, were very similar to the ones used in Northern Italy. 'It was made of structural joints that adapt to the material: a pure expression of rationalism at the highest level', says Frattini's daughter, architect Emanuela Frattini Magnusson. The table has an interlocking structure with a grid surface composed of 1,681 squares. Wooden elements dovetail into each other to create a self-supporting composition, while the legs slot into the table top, and are moveable to change the table's configuration. Along the edge of the table, smaller, darker-wooden inserts create what could look like a decorative motif, but, Frattini Magnusson says, they are a functional trick, placed to strengthen the sides. 'There is no decoration; the structure becomes the object'.
'Prunier' tableware by Le Corbusier
Cassina and Ginori 1735 have joined forces to present the 'Prunier', a dinner service by Le Corbusier. The ultimate modernist table setting, it was originally created for London's Prunier restaurant in 1961, and inspired by a tapestry created by the architect ten years prior. As the legend goes, Le Corbusier himself used these plates, which in his view successfully merged quality and taste – 'the taste of shape'. The stylised motifs have been hand-applied on shiny enamelled white porcelain, faithfully recreating the architect's original pieces.
'Diabolo' by Achille Castiglioni
Achille Castiglioni's last lighting design for Flos is back. Working closely with the Fondazione Achille Castiglioni, the Italian lighting brand has been recreating some of the Italian designer's most iconic lights and now the 'Diabolo' lamp makes a comeback for the first time after a decade. Originally designed by Castiglioni for Flos in 1998, the totemic double cone design will now be reissued in three sophisticated new shades; white, beaver brown and cherry red. The height-adjustable pendant lamp takes its name from a traditional Chinese toy, whose shapes it discreetly references through Castiglioni's minimal design touch.
Rosa Bertoli was born in Udine, Italy, and now lives in London. Since 2014, she has been the Design Editor of Wallpaper*, where she oversees design content for the print and online editions, as well as special editorial projects. Through her role at Wallpaper*, she has written extensively about all areas of design. Rosa has been speaker and moderator for various design talks and conferences including London Craft Week, Maison & Objet, The Italian Cultural Institute (London), Clippings, Zaha Hadid Design, Kartell and Frieze Art Fair. Rosa has been on judging panels for the Chart Architecture Award, the Dutch Design Awards and the DesignGuild Marks. She has written for numerous English and Italian language publications, and worked as a content and communication consultant for fashion and design brands.