Berluti delivers colour and care to revive Pierre Jeanneret's Chandigarh furniture
For this year's Design Miami, Kris Van Assche partners with François Laffanour to present a collection of Pierre Jeanneret furniture pieces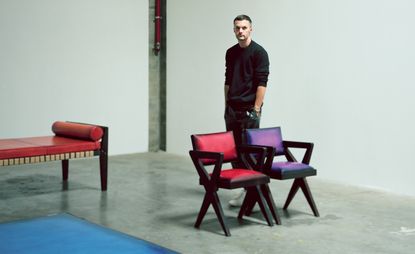 (Image credit: François Coquerel )
For this year's Design Miami fair, Kris Van Assche, creative director of the luxury leather brand Berluti, and François Laffanour, founder of Paris' Laffanour Galerie Downtown, have joined forces to present a collection of original Pierre Jeanneret furniture pieces, restored by Laffanour and upholstered with Berluti's emblematic Venezia leather.

The series consists of 17 pieces, all created by the Swiss architect in the 1950s to furnish the administrative buildings of Chandigarh's Capitol Complex, the vast compound masterplanned by his cousin and long-term collaborator Le Corbusier.

Included are a 'Base Building' desk, an 'Easy' armchair, a pair of 'Cinéma' armchairs, a 'Judge' armchair, a folding screen and a writing chair. The furniture is a reflection of Jeanneret's ethos: solidly constructed, designed along rudimentary principles, and capitalising on the skills of local craftsmen and regional materials. Made in solid teak, the chairs are recognisable by their V-, U- and X-shaped legs, and originally featured seats in finishes including rattan, leather and vinyl.
As is typical with pieces of this pedigree, the hardwood has outlived the 1950s upholstery. The furniture has been restored by Laffanour to conservation standards, but with the patina of its framework intact; 
holes and marks are left unfilled to celebrate its origins, use and age. Meanwhile, elements such as panels and cushions have been given a new lease of life with leather in various hues.

Le Corbusier was commissioned by India's first prime minister, Jawaharlal Nehru, to head up the Chandigarh project in 1951. The planned city was one of the newly independent country's flagship projects, and Le Corbusier's largest, most ambitious creation: the very model of modernism.

Jeanneret, who had already built a solid career as a furniture designer thanks to the tubular chrome pieces he created with Le Corbusier and Charlotte Perriand in the late 1920s, was tasked with designing all the furniture for Chandigarh's government buildings, as well as supervising their construction. When Le Corbusier left the project midway, Jeanneret became chief architect, living in Chandigarh for 15 years.

The Capitol Complex was selected by Van Assche as a location for Berluti's A/W19 digital campaign, photographed by Ronan Gallagher this spring. The colours Van Assche came across there, alongside the two colour systems Le Corbusier created in 1931 and 1959, became a starting point for the palate of the restored Jeanneret furniture collection.
Pairs of seats, such as the 'Cinéma' armchairs, have been mismatched, one in Sukhna Sunset purple and the other in Simal red, while the folding screen features two shades of blue,
in a chequerboard pattern. The only piece upholstered in Berluti's classic, brown-hued Tobacco leather is the writing chair – where there was already bold colour in the frame. Although constructed in teak, the chair was later painted blue, to identify its use for the university in Chandigarh. For Laffanour, this was an important historical intervention that should be left visible.

The task of upholstering the chairs was entrusted to Domeau & Pérès, the Paris-based upholstery and leather workshop founded 25 years ago by Bruno Domeau and Philippe Pérès, both 'crazy about Jeanneret', notes Van Assche. They came up with the idea of using magnetic fixings so as not to compromise the integrity of some of the originals. As per Berluti tradition, they used specially tanned leather from calves raised in northern France.
A patina was hand-applied in their workshop, enhancing the look of the pieces and emphasising the curves of their padding. Van Assche and Laffanour's friendship is built on a shared passion for 20th-century design; Van Assche is a keen collector of Jeanneret and a fan of Jean Prouvé, so much so that his 2018 debut collection as creative director of Berluti was shown at Paris' Place de la Concorde, inside Prouvé's 1958 prefab classroom for the Institut Fénélon high school in Clermont-Ferrand, which had been restored by Laffanour Galerie Downtown.

Wallpaper* photographed Van Assche with some of his favourite pieces from the restored furniture collection. He already owns a pair of Jeanneret's 'Cinéma' armchairs, one in black, one in red (bought previously from Laffanour Galerie Downtown), and has a soft spot for the daybed – 'an ideal think bed' – and the 'Judge' armchair, both of which would fit seamlessly into the new office he is furnishing at Berluti's Paris HQ.
As originally featured in the December 2019 issue of Wallpaper* (W*249)
INFORMATION
See the collection from 2-8 December at Berluti during Design Miami
berluti.com galeriedowntown.com
ADDRESS
152 NE 41st Street
Unit PP123
Miami
VIEW GOOGLE MAPS (opens in new tab)