Peep inside Luca Nichetto's Pink Villa in Stockholm, part studio, part showroom
Welcome to the pink house that is the new Stockholm home to Luca Nichetto's team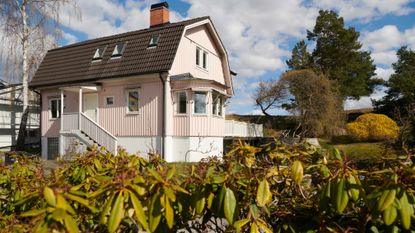 (Image credit: Courtesy Luca Nichetto)
Studio Nichetto, the eponymous design studio founded by renowned Italian designer Luca Nichetto, has recently opened the doors of its new headquarters in Stockholm, Sweden. Dubbed the 'Pink Villa', this charming bubble-gum pink house from the 1930s is nestled in the heart of nature, just a seven-minute stroll from the waterfront and a stone's throw from the nearest green space. The house was acquired in 2021 and underwent a complete renovation, which saw the old floorplan discarded in favour of a new spatial concept.
Luca Nichetto's new HQ: between a showroom and a home
The decision to create a headquarters that seamlessly blends the ideas of a showroom and a home was not solely influenced by the Covid-19 pandemic but rather by a growing trend among designers and firms to prioritise comfort and a sense of home in the workplace.
Nichetto explains, 'Even if the decision of having a studio that combines the ideas of a showroom and the one of a home was not taken because of the lockdown, for sure there is a thought of combining home comfort with a workplace. It's what more and more companies are doing, and I didn't want to be left behind, of course!'

Nichetto's vision for the Pink Villa was to create an environment that welcomes and comforts everyone who enters, from his team to guests and even his family. He hopes the Pink Villa will be a safe zone where ideas, opinions, and doubts can be expressed freely. 'I wanted to create an environment where my team, my guests and my family (on the weekend) could feel welcomed and relaxed. I want everyone to feel in a safe zone where it's possible to express ideas, opinions, doubts with freedom, without feeling any sort of pressure.'
The Pink Villa is a reflection of Nichetto's design philosophy, which emphasises the importance of creating spaces that are not only aesthetically pleasing but also functional and welcoming, these are relevant points for him. It stands as a testament to his passion for design and his commitment to creating interiors that inspire and uplift. The Pink Villa is more than just a headquarters; it's a home away from home for everyone at Studio Nichetto, where the pink walls echo its inspiration and creativity, and at the same time are able to pass a sense of calm and a positive mood.
nichettostudio.com (opens in new tab)
Maria Cristina Didero is an independent design curator, consultant and author, who has contributed to many publications over the years; she is currently Milan editor of Wallpaper* . Didero has consulted for companies such as Vitra, Fritz Hansen, Lexus, Fendi, Louis Vuitton, Valextra among others. Based in Milan, she works internationally, curating exhibitions for institutions: some of her most recent projects include Nendo: The Space in Between and The Conversation Show at the Holon Design Museum, Israel; FUN HOUSE by Snarkitecture at National Building Museum, Washington D.C.; SuperDesign a project about Italian radical design, NY; Vegan Design, or the Art of Reduction by Erez Nevi and The Fish and The Crowd by Carlo Massoud, Milan. In April 2022 she curated a Mathieu Lehanneur exhibition at the Triennale in Milan called The Inventory of Life, while in July she debuted a project at the MK&G in Hamburg titled Ask Me if I Believe in the Future, alongside a series of ongoing collaborations. She was appointed 2022 Curatorial Director of Design Miami/. She is currently preparing two projects for Milan Design Week 2023.