Alexander Lervik's 'Hemvist' wooden furniture was crafted using a technique for making stairs
Stockholm Design Week 2023: Alexander Lervik and wooden stair manufacturer Drömtrappor present a new collection of furniture at his recently opened design gallery, Unikat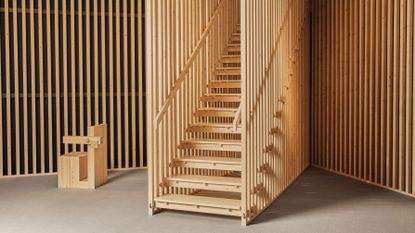 (Image credit: Courtesy Unikat)
For Stockholm Design Week 2023, Swedish designer Alexander Lervik launches his latest collection, 'Hemvist', with historic wooden stair manufacturer Drömtrappor at his newly opened design gallery, Unikat.
The 'Hemvist' collection originates from the recent collaboration between the designer and the brand, which was launched simultaneously in the gallery and at the Stockholm Furniture Fair. Using leftover wood from stair manufacturing, Lervik created a limited-edition series of tables, benches and chairs. Though it's not only the materials the two projects have in common.
The furniture was produced by employing the same technique of mortise and tenon joints – which allow the user to easily replace individual steps when they wear out – as are used for the stairs, creating what he describes as a 'pegs and wedges' system that connects the various elements. For example, in the chair, the rounded peg is slotted into the side of the backrest and visibly supports the blocky armrest. As part of the table, meanwhile, the peg sits recessed in the wooden leg. Lervik then stained the wood in shades of red, yellow, and black or left the wood's natural grain.
Founded in the village of Norsjö in northern Sweden in 1923, Drömtrappor has been producing wooden staircases ever since. 'I remember the first time I visited the factory; it is the only time in my 25 years in the furniture industry that I got goosebumps from seeing how the production is done,' recalls Lervik of his first encounter with the brand. 'In front of me, furniture craftsmen worked with materials that mostly come from the nearby forests. It couldn't be more sustainable.'
Though trained as a cabinetmaker, Lervik's recent projects have explored a more conceptual approach to materials. His 'Fragile' collection, for instance, paired roughly hewn granite blocks with transparent coloured glass. However, this collection with Drömtrappor allowed the designer to fully embrace sustainability and craft.
With the Unikat gallery, which opened in December 2022 in Stockholm's Södermalm district, Lervik wanted to 'create a smaller platform to investigate the borderland between art and design', he says. 'To show more experimental objects and develop as a designer, but also to approach the industry as I think it will look in the future.'
unikatgallery.com (opens in new tab)
Laura May Todd is a Canadian-born, Milan-based journalist covering design, architecture and style. In addition to the Italian dispatches she writes for Wallpaper*, she regularly contributes to a range of international publications, including T: The New York Times Style Magazine, Architectural Digest, Elle Decor, Azure and Sight Unseen. Prior to her work as a journalist, she was assistant editor at London-based publishing house Phaidon Press.