Stockholm Design Week reframes Swedish heritage, sustainability and village life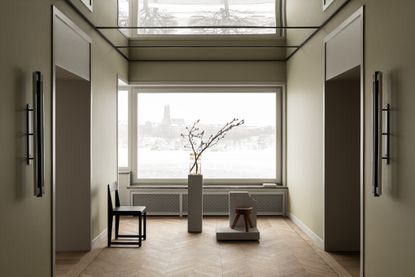 (Image credit: Frama and Andreas Martin-Löf Arkitekter)
Wallpaper* Newsletter
Receive our daily digest of inspiration, escapism and design stories from around the world direct to your inbox
Thank you for signing up to Wallpaper. You will receive a verification email shortly.
There was a problem. Please refresh the page and try again.
It was an extra snowy edition of Stockholm Furniture Fair (5-9 February) this year. The anchor event to Stockholm Design Week (4-10 February) saw many displays capturing the essence of Nordic heritage; there was sustainable furniture made from nature, sub-zero landscapes reimagined and a 19th-century Crispbread factory. All of this plus artful collaborations and experiments to explore in the icy city, from interiors cave Svenskttenn and the recently refurbished Nationalmuseum, to private homes tucked away in the Södermalm district to Kungsholmstorg and beyond…

'Rope Rug' by Pauline Deltour for Hem
French designer Pauline Deltour experimented with 25 different methods of braiding before she arrived at the final design of the 'Rope Rug'. The three distinct designs in four modern tones (terracotta, seaweed, salt & pepper and night blue) hone in on traditional crafts. Working together with manufacturers in India, and utlising their meticulous dying techniques, Hem have produced these intricately woven rugs that have a rustic, yet contemporary aesthetic.

'Snowtopped' by Note Design Studio for Tarkett
The 'Snowtopped' installation is a pleasant surprise for anyone who thinks flooring is simply functional. Tarkett's homogeneous and sustainable vinyl flooring, that has been in production since 1940, was used to recreate the Nordic landscape. Stockholm-based Note Design Studio realised layers of snowdrifts and dunes using the flooring to show its limitless possibilities – 'we wanted to create a space where the versatility and flexibility of the material is accentuated in an unexpected way,' says Charlotte Ackemar from Note Design Studio.

4-8 February; Stockholm Under Stjärnorna, Hotel At Six, Brunkebergstorg 2

'Spatial Sensibilities' by Frama and Andreas Martin-Löf Arkitekter
In a peaceful merging of architecture and design, Copenhagen-based design studio Frama presented its latest wares. Located at a newly renovated space that houses the office of architecture practice Andreas Martin-Löf, the exhibition was an idyllic escape from the bustle of design week. Frama's muted tones and minimalist lines were highlighted by the naturally lit space inside the modernist building that overlooked Riddarfjarden waterway in Kungsholmstorg.
'The Unfolding Village' by Neri + Hu
As this year's guest of honour at Stockholm Furniture Fair, the Chinese duo Neri & Hu address the issue of disappearing village culture with a site-specific installation. Their vision is inspired by the 'alleyways and street life of clan-based villages,' and the structure, made from local timber, folds and unfolds to reveal Neri + Hu-designed furniture hidden inside.

7-9 February; Stockholmsmässan, Älvsjö, Stockholm

'The Baker's House' by Färg & Blanche
A Swedish townhouse from the 1800s opened up for this exhibition, the former home of the great-great-grandfather of French-born Emma Marga Blanche (one half of design duo Färg & Blanche). The 'personal exhibition' showcased new designs that allude to the Blanche family Knäckebröd (Crispbread) factory they once had, and includes contributions from brands like Petite Friture (pictured) and Gärsnäs.

4-9 February; Bondegatan 21 A, Södermalm, Stockholm

Sight Unseen for Kasthall
The Swedish brand showcased the boundless possibilities of its new version of the Rug Designer tool in this collaboration with New York-based publication Sight Unseen. The vibrant and graphic designs reveal the bespoke quality of the digital service, which guides you through the making of a rug, proving non-designers can use it too. 'I think the tool is all about experimentation. You really have to get in there and start working with it to understand its capabilities and figure out which direction you want to go in,' explains Monica Khemsurov, co-founder of Sight Unseen. 'We were subconsciously inspired by the trompe l'oeil geometric patterns you often see on building facades in Milan.'

David Chipperfield for Wästberg
The product design world of British architect David Chipperfield came together at this exhibition. Designs for Alessi and e15 sat alongside fresh iterations of his sleek 'w102' lamp for Swedish brand Wästberg. Originally launched in brass, they are now offering a black steel finish, plus wall and floor configurations.
5-6 February; Gröna gången 1,111 49 Stockholm

'Sie Wohnen Hier' by Bukowskis x Magniberg
Contemporary art and design from auction house Bukowskis was juxtaposed with the textiles of Magniberg for this abstract showcase. Oriental porcelain and cubist furniture got paired with layered prints, textured surfaces and more in artful compositions that form a fascinating dialogue. Magniberg's ambition with the installation was clear: to inspire and encourage design-led curiosity.
5-9 February; Bukowskis, Berzelii Park 1, Stockholm

's-1500' by Snøhetta for NCP
Made out of fish farming plastic waste such as nets, ropes and pipes, Snøhetta remake this classic 'R-48' chair by midcentury modernist Bendt Winge. On view at the fair, the chair was produced for Nordic Comfort Products (NCP) and exudes the craft and material heritage of northern Norway. Snøhetta's stand at the fair dissected the chair to display materials used, telling a story of sustainability that aimed to inspire companies to consciously rethink and repurpose.

7-9 February; Stockholmsmässan, Älvsjö, Stockholm
Portal Bar by Claesson Koivisto Rune
Portal Bar in St. Eriksplan, created by Swedish architecture and design firm Claesson Koivisto Rune, officially opened its doors during Stockholm Design Week. The space, which hosted plenty of events during the fair, was a hotspot with Maurizio Stocchetto, owner and bartender of Milan's Bar Basso in situ mixing the cocktails. Portal Bar is owned by leading Swedish chef Klas Lindberg and neighbours his Portal Restaurant. Interiors include murals by artist Jesper Waldensten, custom-designed lighting by Wästberg and furniture by Swedese.
5-9 February; St Eriksplan 1, Stockholm

Acoustic Pulp by Baux
These new acoustic tiles by Baux are made up of Swedish fir and pine trees, water, wheat bran, potato starch, plant wax and fruit peels. The new material is the result of years of research, and was originally developed as a bio-based material in the coffin industry. Boasting recyclable, lightweight, durable and sound absorbing, the revolutionary new tiles are a true ode to nature with its biodegradable form and geometric patterns that derive organically from the amount of wheat used in the mixture. True food for thought.
INFORMATION
Stockholm Furniture Fair is on view 7-9 February. For more information, visit the website
Receive our daily digest of inspiration, escapism and design stories from around the world direct to your inbox