Norwegian design brand Northern debuts at Stockholm Furniture Fair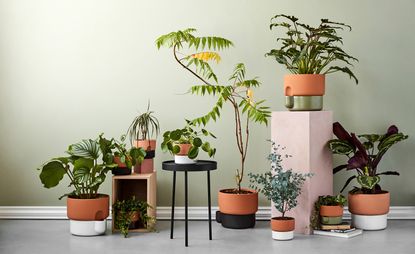 (Image credit: Chris Tonnesen)
'Denmark and Sweden have made their design industries integral to their national economies. Now it's time for Norway to do the same,' says Ove Rogne, founder of Northern. As one of the most exciting new launches at this year's Stockholm Furniture Fair, Northern may be Norwegian in origin but it's international in outlook and ambition.

The debut collection consists of 24 pieces made by 16 'established designers and up and-coming rookies' from seven countries. Some, such as the table top 'Ballet' sculptures by Bergen-based Vera & Kyte have a niche appeal, while the 'Hifive' storage unit by Norwegian designer Rudi Wulff and the 'Loud' drinks cabinet by Swedish duo Färg & Blanche, are just the sort of items you didn't know you needed until you saw them. Maybe it's the Ikea effect, but producing affordable, aesthetically pleasing pieces that tick all the boxes is something Scandinavian furniture brands are very good at.
The idea for Northern was born in 2011 when Rogne bought a table lamp from Morten Skjærpe Knarrum and Jonas Norheim, two of Norway's top design talents. He added it to the selection of contemporary lights and reissues of mid-century Norwegian classics that he was selling through his showroom, Northern Lighting. 'Since 2005 we had been pushing the boundaries of shape, form and materials in our lights so far that furniture and accessories felt like a natural next step,' he says. With Morten & Jonas on board as creative directors, he developed Northern Lighting into a full-blown lifestyle brand.

'There are definitely pieces in the collection that will have mass appeal,' says Jonas, 'and others that may become sleeper hits. It's exciting to see how designers of different nationalities have interpreted the Nordic tradition, which has its strength in natural materials, craftsmanship and functionality.' The plan is to expand and spread the network still further. Adds Ove: 'Norway has an exciting heritage of post-war designs that deserve recognition, so maybe one day we will revisit our design history, but now our focus is on the contemporary.'
INFORMATION
For more information, visit the Northern website (opens in new tab)
Emma O'Kelly is a contributing editor at Wallpaper*. She joined the magazine on issue 4 as news editor and since since then has worked in full and part time roles across many editorial departments. She is a freelance journalist based in London and works for a range of titles from Condé Nast Traveller to The Telegraph. She is currently working on a book about Scandinavian sauna culture and is renovating a mid century house in the Italian Lakes.