Swedish brand Magniberg offers a tailored wardrobe of contrasting bed linen looks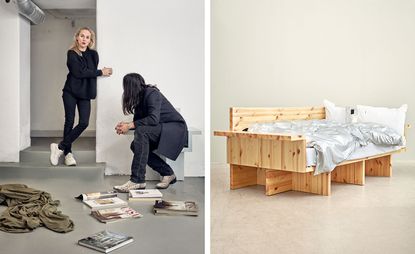 (Image credit: Andreas Johansson)
The studio of design brand Magniberg is housed in a former crystal factory in central Stockholm. Here, the brand's bed linens – in contrasting materials such as sateen, mesh, poplin, lace, washed jersey and silk, with buttons in mother of pearl – sit next to granite-topped tables and pinewood chairs, and stools named 'Pony' and 'Horse'. The brand was founded by Bengt Thornefors, a former fashion designer, and Nina Norgren, a former florist and graphic designer. The pair share a distinctively minimalist aesthetic, partly formed while living in Berlin in the early Noughties.

Thornefor's CV includes stretches at fashion labels such as Saint Laurent in Paris and LA, Kostas Murkudis in Berlin, and Acne Studios in Stockholm. 'After nine inspiring years at Acne, I was done,' he says. 'I wanted to find a new platform, another type of medium.' He and Norgren spent five years shaping Magniberg ahead of its launch in 2016, while spending his days at Saint Laurent. 'I was the crazy guy making bed linen; it probably helped me get the job.'

Just like their heroes Robert Mapplethorpe, Wolfgang Tillmans, Bram Bogart and Bettina Rheims, whose imagery is pinned to the studio's mood board, Thornefors and Norgren love the intersection of the feminine and the conservative. 'We're constantly looking for the beauty of things, regardless of gender norms,' Norgren says. 'While Bengt loves his pink dress, I'm the one who buys male fashion.' This nonconformist philosophy runs throughout the brand, from the product and campaign shoots (which include a luxurious bedtime story shot on a cruise ship), to the mix of fabrics and styles. The 'Raw' collection, for instance, is made from the finest Egyptian cotton and has unfinished edges that are meant to fray.

'We didn't want to exclude fabrics. Instead we combine them – think washed army green jersey contrasted with pink silk, or white poplin with metallic silver. It's like matching a pair of tailored suit trousers with your favourite T-shirt. It's about finding a balance. We don't sell sets, but rather different textiles that elevate each other. That contrast is luxury to us; we offer a wardrobe,' says Thornefors. Magniberg is also creating a collection of bedding together with Swedish fashion brand Our Legacy, which promises high-end shirt fabrics, sharp silhouettes and buttons in exclusive materials.

Thoughtful designs aside, Thornefors and Norgren also devote great attention to production. Their bedding is made in Portugal, packaging and labels are manufactured locally in Stockholm, while the furniture is crafted in a small family-run factory outside their home in Nyköping (which also produces pieces for Svenskt Tenn). 'When you buy a shirt, you don't just buy the shirt but rather the energy and emotions that are tied to it. That's what we wanted to do, to bring emotions into the home,' Norgren concludes.
INFORMATION
For more information, visit the Magniberg website (opens in new tab)