Glass tiles by Studio Plastique, Snøhetta and Fornace Brioni win Best Domestic Design: Wallpaper* Design Awards 2022
Recycled glass tiles by Studio Plastique, Snøhetta and Fornace Brioni win Best Domestic Design in our Wallpaper* Design Awards 2022 – meet the winners and explore the shortlist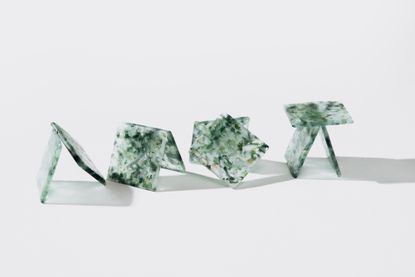 (Image credit: press)
WINNER
'Forite' tiles, by Studio Plastique, Snøhetta and Fornace Brioni
Having first explored the idea of recycling the silica found in kitchen appliances with their 2018 Common Sands project, the Brussels-based designers Archibald Godts and Theresa Bastek, of Studio Plastique (opens in new tab), have created an eye-catching collection of recycled glass tiles in collaboration with leading Norwegian studio Snøhetta and Italian ceramic tile manufacturer Fornace Brioni. Working together, they have developed a process to upcycle the glass components of discarded ovens and microwaves. These architectural tiles, called 'Forite' and available in two different sizes, each have a unique pattern, embracing 'the variance and complexity already embedded in the recycled material'. Their terrazzo-like quality includes both opaque and transparent elements, which means they can be used either as classic surface tiles or within partition elements. 'The project creates new value for an abundant yet unexploited group of materials,' says Studio Plastique.
Key features: a range of terrazzo-like glass tiles made using recycled glass from ovens and microwaves
Materials: e-waste glass
studioplastique.be (opens in new tab); snohetta.com (opens in new tab); fornacebrioni.it (opens in new tab)
SHORTLIST
'Reflect' kitchen, by Jean Nouvel and Reform
The playful and practical Reform kitchen is the result of a collaboration between Danish brand Reform and French architect Jean Nouvel. Adding an art deco-inspired edge to Reform's sculptural minimalism, it comprises stainless steel units and kitchen fronts in either black or untreated metal. A series of understated vertical ridges plays on Nouvel's ability to capture light, helping create different colours and reflections. The grooves in the metal are a gleaming foil for the stainless steel or dark Fenix laminate countertops, which become elegant and illuminated expanses. The kitchen is brought to life by intricate details that were finalised in a lengthy creative process, hampered in part by the pandemic. 'The kitchen is minimalistic, but yet super expressionistic – I think that's what Jean Nouvel does so well,' says Jeppe Christensen, founder and CEO of Reform. 'It inspires us to live a life of expression, without drowning out everything else.'
Key features: a dazzling kitchen that translates modern minimalism into a welcoming and workable space
Materials: stainless steel, anodised aluminium, Fenix laminate
jeannouvel.com (opens in new tab); reformcph.com (opens in new tab)
'Beosound Emerge' speaker, by Layer, for Bang & Olufsen
A compact yet surprisingly powerful speaker, 'Emerge' (opens in new tab) is designed to dovetail with your day-to-day life and sit on a shelf, perhaps alongside books or other objects. It is available in two versions, a Black Anthracite model with pleated plastic, and a Gold Tone model with Kvadrat fabric and oak panels. 'It wasn't designed to look like a book,' admits Layer's Benjamin Hubert, 'although it was of course intended to stand on a shelf. The tapered form helps with cooling.' Under the sleek skin is a masterfully assembled set of components, including three small drivers, carefully packaged to manage heat and sound projections, and arranged to create a full-range, 180-degree audio experience that enhances clarity, no matter the environment.
Key features: a sleek speaker system that disappears into home design
Materials: precision-cut, pearl-blasted aluminium, Kvadrat fabric; oak panels
layerdesign.com (opens in new tab); bang-olufsen.com (opens in new tab)
'Bespoke' fridge, by Samsung
Customisable appliances are still a rare sight in kitchen design, but Seoul-based giant Samsung has made customisation a key feature of its premium appliances portfolio, of which the 'Bespoke' fridge is undoubtedly the star. The fridge is both a technically adept home appliance and an aesthetically focused design, as customisable as a piece of furniture and utterly functional. Available as one or two-door modules in various heights, it comes with foldable shelves and optional wine racks inside, while its exterior panels can be finished in 14 different colours (including Lavender, Sky Blue, Beige, Peach, Navy, White and Black), which you can mix and match, as well four finishes. 'It's a modular design that empowers users to separate and combine products and replace door panels, effectively extending the life cycle of the appliance,' says Harry Choi, Samsung's senior vice president of design.
Key features: a fridge-freezer system with modular units and and a wide variety of colourful front panels
samsung.com (opens in new tab)
CruxGG kitchenware collection, by Ghetto Gastro and Crux
This CruxGG collection of kitchen essentials (opens in new tab) was created by Bronx-based culinary collective of chefs and food enthusiasts Ghetto Gastro and kitchenware specialist Crux to celebrate their home borough. Its first edition in 2020 was a sell-out success, and has now been updated and expanded to include eight products, including a rotating waffle maker, touchscreen and basket air fryers, smokeless and searing grills, a toaster and a toaster oven, as well as a 14-cup programmable coffee maker. The sleek designs are available in 'Snow' or 'Smoke' colourways, with both featuring accents in signature CruxGG red. Not only do they look good, but they also do good: five per cent of proceeds from the range go directly to a collective of non-profit organisations that are working to end food insecurity in underserved communities around the Bronx.
Key features: affordable and chic kitchenware that celebrates the Bronx and gives back to its community
Materials: titanium coating, tempered glass, BPA-free plastic
ghettogastro.com (opens in new tab); cruxgg.com (opens in new tab)
INFORMATION
The Wallpaper* Design Awards 2022 feature in the February 2022 issue of Wallpaper*. Subscribe today! (opens in new tab)
Léa Teuscher is a Sub-Editor at Wallpaper*. A former travel writer and production editor, she joined the magazine over a decade ago, and has been sprucing up copy and attempting to write clever headlines ever since. Having spent her childhood hopping between continents and cultures, she's a fan of all things travel, art and architecture. She has written three Wallpaper* City Guides on Geneva, Strasbourg and Basel.