Hot stuff: Ghetto Gastro's kitchen appliances for Crux
Bronx-based culinary collective Ghetto Gastro has created a collection of kitchen appliances for New York kitchenware brand Crux, featuring air fryers, a grill, a toaster, and waffle and coffee makers in two colourways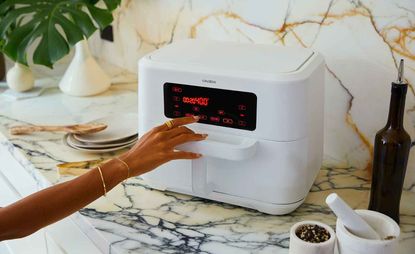 (Image credit: press)
Ghetto Gastro are more than just chefs. The Bronx-based culinary collective operates at the intersection of food, art, culture, experimentation and community to spark conversations about race, class, diversity and inclusion, and the team have worked with the likes of Marvel Studios, Michele Lamy (opens in new tab), Cartier, and Apple. So when groundbreaking New York kitchenware brand Crux, which also likes to work at the intersection of culture and innovation, approached them about a collaboration, it felt like a perfect match. The first CruxGG kitchenware collection, which launched in 2020 in sleek matte black, proved an instant hit, with the double-rotating waffle maker selling out in just 48 hours.
Kitchenware by Ghetto Gastro for Crux
This month sees the launch of Crux's updated and expanded CruxGG kitchen collection, which showcases eight products in two new colourways, Smoke (matte grey) and Snow (matte white), each with signature red accents.
The updated countertop collection includes two air fryers (air fryers were the most requested products from consumers after CruxGG's debut launch last year), a smokeless grill, a digital toaster oven, a single-rotating waffle maker and a programmable 14-cup coffee maker.
'Kitchens are the heart of the home, and are increasingly becoming an extension of an individual's personal style,' says Crux founder and CEO Shae Hong. 'Our design studio worked closely with Ghetto Gastro to create products that are design-driven and function-focused, while serving a purpose beyond the kitchen.'
Crux shares a vision with Ghetto Gastro to inspire the future generation of cooking enthusiasts and to empower communities and advance social justice through food. To this end, five per cent of proceeds go directly to a collective of non-profit organisations, including Sky High Farm, Project Eats, Summaeverythang, Culture Aid NOLA ,and Isuroon, that are working to end food insecurity in underserved communities.
Says Ghetto Gastro co-founder Jon Gray: 'From the moment we linked up with Shae, the vibe was there and we quickly realised that we shared similar philosophies on culture and communities, as well as our continued drive to create what we want – which, ultimately, is what the game is missing.'
INFORMATION
The Crux x Ghetto Gastro kitchen appliances collection is available exclusively through Target
ghettogastro.com (opens in new tab)
target.com (opens in new tab)