The latest sensational kitchen design ideas to inspire your home renovation
These are the kitchen trends for 2022: from wooden cabinets to smart kitchen tools, expressive marble and colourful kitchens to inspire your home renovation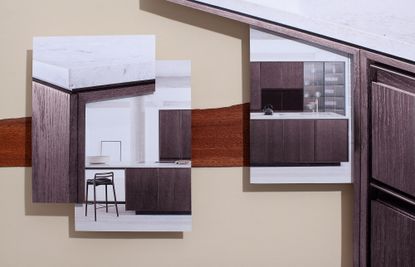 (Image credit: TBC)
Wallpaper* Newsletter
Receive our daily digest of inspiration, escapism and design stories from around the world direct to your inbox
Thank you for signing up to Wallpaper. You will receive a verification email shortly.
There was a problem. Please refresh the page and try again.
Every year, Wallpaper* searches for the coolest kitchens design ideas from the world's best specialist manufacturers. Here, we select the best kitchen trends for 2022, from subtle pops of colour to the most sought-after materials for kitchen cabinets, and including the latest multifunctional technology to make your kitchen ultra-smart.
Kitchen trends 2022: the Wallpaper* edit
Wooden kitchens
German specialist Eggersmann is known for its beautifully crafted, minimalist kitchen designs, now including the new 'Lausanne' kitchen. Featuring fronts with vertical wooden slats in silver oiled oak, they are individually adjusted – with millimetre precision – to fit perfectly around each built-in appliance. The striking design can be combined with solid wood countertops as well as gleaming stainless steel surfaces.
In contrast with the Danish company's first foray into kitchen design, which was an all-steel affair, Vipp's 'V2' model comes with a brand new material palette centred around dark oak cabinets and including Jura limestone counters and reeded glass doors. Also featured is the brand's trademark extruded aluminium, which appears in rounded aluminium profiles with reeded details that serve as discreet, integrated drawer and cabinet grips.
An expressive use of wooden surfaces is one of the defining elements of Vincent Van Duysen's latest kitchen design for Dada. The 'Intersection' kitchen is a testament to the brand's excellence in crafting and combining materials, and the architecture-like design was inspired by the work of Piet Mondrian and Carlo Scarpa. 'A project that plays with proportions, thicknesses and a mix of refined materials,' says Van Duysen, who played with geometric compositions and materials, resulting in a design that is infinitely adaptable with options including linear, corner and island compositions.
First launched 25 years ago, the British designer John Pawson's kitchen for Obumex was a worldwide success thanks to its signature minimalist lines and freestanding elements. A milestone in kitchen design, Pawson's model was created to be long-lasting – the Porsche 911 of the kitchen world – and so it has proved to be. But now, to celebrate Obumex's 60th anniversary, the Belgian company has decided to reissue Pawson's kitchen. Updating what was designed to last forever requires only a light touch, and the new edition features the same refined, pared-back architectural language as its predecessor – only the material combination has changed. For this special edition, Pawson has selected an island in solid American walnut, white lacquered fronts and a limestone backsplash. Simple, but as ever, effective.
Expressive stone for kitchen surfaces
Having presented its first model at New York's MoMA in 1972, the Italian brand Rossana knows a thing or two about kitchen islands. Its latest cutting-edge design, the 'Isøla' kitchen by architect Carlo Colombo, is a sculptural creation available in a range of stones, including Melbourne and Aria marble, and Zebrato granite. The kitchen is divided by vertical steel profiles that cut through the stone fronts to create a bold, graphic surface.
Sleek and functional kitchen cabinets
Sometimes with kitchens, simple is better. Flexible and functional, Arclinea's new 'Thea' handle-free kitchen is designed to work as a double offering, with a wall of contrasting cabinets separating a black marble-clad island from an all-white, functional space. It's a design trend popular in Southeast Asia, where many new homes comprise a 'dry' kitchen in the living space, designed for socialising and cocktail making, and a 'wet' kitchen hidden at the back, where the real cooking is done.
A new take on the 'Alea' model, the newly launched 'Alea Pro' focuses on details, in particular the opening grooves, which are underlined by a profile to highlight the vertical and horizontal lines. Doors come with a chamfered upper edge, while spaced side panels give a lighter look to the base units. It is available in a wide range of materials, including Super White laminate fronts, Inalco counters and panels, and anodised champagne spacers.
Dark minimalism
Bringing together Modulnova's 'Twenty' minimalist kitchen system and monolithic 'Frame' cabinets, this new model (aptly named 'Twenty Frame') is all about large proportions and linear design. The vast horizontal central island in dark limewash comes with elongated drawers and an eye-catching cantilevered kitchen table, while tall units in Milano walnut, inspired by 1950s cupboards, add warmth and ample storage to the space.
Austrian designer Martin Steininger's award-winning 'Fold' kitchen, an origami-inspired creation first launched in 2019 in a shimmering gold brass alloy, is now available in a new black steel edition. It's the perfect material to highlight the sharp angles of the sculptural design, which is made-to-measure in Steininger's workshops using a computer-based production technique, and then finished by hand. Such precision makes the monolithic design appear to float, allows for a custom sink to be perfectly integrated, and conceals plenty of clever storage in the slanted cabinets. The minimalist look is complemented by high-tech connectivity, with an M.Pod element providing both a work surface and a smart control panel, so shopping can be ordered and recipes summoned in an instant.
Embedded handle design
Among the most discreet but functional kitchen trends for 2022 is the use of concealed handles for a smooth, streamlined design. Piero Lissoni has updated his 2010 'Aprile' design with the new recessed 'Sloane' door handle, a rectangular cut-out carved out of the cabinet doors by Boffi's skilled craftspeople in Brianza, northern Italy. It is available in a series of different finishes, including gunmetal or natural-stained wood, that can be designed to either complement or contrast with the fronts, and match the edges or worktop to create pleasingly subtle details.
Colourful kitchens
Colour returns to the kitchen for 2022 with a subtle palette of pastels and sober shades that well complement the materials of contemporary kitchen design. German manufacturer SieMatic is known for its ultra-efficient, perfectly engineered luxury kitchens, usually presented in a choice of stark whites, black and greys. But now the Löhne-based company is splashing out with a kaleidoscopic array of new colourways. Its Individual ColorSystem features 1,950 colours, from pastels such as sage green and powder pinks, to metallic hues including gold bronze and nickel, and subtles tones such as pebble grey and plum velvet. Available in both matt and glossy finishes, the dizzying choice of colours allows customers to completely customise their SieMatic kitchens to create unique designs. The company's show kitchens still follow the monochrome look, with whole kitchens decked out in one single, sophisticated shade, but nothing's stopping you to go for a rainbow look, if you dare.
Danish kitchen specialist Reform has collaborated with Aspekt Office on 'Unit', a new kitchen imagined as the centre a multifunctional space that can double as an office. The kitchen's dark oak fronts are contrasted with colourful cabinets available in a wide contrasting palette that includes anthracite, sand-gray, white, green, and yellow.
Modernist modularity
Smallbone is known for its high-quality bespoke kitchens and cabinetry work, and it's fair to say its 'Iconic' hand-painted kitchen, a bestseller since its launch 30 years ago, truly deserves its name. But now the Devizes-based brand is branching out from the heritage look with a new 'Modernist' line, defined by clean lines and refined materials. A modular concept inspired by the famous 'form follows function' dictum, it features oak veneers, Belgian stone counters and a mellow grey finish, as well as tinted glass panels and shelves in custom metal frames. We're particularly fond of the undercut top edges which replace traditional handles and create a series of shadow lines across the cabinet fronts. If the exterior is a departure from Smallbone's earlier offering, the interior is still fitted with the company's infinitely customisable signature walnut drawer boxes.
Contemporary kitchen tools: smart extractors
One of the most technological kitchen trends for 2022, extractors have become smart. Take Gaggenau's new 'Vario' unobtrusive downdraft ventilator. Installed flush between your induction and gas hobs, it draws steam, odour and vapour down directly at the source, before they've even had time to escape into the kitchen. Known for its professional-grade home appliances, Gaggenau is a pioneer of downdraft ventilation: the German manufacturer's first model dates from 1976, so it has had ample time to perfect its offering. Hidden away in the counter and allowing for uninterrupted sightlines, the 'Vario' is ideally suited to kitchen islands, and is particularly useful when installed next to a gas wok or teppanyaki grill. It also comes with reassuringly traditional control knobs, so there's no chance you will switch it off by mistake while trying to put the music on.
Italian company Elica has specialised in the fabrication of high-tech extractor hoods for over 50 years, and its newest model is the latest in a long series of cutting-edge creations. The ultra-thin 'Super Plat' is a modern, flush design that can be installed either between kitchen cabinets or as a standalone unit. It comes in two versions, either black or grey glass, both enriched with die-cast aluminium front grilles and a cast iron finish. Operating silently even at the highest speeds, the extractor hood allows you to talk and cook at the same time (if your culinary skills allow it of course). It also features Elica's Multi-d Capture technology, which means cooking smells are removed in a jiffy, and comes with the obligatory matching app and even voice control – handy if you have tomato sauce all over your hands and the chopped garlic is burning.
Next generation taps
Kohler's 'Sensate' faucet is equipped with Kohler Konnect, resulting in a smart, voice- and app-controlled kitchen assistant. Via simple voice commands, users can turn the water on and off and dispense measured amounts of water, while the Konnect app monitors water usage and sends an alert if unusual usage is detected. Cutting-edge sensor technology allows for touchless on/off commands, and the two-function pull-down sprayhead with touch-control allows you to smoothly switch from stream to spray for superior surface cleaning. The tap can connect to any voice-controlled device, and switches off automatically after four mintues, to ensure the faucet doesn't run continuously.
Receive our daily digest of inspiration, escapism and design stories from around the world direct to your inbox
Léa Teuscher is a Sub-Editor at Wallpaper*. A former travel writer and production editor, she joined the magazine over a decade ago, and has been sprucing up copy and attempting to write clever headlines ever since. Having spent her childhood hopping between continents and cultures, she's a fan of all things travel, art and architecture. She has written three Wallpaper* City Guides on Geneva, Strasbourg and Basel.
With contributions from