Pamela Shamshiri, interior designer and Wallpaper* Design Awards 2023 judge, on her shapeshifting approach and dream project
Pamela Shamshiri tells us about her studio's current and future projects, and reveals her favourites from the Wallpaper* Design Awards 2023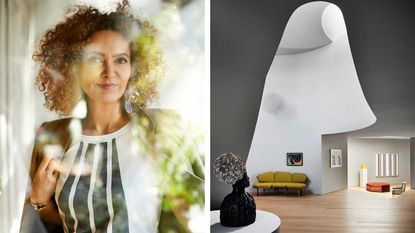 (Image credit: Dewey Nicks, Stephen Kent Johnson)
It's been seven years since Pamela Shamshiri set up her LA-based architecture and interior design studio, striking out on her own after a decade as co-founder of Commune Design. 'I was ready to do something slightly different and with my own voice, not as part of a collective,' reflects the Iranian-born designer. 'I'm very much into experience, wellbeing, narrative, fantasy, folly, old and new, and time travel, and I get to do all of that at my own studio.'
Studio Shamshiri is now one of the most sought-after names in American design, with up to 30 active projects at a time, and an illustrious client list that includes Ryan Murphy, Anne Hathaway and Paul McCartney. Residential projects are Shamshiri's forte: she recently updated the modernist residence of LA gallerist Shulamit Nazarian, and teamed up with architect studio Johnston Marklee to create a second home in Pacific Palisades for a pair of blue-chip art collectors. But she is equally adroit at commercial design: as the Wallpaper* Design Awards 2023 issue was going to press, she was putting the finishing touches on a flagship store for jewellery designer Irene Neuwirth on New York's Upper East Side, which she describes as a work of 'magical surrealism, taking city dwellers on a journey through a fantastical jungle'.
Hospitality is increasingly a focus, too. Following on from the success of New Orleans' Maison de la Luz, which opened in 2019, the studio is working on a hotel in Ojai, CA. 'It's a Spanish revival building that looks like a California mission,' she says. 'We're making it more minimal, so it will feel like you're walking into 1920s California, when it was all about ranchers, orange blossoms and avocados.'
Working across genres and styles has meant a healthy amount of shapeshifting on Shamshiri's part, but if there's one quality that characterises all of Studio Shamshiri's projects, it is her research-driven approach, which she credits to her training as a set designer. 'My graduate degree, from NYU, is in production design. I learned how to do period films – how to tell a story and convey a character with everything from hair and make-up to lighting. Now, I make sure that everyone in the studio, whether architects or interior designers or graphics designers, are thinking holistically about the experience we're looking to create.'
Each time Shamshiri embarks on a new project, she sets out to learn as much as possible about her client. 'I ask them, "What hotels and houses do you love? Can I come and see how you live? How do you want the experience to be different?" I don't want to limit the discussion to interiors. A client once gave me a pair of 1970s suede shorts and said, "I want my bedroom to look like this." And I went, "OK, let's do it!"' On a more contemplative note, she continues, 'People come to us at moments of change – perhaps their kids have just left home, and they're overwhelmed by the moment. So it's important to listen to what they're looking for, and stay focused on delivering that.'
Pamela Shamshiri on judging the Wallpaper* Design Awards 2023
Shamshiri is now hard at work on the publication of her first monograph, Shamshiri: Interiors, which will be published by Rizzoli in the autumn of 2023. It's a joint effort with her longtime collaborators – art director (and Wallpaper* US director) Michael Reynolds, design agency Hoffman Creative, photographer Stephen Kent Johnson and editor Mayer Rus, and will tell the story of the studio's first chapter through Maison de la Luz and nine residential projects. Despite the encroaching deadline, she has found time to judge our awards, casting her vote for India Mahdavi as Designer of the Year. 'The master of colour has shown us this year that she can also do no colour and be a maximalist with patterns,' says Shamshiri. 'India is a designer through and through, and has had a holistic, clear, consistent vision throughout her career. She still surprises.'
Shamshiri likes that our Best Public Building, Open Architecture's Chapel of Sound, 'bows to its setting and is much needed in its humility. The framing of the view reminds me of Kyoto and the depth of thought that goes into every moment and tactile experience. How refreshing.' She is likewise enthusiastic about Brian Eno's turntable for Paul Stolper Gallery, which clinched Best Domestic Design: 'As if a manifestation of the brilliant 1977 David Bowie masterpiece, Sound and Vision, the turntable provides the user with a deeper connection with the emotion in the music.'
As for our Life-Enhancer of the Year category, Shamshiri recognised the Tigín Tiny Homes, by Irish social enterprise Common Knowledge, for their 'beauty, simplicity, thoughtfulness and generosity', qualities that she insists on in her own work. 'My dream project would be to design a community,' she mentions as we wrap up our interview. 'It could be a retirement community, an art community, perhaps a low-income community. The way the world is going, we will have to share resources. I'd love to explore how we do that – so we can live responsibly, engage with art and creativity, and connect with one another in a more meaningful way.'
studioshamshiri.com (opens in new tab)
The winners of the Wallpaper* Design Awards 2023 are revealed in the February 2023 issue, available in print, on the Wallpaper* app on Apple iOS, and to subscribers of Apple News +. Subscribe to Wallpaper* today (opens in new tab)
TF has been editor of Wallpaper* since December 2020. He is responsible for our monthly print magazine, planning, commissioning, editing and writing long-lead content across all our content pillars. He also plays a leading role in multi-channel editorial franchises, such as our annual Design Awards, Guest Editor takeovers and Next Generation series. He aims to create world-class, visually-driven content while championing diversity, international representation and social impact. TF joined Wallpaper* as an intern in January 2013, and served as its commissioning editor from 2017-20, winning a 30 under 30 New Talent Award from the Professional Publishers' Association. Born and raised in Hong Kong, he holds an undergraduate degree in history from Princeton University.