Nils Frahm, musician and Wallpaper* Design Awards 2023 judge, on Funkhaus Berlin and making Music for Animals
Musician Nils Frahm has lovingly revived a studio at Funkhaus Berlin, the GDR-era broadcasting centre, as his creative base. He tells us more, and reveals what struck a chord for him in the Wallpaper* Design Awards 2023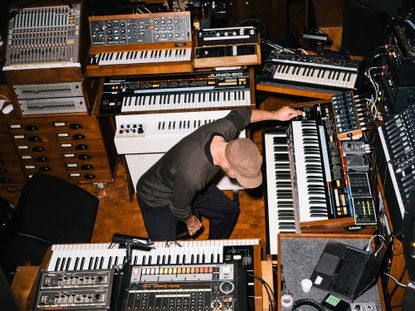 (Image credit: Photography: Daniel Gebhart de Koekkoek)
Nils Frahm comes bursting through the door of the retro-style café where we've agreed to meet: 'I'm here to pick you up,' the musician, producer and composer says, slightly out of breath. We emerge into a pitch-black wintry Berlin evening, walk briskly down the street, and turn a corner. A dim, warm light emanates from behind a wall of large windows. One is open and Frahm promptly climbs through, beckoning me to follow. He pulls it closed, latches the metal frame in place, and makes a comment about how the window-as-entrance saved us a significant amount of time in the cold. As we walk through a thick wooden doorway towards the source of light, what unfolds is something from a musician's dream: an eclectic array of instruments – some recognisable, others completely foreign – fill a 140 sq m room with towering ceilings.
The walls are covered in fleur-de-lis motifs, some painted in gold, others carved into wood. Next door is a small kitchen and two control rooms, one of which is equipped with a custom-made console. This musical paradise is Frahm's studio, otherwise known as Studio 3 in Block B of Berlin's legendary Funkhaus, a former GDR radio station complex, now a protected cultural site, built by acclaimed Bauhaus architect Franz Ehrlich in the early 1950s. Frahm, who is renowned for music that defies genre labels, falling somewhere between neoclassical, electronic and ambient, has produced his music at Funkhaus since 2016. (Previously, he rented spaces for short periods of time, the longest of which was a ten-day stint when he wrote and recorded the soundtrack for the critically acclaimed German film Victoria.) But beyond developing his creative practice at Funkhaus, Frahm is also here to restore the original architecture.
For decades, Studio 3 – and, more generally, Funkhaus' four blocks of buildings, spread across a sprawling 13-hectare plot along the banks of the Spree river in a remote part of east Berlin – sat unused in a state of disrepair. Instruments and machines were stolen and damaged; the structures began to crumble. When Frahm moved in, he renovated six rooms in the hall, working closely with experts and, as he says, 'mostly very old people' who helped make historically accurate decisions. He laid intricate parquet flooring and replaced the acoustic panelling. He added deep red curtains over the windows between the control rooms and the studio. When the final touches were being made, he even scrubbed the floor with a toothbrush. 'I really like to work with my hands,' he says.
After two years, the space was restored to its original lustre – so much so that when Frahm welcomes visitors who used to work at the radio station, they don't notice any difference. On the day of our visit, Frahm has just received an instrument from the German Museum of Technology, where it had been stored during the building's years of abandonment. Specifically, 'it's a Superchord, a crazy invention from the GDR that was made here in Funkhaus', Frahm explains. 'In the 1990s, everything was a little unsafe here, so the instrument was given to the museum, but now they trust us to have it back. That makes me very happy.'
In addition to the Superchord, Studio 3 is also home to some unusual instruments including a self-made pipe organ as tall as the room, a Mannborg harmonium, and a glass harmonica – the latter of which Frahm's wife Nina plays on his latest album, Music for Animals. Alongside Nina, Nils played digital synthesisers to create what eventually became ten hypnotising tracks that together clock in at over three hours. The record is also, notably, his first without piano. Frahm is especially known for his unconventional use of the piano, an instrument he has played since he was a child and learned from Nahum Brodsky, one of Tchaikovsky's protegés, who happened to live in the same village as his family outside Hamburg. But Frahm didn't make a conscious choice to create an album without a piano; he was making the best of a situation. At the start of the pandemic, all the various pianos in his studio were out of tune and 'I couldn't get my piano tuner in because of the rules,' he says. 'It was the first lockdown, which was rough. But it also reminded me of how I worked when I first started making music and I thought, "What can I do now with an easy set-up and not too many technical complications?"'
So, in March 2020, Nils and Nina set about creating music with what was at hand; they experimented for two years until they felt Music for Animals was complete. The title, too, was borne of the situation: when he and Nina listened to their jam sessions at home, they 'realised that the cats and the dog were sleeping really well to it'. The title also speaks on a deeper level, alluding to conceptual albums such as Raymond Scott's Soothing Sounds for Baby and Brian Eno's series of four Music for albums created between 1978 and 1981. Frahm evades such references when we speak, but his appreciation for, and commitment to, music history is undeniable: when talking about how a complete set of Gravesaner Blätter – a music journal published in the 1950s and 1960s with a title page designed by Le Corbusier – was delivered to the studio along with the Superchord, he is as excited as a child on Christmas morning.
He says he is always in the process of restoring old instruments: 'If I have no renovation project, I find one. I always want to build stuff and learn things about materials. Old techniques are especially my favourite. And right now, we are in the midst of inventing an instrument, which I would like to call the "ventiphone". It's based on fans humming in a pitched fashion; it's a polyphonic ventilation fan instrument. The idea came in the summer when it was too hot.'
Nils Frahm's picks from Wallpaper* Design Awards 2023
Frahm's multifaceted and unconventional approach to making music is reflected in his choices for the Wallpaper* Design Awards 2023. It will come as no surprise that he singled out the winner of Best Public Building, Open Architecture's Chapel of Sound. The space – a sculptural open-air concert hall in Jinshanling, north-east of Beijing – was created as a building to help the architects 'see the shape of sound', they told Wallpaper*. They studied places where sounds naturally reverberate, like caves, and mimicked such spaces' functionalities in their design. Although Funkhaus frequently hosts one-off events and rents out its spaces for events, the only 'real' use for it, according to Frahm, is the creation of sound: 'I explain again and again that the only good use for these places is to put music inside.' Next to his recording studio is a suite of three specially-designed reverb chambers.
In the Best Domestic Design category, Frahm chose nominees Nick Cave and Knoll Textiles. The collaboration between the two conveys artist Cave's acute sense of dimension, colour and movement, with each design also referencing a specific artwork and capturing the visceral and tactile essence of the original piece. Cave is known for working across a range of media, including sculpture, installation, video, performance and sound, and for using conventional materials, like beads and ribbons, in innovative ways – not unlike Frahm's own use of instruments to consistently push the boundaries of what constitutes art and sound, and in turn, challenge listeners to recalibrate their understanding of what represents music today.
nilsfrahm.com (opens in new tab)
funkhaus-berlin.net (opens in new tab)
The winners of the Wallpaper* Design Awards 2023 are showcased in the February 2023 issue, available from 5 January in print, on the Wallpaper* app on Apple iOS, and to subscribers of Apple News +. Subscribe to Wallpaper* today (opens in new tab)