Authentic, crafted and diligent: meet new Japanese furniture brand Koyori
Winner of Best Seats at the Wallpaper* Design Awards 2023, Koyori stands for Japanese craft and contemporary design, with a collection of five chairs designed by Ronan and Erwan Bouroullec and GamFratesi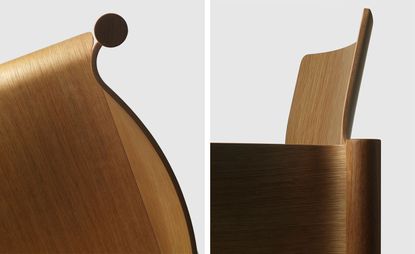 (Image credit: Hiroshi Iwasaki)
Paid partnership with Koyori (opens in new tab)
Forget sharp edges and straight lines: instead, sweeps of oak plywood flow organically into wave-like curves, forming the backbone of a chair that is cocooning, clean-lined and comfortable.This fluidity of form defines a new chair created by brothers Ronan and Erwan Bouroullec, which blends contemporary design and a sense of beauty with Japan's meticulous manufacturing and wood craftsmanship. The 'Kawara' armchair – which gently echoes the lines of Japan's traditional curved kawara roof tiles – features in the inaugural collection of Koyori, a new Japan-based furniture and lifestyle brand, debuting in June in Milan during Milan Design Week 2022. A balance of simplicity and strength underpins its five-piece launch collection – including three chairs by the Bouroullecs, plus two by Danish-Italian design duo GamFratesi.
Koyori: a new Japanese furniture brand
Koyori filters Japanese aesthetics through the prism of borderless contemporary design, brought to life through the skill of notable Japanese manufacturers. Authentic, crafted and diligent are three key words that define Koyori, according to Munetoshi Koda, its executive director and a furniture industry veteran: 'By collaborating with contemporary designers from across the globe, we aim to deliver furniture of reliable quality and interior accessories that are elegant, with designs that transcend borders.'
The essence of Koyori, whose brand identity was designed by Jasper Morrison alongside Sebastian Fehr, is even reflected in its name: Koyori refers to the twisted paper cords that are used in mizuhiki, auspicious paper strings often used in Japan for wrapping festive and ceremonial gifts. 'A koyori is made from traditional washi paper, which is said to be the strongest paper in the world,' adds Koda. 'That illustrates our will to firmly connect and bond together Japanese craftsmanship and international designers.'
New chair designs by Ronan and Erwan Bouroullec
Ronan and Erwan Bouroullec were quick to accept the opportunity to work on the new Koyori brand, tapping into their passion for Japan and its unique craft-industry dynamic to create three original chairs. 'A good chair is one that has been thoughtfully designed for a specific purpose,' the Bouroullecs tell Wallpaper*. 'These three chairs have a lot of details that look simple but are actually quite sophisticated. All of them are stylish in their own unique way.
'We wanted to reveal the beauty of the wood, the beauty of the craftsmanship and the connection between them. We also wanted to showcase the extreme precision that can be found in Koyori and Japanese manufacturing. It's a level of quality which we probably cannot find in Europe.'
First up are the soft flowing lines of their 'Kawara' armchair, a simple form inspired by the idea of being cocooned in a 'soft shell'. Its three-dimensional curves were manufactured with extreme precision, using three different plywood moulds for the backrest, armrest and seats, above solid rounded wood legs. Citing Sori Yanagi's iconic 'Butterfly Stool' as inspiration, Ronan Bouroullec explains: 'The Kawara armchair is the epitome of what plywood can express, in each element – the way it is built, the beauty of the details of the cylinder and the plywood.'
Their 'Musubi' armchair offers another sculptural showcase of outstanding manufacturing. Its organic armrests and backrest components, individually made through wood-bending and five-axis CNC cutting techniques, appear to float together in a light connective effect. The end result is a chair that balances a lightness of form with the tactile sensuality of its surface lines: 'This chair is inspired by the feeling I had when I touched the arm of a "Yanagi" chair by Sori Yanagi for the very first time,' explains Ronan. 'It is a very sculptural chair that demonstrates what the manufacturer is able to do. My theme was to physically express the beauty, the feel, the tactile aspect of wood.'
Their third creation is the 'Shaku' chair, which is sleek and simple. The beech black finish chair has a perfectly positioned backrest emerging from the seat, the dynamism of its lines achieved through high-level processing accuracy.
GamFratesi's designs for Koyori
GamFratesi, meanwhile, hope that their collaboration with Koyori will bring a piece of Japan to an international audience. 'We hope that in their everyday life people will feel the respect, passion, and quality radiated by the craftsmanship of the Koyori products.'
The process of creating the 'Miau' chair was a playful exploration of the transformative powers of wood. A light modern composition of organic forms shaped to carry the human body, the chair has arms and back sculpted from a single, jointless piece of bentwood – a line echoed in the three-dimensional curves of its seat.
As GamFratesi explain: 'One of the most important characteristics of solid wood is the ability to be transformed and shaped into something that is totally unique and responsive to the touch – a lesson that we have learned from the Danish masters, who, with great attention to detail, have created pieces of extraordinary beauty. 'We wanted to create a humanly warm and gentle design with a feline motif. Hence, the series with minute details and in particular the armrest that invites you to be caressed and discover the beauty of this material.'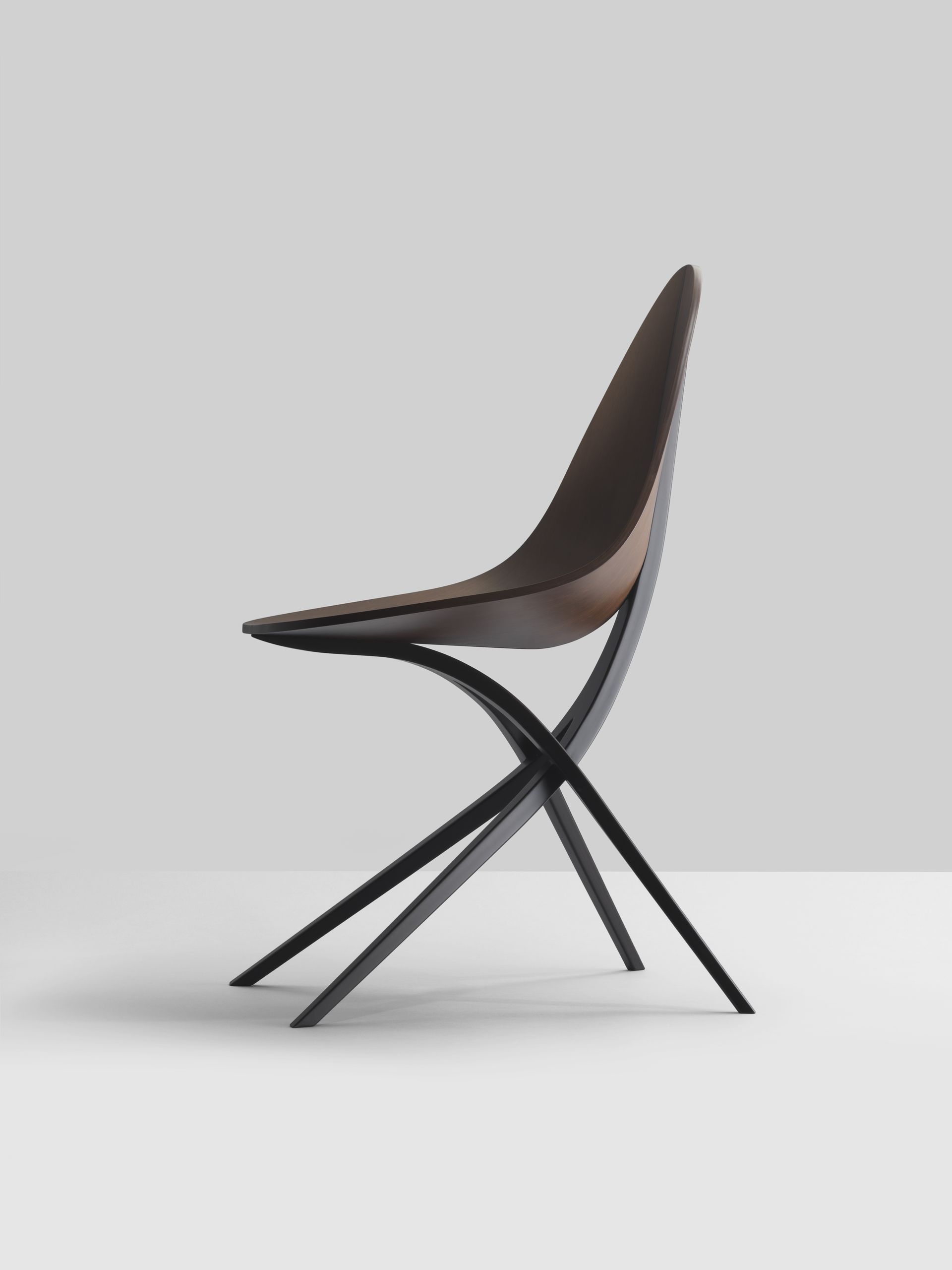 Their second chair is named for the Japanese word eda-ha, meaning branch and leaf, reflecting the ways in which nature is always a source of inspiration for their work. GamFratesi explain: 'The branch (the structure) and the leaf (the veneer) were the central elements of the project. We wanted to create a structure that gently supported the suspended seat, just like a leaf on a branch. 'It is a design entirely made with wood veneer, but with different processes and techniques to express the beauty of nature.'
Sustainability in furniture manufacturing
A focus on sustainability is another core brand value for Koyori. In an unusually transparent move for a Japanese brand, Koyori will publish the carbon footprint of the manufacturing process of each product on its website – with a view to progressively reduce it. Plus, it's not just about chairs. Koyori plans to expand to include a range of furniture and interior accessories.
'We are launching Koyori with wood furniture, but our goal is to become a brand that carries a variety of lifestyle products, by inviting to our creative team more Japanese manufacturers with fabulous skills and technologies,' explains Koda.
Watch: an introduction to Koyori
INFORMATION
Koyori launches at the Triennale Milano during Milan Design Week, 3 – 12 June 2022
koyori-jp.com (opens in new tab)