Sou Fujimoto judges Wallpaper* Design Awards 2022
We chat with Wallpaper* Design Awards 2022 judge Sou Fujimoto about his work in Japan and abroad, and our shortlisted designs and winners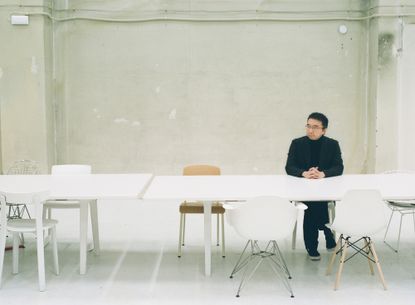 (Image credit: TBC)
Wallpaper* Newsletter
Receive our daily digest of inspiration, escapism and design stories from around the world direct to your inbox
Thank you for signing up to Wallpaper. You will receive a verification email shortly.
There was a problem. Please refresh the page and try again.
With several large projects underway, both in his native Japan and abroad, Sou Fujimoto has been busy; which made his input all the more valuable for this year's Judges' Awards, the highest honours of the Wallpaper* Design Awards.
His wide-ranging experience and thinking is reflected in the breadth and depth of his architectural work. His recently completed House of Hungarian Music, in Budapest, will not only provide a long overdue place to learn and enjoy everything about the country's musical scene and traditions, but will also serve as a hub for the local community to meet and enjoy music among the lush greenery of the surrounding park. In Japan, his design for a new university in Hida-Takayama (to be completed in 2024) is already drawing both local and international acclaim, and will help to propel this small, rural part of the mountainous Gifu Prefecture on to the world stage. He is also designing a learning centre for the University of St Gallen in Switzerland and has been appointed as the master planner of the 2025 Osaka Expo.
Having received his own fair share of accolades since he started the Japanese architecture studio Sou Fujimoto Architects in 2000 (including several Wallpaper* Design Awards), Fujimoto believes these recognitions are vital to an architect's career: 'Receiving an award motivates me and makes me want to work even harder. Awards usually mean that someone appreciates your work.'

Softly spoken and often smiling, Fujimoto is modest about his own role as a professional in the architecture field. 'As an architect, you need to collaborate not just with many stakeholders but also with existing surroundings. You need to understand the context, the cultural background and the history of the place. So we need to be very modest and listen to all these different voices,' he explains.
In his eyes, the main job of an architect is to take a rather complex situation and create a clear strategy forward. Basic research is always crucial in any project, but even more so is the inspiration he gets for conversations with key stakeholders on all the projects he is involved in.
So what was he looking for as one of our judges? 'I look at how the architecture is reacting to its context and how it brings value and makes the surroundings better. I also like to see something inventive, something new. Of course we should keep aesthetics in mind, too. Not just beautiful in the traditional sense of the word, but I like it when something might help to define a new kind of beauty or bring joy to people using the building or product.'
From this year's nominees, he picked out the 'Forite' tiles, by Studio Plastique, Snøhetta and Fornace Brioni, as an example of something he considers to be good design. 'Reinterpreting something as basic as a material is very important I think. And these tiles are very beautiful too,' he says. The tiles, which are made from recycled glass from ovens and microwaves, come in two different sizes, and each features a unique pattern resulting from its individual recycling process. Fujimoto himself does not have a lot of experience with developing new materials yet, but it is an area he hopes to explore in the near future. The environmental impact of architecture is also an aspect of the profession he hopes to be able to push forward in Japan in the coming years.
While he believes in calculating the environmental impact of architecture, he is perhaps more interested in creating spaces and environments that invite people to interact and experience nature and, as such, become more aware of their surroundings. He explains: 'For me, changing mindsets through environmental or architectural design is something I consider very important.'
As for his dream project? 'I am increasingly interested in how to integrate communities by thinking about architecture, the urban landscape and transportation as a whole. Not on a huge urban planning scale, but more on a small village or neighbourhood level.' If anyone is looking for someone to design a small village, Fujimoto is sure to be able to deliver a reinvented version of a small community. Maybe a contestant for next year's awards?
INFORMATION
sou-fujimoto.net
The Wallpaper* Design Awards 2022 are revealed in full in the Feburary issue, on newsstands. Subscribe today!
Receive our daily digest of inspiration, escapism and design stories from around the world direct to your inbox