Architects Directory 2020: Erika Nakagawa, Japan
Setting up her office in Toyko in 2014, Erika Nakagawa describes Momoyama House as her 'breakthrough project'. The weekend retreat in the Shizuoka Prefecture features an unusually high, undulating concrete roof raised on concrete pillars that creates a flowing interior, which opens entirely towards the surrounding nature. Nakagawa has also been invited to exhibit work at the respected Toto Gallery Ma space for architecture in 2021, whose selection committee includes Tadao Ando.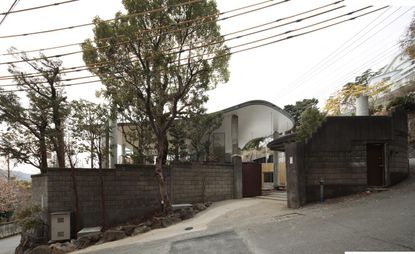 (Image credit: erika nakagawa)
Japanese architect Erika Nakagawa defines her open plan weekend house in the lazy seaside town of Atami, an hour and a half south of Tokyo, as a renovation, rather than a completely new structure. The 458 sq m site, perched in the middle of a steep hairpin turn up the romantic sounding Peach (Momo) Mountain (Yama), already came with a surrounding wall made from rough fieldstones at the bottom and concrete cinder blocks at the top. Rather than tear everything down and start from scratch, Nakagawa's approach was to incorporate the existing wall and the garden into the design.

Using the outer perimeter of the site as the defining outer walls of the building, Nakagawa added a large, slightly irregular shaped roof, resting on poured concrete pillars. Four glass walls enclose basic functions of the house, but it feels larger because of the floor to ceiling glass and overhang of the roof out in the surrounding garden.
MORE FROM WALLPAPER* ARCHITECTS DIRECTORY 2020 (opens in new tab)
'It felt a bit cramped when all the supporting pillars where placed under the roof, so I decided to place some of these outside the roof too,' Nakagawa explains. Beams extended from these outside pillars connect to the pillars under the roof and help to nicely blur the boundaries between inside and out.

A terracotta floor that extends outside in the garden creating an al fresco dining area denotes the boundary of the kitchen/dining – from the main living – area. The master bedroom and a small workspace are hidden from the more open areas by light plywood walls. The ceiling is kept high to allow for plenty of natural light and views over the perimeter wall to the nearby Sagami Bay and surrounding mountains.

There is also an adjacent four-and-a-half tatami mat tea-room at the back of the site. Parts of the interior walls and ceiling is covered in light plywood and parts left in raw poured concrete, giving the room just the right feel of a modern wabi-sabi aesthetic.
INFORMATION
erikanakagawa.com (opens in new tab)