The architects who built Palm Springs: John Lautner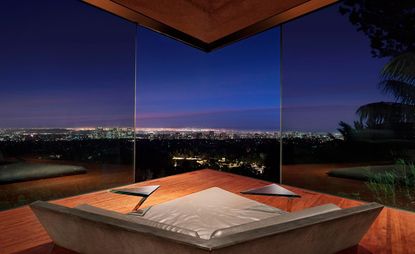 (Image credit: Jeff Green)
Without the futuristic, concrete creations of celebrated American architect John Lautner (1911-1994), you wonder what Hollywood film directors would do for fictional lairs for the rich, powerful... and occasionally, evil. His gravity-defying residential projects have probably appeared in more movies than the work of any other architect; the outlandish cliff-side constructions often eclipsing the actors in their cinematic splendour. Not cosy perhaps, but often cosmic.

Lautner's memorable screen stars include the Sheats-Goldstein residence, aka the pornographer's pad in The Big Lebowski (now donated to LACMA), with its expansive, angled, coffered ceiling punctuated by 750 drinking-glass skylights; the UFO-like Malin House or 'Chemosphere', which appeared in Body Double; and the Elrod Residence, defined by a 'sunburst' concrete canopy that featured as the home of Willard Whyte in the Bond film Diamonds Are Forever.
This visionary 20th-century architect hailed from Marquette, Michigan, and grew up in a creative environment where both parents – John and Vida – shared a passion for art and architecture. So much so that the pair, a university teacher and painter/interior designer, commissioned a 'Jacobean Colonial' style house from architect Joy Wheeler Dow for their first family home in 1911.
Then, in 1924 the Lautners embarked on a major three-year construction project, designing and building by hand their own summer retreat on Lake Superior. 'Midgaard', a log cabin inspired by Norwegian folk architecture with corresponding interiors of painted timber and woodblock-printed textiles, was located on a rugged shelf of boulders on a stretch of headland known as Middle Island Point.
Many cite this formative experience as a major influence on Lautner, shaping his holistic and 'organic architecture' approach, his passion for making, and his modernist sensibilities – attitudes that evolved further under the guidance of Frank Lloyd Wright, with whom he apprenticed under the Taliesin Fellowship programme, following his graduation from Northern State Teachers College with a Liberal Arts degree. Although Lautner left the Lloyd Wright programme in 1938 to establish his own firm in Los Angeles, he would later collaborate with his mentor on a number of Hollywood residences – Sturges, Bell and Ennis among others – up until 1942.
It was Lautner's own redwood and concrete home in Silver Lake, his first solo project, designed in 1930, in which he put into practice Lloyd Wright's 'Usonian' ideas (a word Lloyd Wright used instead to describe his New World vision of architecture and planning that was free of previous conventions). The project garnered him considerable press attention and boosted his reputation in the residential realm.

Although he designed over 200 buildings, including schools, offices, churches and theatres – not forgetting his futuristic midcentury 'Googie' space-age cafes and restaurants – the majority of his work was residential and most of it was in Los Angeles. He did also create though – thanks to his Hollywood connections – three seminal works in and around Palm Springs, two of which have become landmark residences.
RELATED STORY
Not far from Palm Springs, in Coachella Valley, lies the Desert Hot Springs Motel. Designed in 1947 for film director Lucien Hubbard, it was originally conceived as an exclusive enclave of 100 buildings on a 600-acre site, but in the end only four modest 'living units', complete with walled cacti gardens, were completed. The trapezoid-shaped rooms have slanted roofs of Gunite supported by steel I-beams and expansive redwood-framed windows. Known today as the Lautner Compound, the simple concrete, redwood, glass and steel properties were restored during the 2000s and the desert retreat reopened in 2011 as Hotel Lautner.
Lautner's more famous Palm Springs projects were created some years later. The hillside Elrod Residence and the Hope Residence in Southridge, completed in 1968 and 1979 respectively, are more typical of the sculptural, organic architecture for which he became known. They both comprise circular structural elements, panoramic expanses of glass, interiors open to the sky – via generous lightwells or ceiling glazing – and a symbiotic relationship with the surrounding natural environment reinforced by the incorporation of existing rocky outcrops or boulders within the houses.
Although some of these elements may seem purely stylistic, Lautner was a true master at adapting his designs according to the site. In both these cases he creates homes that shelter and protect residents from the harsh desert climate while also showcasing the landscape's natural beauty. At the Elrod Residence, the vast 60ft-wide circular living space is crowned by a 'sunburst' concrete canopy punctuated by skylights and fitted with retractable glass-and-aluminium doors. These slide open to provide a seamless connection with the semi-circular indoor-outdoor pool, terrace and sweeping views of the mountains and Coachella Valley. Arthur Elrod, an interior designer, worked with Lautner on the interiors for his residence.
Meanwhile, comedian Bob and Dolores Hope's nearby 10-bedroom holiday home was inspired by a volcano, although it's also been likened to a mushroom. The curved triangular roof features a huge crater-like aperture at its centre, opening the interiors up to the sky. A problematic project for Lautner, the house was destroyed by a fire during construction and the Hopes micromanaged the design, leaving him less than pleased with the outcome.

Nonetheless, the finished product is Lautner's largest residential project and has been hailed as the most dramatic – further testament to the genius of this most imaginative, and cinematic, of architects. So while Lautner only created a handful of buildings in Palm Springs his presence is writ large in the desert landscape.
INFORMATION
For more information visit the Palm Springs Modernism Week website and The John Lautner Foundation website
Receive our daily digest of inspiration, escapism and design stories from around the world direct to your inbox