Two decades of Design: charting the finest design innovations of 1996-2016
History has its calm spots, long stretches where nothing much happens and the lives of men remain fundamentally unchanged. The last two decades were not such a time. Such has been the dizzying, disruptive advance of digital technology – creating seismic behavioural shifts and tech companies of vast wealth and power – it is easy to imagine the material world, the world beyond the screen, stuck in slow motion, an analogue also-ran with the wrong sort of engine. As this expansive look back at two decades of design innovation makes clear, nothing could be further from the truth. The world of objects has also shifted on its axis. And in more and more areas, design – beautiful, functional design – has shifted from last-minute bolt-on, a perfunctory styling job, to first principle. We now begin with design and the world is a better-designed place. The next two decades will see a new revolution as technology emerges from behind the screen and almost everything becomes smarter. Design will gain new dimensions and we will be here to show you how it happens. And, just to make clear that we can innovate with the best of them, our Proustian design reverie has a unique background pattern in every single issue. Here's to another two decades of smarter, more beautiful, more refined stuff.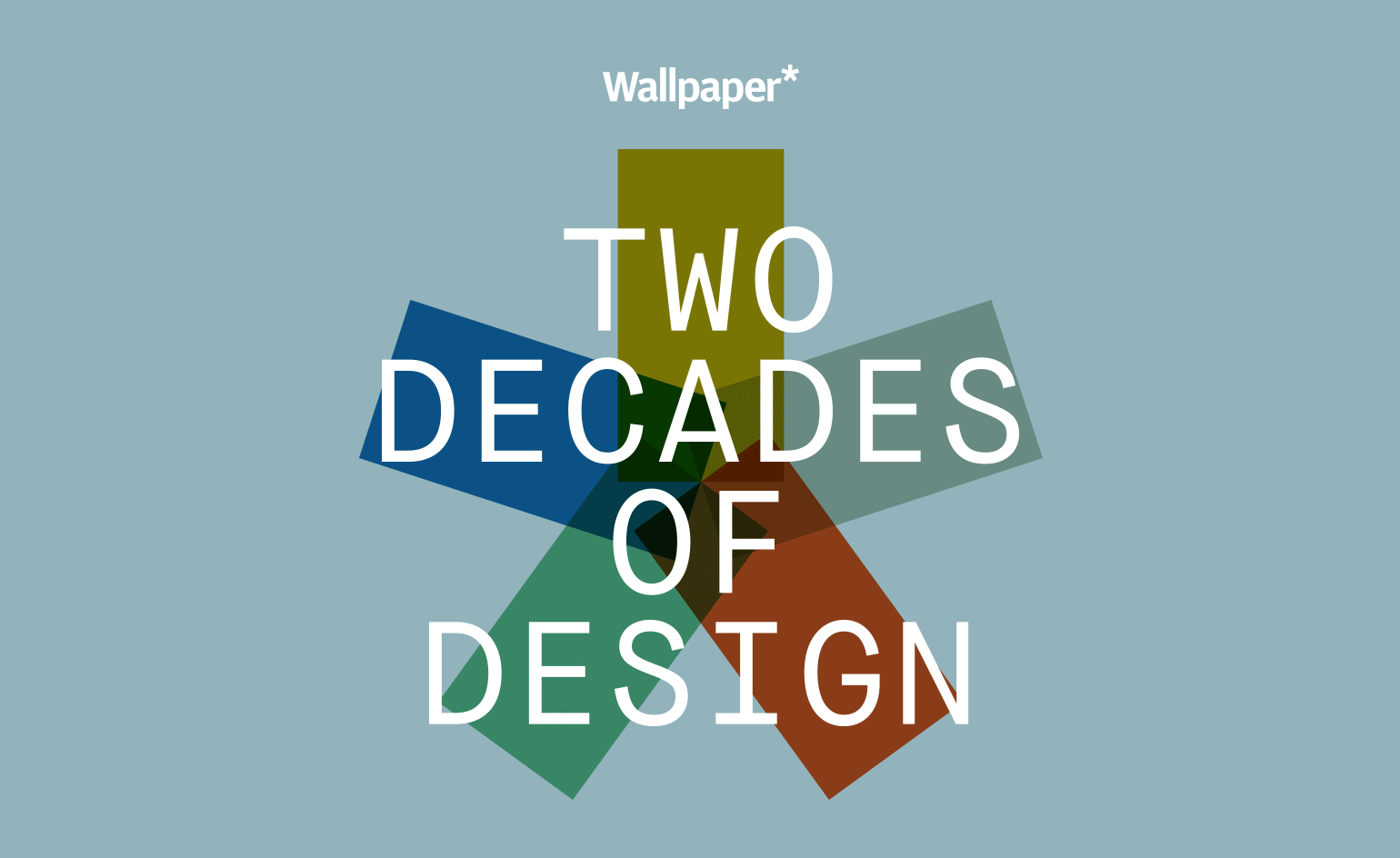 (Image credit: TBC)
Launched in 1996 in First Class and then rolled out in Club World cabins in 2000, the British Airways flatbed transformed business travel with its increased space and comfortability.
Ryanair may have led the low-cost airline revolution, but it was the launch this year of easyJet that showed how an internet-only airline could really work.
The first glimmers of the all-electric future manifested itself in General Motors' forward-thinking EV1. A fleet of around 1,000 cars was leased, not sold, and when they proved too expensive to run, GM had them all recalled and (mostly) crushed.
American company Expedia debuts as the original online travel company to launch and the internet's first big travel brand adding speed to our travel options through bulk searching and booking.
Release of the Nokia 9000 Communicator, which combined a PDA with a digital cellular phone. The two devices were fixed together via a hinge in the first clamshell design.
Luxury watchmakers Parmigiani Fleurier was founded, now known for creating the Bugatti 370, a driving watch inspired by the Bugatti Veyron supercar. Michel Parmigiani, the most famous watch restorer in the Swiss industry, created his own brand.
Architecture master Frank Gehry's Guggenheim Bilbao opens and the Bilbao effect begins. Soon every city will want one following the beauty of its abstract and innovative titanium architectural form.

Colette opens in Paris. Spanning seven hundred sq m and three floors, the retail destination marks the birth of the concept store concept, where a shop is tailored towards a lifestyle theme without having separate departments.
Having first shifted to conceptual cuisine under Ferran Adrià in 1994, elBulli received its third Michelin star this year, and molecular cuisine was off and away.
Fendi launches its first Baguette bag. An instantly strong seller, it really takes off when Sex and the City airs the following year.
Steve Jobs returns to Apple as interim CEO, having co-founded the company in 1976 and pioneered the microcomputer revolution of the 1970s and 1980s, before being forced out of the company in 1985 after a long power struggle.
'Zettel'z 5' chandelier by German designer Ingo Maurer launches. Made of stainless steel and Japanese paper hung with paperclips, some of which are left empty and some of which feature love letters writte in different languages, DIY decoration was never so high-end.
Citterio 98 cutlery for Finnish brand Iittala launches. Designed by architect, furniture designer and industrial designer Antonio Citterio, the matte stainless steel collection brings utilitarian chic into every home.
Odeur 53 by Comme des Garçons starts a totally new concept in fragrance, taking 53 abstract smells created from chemically formulated ideas of inorganic materials like 'laundry drying in the wind'.
Petronas Towers, designed by César Pelli, completes in Kuala Lumpur. It is the world's tallest building at the time and will remain so until 2004, when Tapei101 is completed.
The 'Vermelha' chair is launched by Fernando and Humberto Campana for Edra. The Brazilian brothers show just what can happen when 500 metres of red rope finds its way into the right hands.
Donatella's first Atelier Versace collection wows on a see-through catwalk over the swimming pool at the Ritz Paris.
After having created the Maison Pierre Hermé Paris in 1997, Pierre Hermé opens his first boutique in Tokyo and the humble macaron gets a luxury makeover.
Ace Hotels launches in Seattle, deconstructing the traditional urban hotel model by kickstarting a worldwide trend for unfussy, industrial-chic, hipster-friendly hotels.
Revered industrial designer Marc Newson's Ford 021C concept car, a 1950s-inspired saloon with suicide doors, is our cover star. Produced purely as a styling exercise and not intended for production, it was named after the Pantone orange colour. For the first time, a car is redefined as a piece of contemporary consumer technology.
Two London landmarks, The London Eye by Marks Barfield Architects, and the Millennium Dome by Richard Rogers, open in London.
Japanese industrial designer Naoto Fukasawa miniaturises the hi-fi with his wall-mounted CD player for Muji.
Nikon D1, the first professional digital SLR, launches. It marks, says one wag, the end of the beginning of the digital age.
Famously claiming he was inspired by the padding of his girlfriend's Prada loafers, Jasper Morrison launches the 'Low Pad' chair for Cappellini, now found in Tate Modern and office lobbies the world over.
Just when everyone thought the wristwatch was about to become obsolete, Chanel created a new language in fine watch design with the sporty, unisex ceramic J12. It sold massively and is now an icon of modern watchmaking.
Clandestine bar Milk & Honey opens on the Lower East Side of New York behind an unmarked door with an unlisted phone number. They revive the knowledge, expertise and ceremony that accompanied cocktail culture in years past, and the Craft Cocktail movement begins.
Francesco Binfaré's 'Flap' sofa system for Italian brand Edra, with its reclining elements and liberal use of lycra, astonishes.
Net-a-Porter launches in London with backing from private individuals including Anya Hindmarch and Tamara Mellon (after the likes of Condé Nast pass). As Seen on Screen (soon to be renamed ASOS) debuts the same year.
Architectural triumph Tate Modern opens in the converted Bankside power station in London, to a design by Swiss architects Herzog & de Meuron
What began this year as a site for users to grumble about shoddy hotel rooms, has since become the biggest online brand of unbiased customer reviews, helping small businesses to grow, keeping the service market competitive and delivering a body blow to the traditional guidebook.
Tomas Maier joins Bottega Veneta as creative director, quickly introducing a new era of stealth wealth by removing visible logos – as their famous 1970s slogan conveys, 'When your own initials are enough' – and highlighting the signature intrecciato woven leather.
The Eden Project, designed by Grimshaw Architects as a greenhouse of conjoining geometric plastic cells, opens in Cornwall, England.
iPod launches with the now-quaint slogan '1,000 songs in your pocket'.
Prada opens the New York Prada Epicenter, designed by Rem Koolhaas, as a gallery, lab, skate park and sometime shop, marking the launch of the destination fashion emporium.
Launching as the original flight-comparison website, Skyscanner is flexible, fair and the first of many.
The world is devistated by the destruction of the World Trade Center's twin towers by the 9/11 terrorist attacks.
The first Aesop store opens in St Kilda, Melbourne, marking the start of a magnitude of refined organic lifestyle showrooms.
The first Alber Elbaz collection for Lanvin in 2001 establishes his signature raw edge straight from the off.
Diller Scofidio + Renfro's Blur Building opens at the Swiss Expo. A practice known for art installations and small residential projects joins the big leagues.
Today, every serious sports car manufacturer is in the business of bespoke cars, but Ferrari's Enzo was one of the first, a road-going synthesis of Formula 1 technology and bold Pininfarina design, sold by invitation only.
The Paleo Diet is published. Written by Loren Cordain, it advocates stripping back nutritional intake to just that which our Paleolithic ancestors had, redesigning the meaning of food.
Maarten Baas graduates from the Design Academy Eindhoven with his Smoke series project, for which he charred furniture and treated the torched skeletons with epoxy resin, turning them into useable pieces of furniture.
Concorde takes its last commercial passenger flight after the type's only crash in 2000 and the 9/11 attacks.
The 'Dear Ingo' pendant lamp, designed by Ron Gilad for Moooi, launches. A tribute act and then some.
The height of designer counterfeiting: Japanese artist Takashi Murakami, known for coining the term superflat, creates a candy colour monogram for Louis Vuitton.
Noma opens and the New Nordic food manifesto is written, bringing us Scandi flavours and foraging habits.
Design hotel and mountain spa retreat, Vigilius, designed by Mattheo Thun, opens. It is built entirely out of renewable resources in an attempt to reflect its environment and inconspicuously nestle and merge into the surrounding landscape.
The Walt Disney Concert Hall, by Frank Gehry, opens in a still-resolutely-ungentrified downtown LA.
Zaha Hadid becomes the first woman to receive the Pritzker Architecture Prize, awarded for "contributions to humanity and the built environment through the art of architecture".
It's a big year for Lord Foster as the Gherkin (30 St Mary Axe) and the Millau Viaduct bridge in southern France, both open.
There's a steamed-bun revolution – David Chang's Momofuku Noodle Bar opens and becomes the late-night hang-out of NY's best chefs.
Carl Honoré's book In Praise of Slowness is published, uncovering a movement that challenges the cult of speed in favour of better quality of life.
Virgin Galactic launches as a space flight company developing commercial spacecraft with the aim of imminently witnessing a maiden flight and transforming space tourism.
Raf Simons arrives at Prada-owned Jil Sander and moves into womenswear for the first time.
Five years after he passes away, Spanish architect Enric Miralles' reimagined Santa Catarina food market in Barcelona opens.
The Bjarke Ingels Group (BIG), which will go on to be the architects behind 2 World Trade Center, is founded by Danish architect Bjarke Ingels; revered architect Philip Johnson, known for his modernist estate the Glass house, passes away.
Product design studio Lievore Altherr Molina's 'Leaf' chair for Arper is an instant indoor/outdoor classic.
Google Maps launches and old-fashioned map reading goes the way of the gramophone.
Swedish designer Front's 'Horse' lamp for Moooi launches as design embarks on a mercifully short-lived zoomorphic moment.
Musée du Quai Branly, designed by Jean Nouvel, opens in Paris with a much-copied vertical garden by Patrick Blanc.
Bose's QuietComfort noise-cancelling headphones bring military technology to the masses.
Byredo launches – an ex-basketball playing, Indian/Canadian/Swedish hipster, Ben Gorham, takes the niche perfumery world by storm.
SoulCycle opens in New York, and choreographed cycle classes become the biggest indoor exercise class trend of recent times.
Reindeer by Bistrotheque, a restaurant for Christmas, becomes the UK's first guerrilla restaurant.
BMW's new Mini of 2001 showed that retro design was good business, but it was Fiat that took it to another level. Overseen by designer Frank Stephenson, the 500 is now a mainstay of European city driving.
Cire Trudon is revamped by Ramdane Touhami, taking scented candles into the stratosphere.
The Netflix streaming service launches, encouraged at first by mainstream networks, which see it as a place to sell otherwise worthless old shows.
iPhone launches with 4GB of memory and no 3G access.
City bike-sharing schemes kick off with successful launches in Barcelona and Paris.
BMW Welt exhibition centre, by Coop Himmelb(l)au, opens in Munich, and the New Museum by SANAA, known for transforming its fifth floor into a simulation of a space shuttle, opens in New York.
OMA complete the CCTV HQ skyscraper in Beijing, while Herzog & de Meuron debuts the Bird's Nest, or Beijing National Stadium, with help from Ai Weiwei.
The first Tesla Roadster is delivered to founder Elon Musk and the battery-powered electric vehicle loses its hair shirt.
Airbnb enters the short-term accommodation market and quickly has a huge impact on the hotel industry, forcing many traditional brands to rethink their business models.
'Stack' drawer unit by Raw Edges for Established & Sons debuts at Milan design show Salone del Mobile, as the UK design brand hits its stride.
Emirates launches the ultimate freshen-up with the world's first in-flight shower.
Flos releases the 'Mobile' chandelier by Michael Anastassiades, and the Tab lamp by Barber Osgerby in a banner collection.
This year sees the opening of the Copenhagen Concert Hall by Jean Nouvel, the New Acropolis Museum by Bernard Tschumi, the Neues Museum by David Chipperfield in Berlin, and the Cooper Union by Thom Mayne in New York.
Merci, the constantly evolving concept store, opens on the edge of the Marais in Paris.
The bushy brow takes firm hold with the signing of Cara Delevingne to Storm Models.
The Crystal Candy collection of decorative pieces by Jaime Hayón brings crystal glassware manufacturer Baccarat bang up to date.
Jil Sander launches her first collection for Uniqlo, combining her clean-cut sartorial clarity and the contemporaneous quality of the uber-noughties Japanese brand.
The Slowcooker, by Margriet Foolen for Royal VKB, is an instant kitchen classic, embracing the latest trend in slow cooking.
The Burj Khalifa opens in Dubai, still the tallest building in the world.
Shanghai Expo opens. Thomas Heatherwick's spiky British Pavilion is the standout offering.
Apple's iPad launches. This is meant to save struggling newsprint titles. It doesn't.
The launch of the '001' lightbulb by Plumen and Samuel Wilkinson means there is finally an environmentally-sound, better-looking replacement for the humble filament.
Another platform driving the sharing economy, Uber's arrival disrupts the traditional taxi industry in many major cities.
An important channel in the travel and design digital toolbox, Instagram makes creative directors of us all.
The 'Beverly' chair by Antonio Citterio for B&B Italia is launched.
Art galleries Turner Contemporary and Hepworth Wakefield open in an annus mirabilis for architect David Chipperfield.
The National September 11 Memorial & Museum opens in New York.
Mr Porter launches. Turns out men like shopping too.
Tsutaya, the world's best bookshop, opens in Tokyo.
Cold brew coffee is the new caffeine craze. A centuries-old brewing method, coffee grounds are steeped in room-temperature water for up to a day to produce a concentrated coffee essence which is then diluted and served chilled.
Oscar Niemeyer, the last of the great modernists, dies aged 104. He was known for going his own way with modernism, adding sensual curves to the strict lines and for his work on the United Nations headquarters in New York.
The Future Primitives collection is launched by Muller Van Severen and suddenly tubular steel and leather is everywhere.
Hedi Slimane starts as creative director at Yves Saint Laurent, rebranding it as Saint Laurent Paris.
Sou Fujimoto's House NA in Tokyo takes open-plan living to its natural limits.
The Olympic torch by Barber Osgerby is the standout of a design-heavy London Olympics opening ceremony.
Yves Béhar debuts the Big Jambox for Jawbone and the Bluetooth speaker enters the domestic vernacular.
The Living Office concept, design which reinvents the workspace for today's fluid, egalitarian, creative working life, is introduced by office furniture manufacturer Herman Miller, which also acquires textile giant Maharam this year.
The Pérez Art Museum, the vision of Cuban/American developer Jorge Pérez and designed by Herzog & de Meuron, opens in Miami.
Electric cars come of age in BMW's innovative i3. Not just a car, but a whole new manufacturing process, sub-brand and ethos, the i3 (and i8 sibling) have had a major impact on the way cars are made, sold and used.
The 'East River' chair, designed by Hella Jongerius for Vitra, launches – it was originally created for the North Delegates Lounge at the UN in New York. An iconic designer for an iconic company and client make a perfect trifecta.
Céline reworks, of all things, the Tati laundry bag for the catwalk and formidable old ladies in cities all over the world take a collective bow.
Tyler Hays launches M Crow, in New York – the ultimate expression of the new craft movement, emphasisng handcrafted hyperlocal production inspired by founder Tyler Hays fantasy to personally make every object in his life from scratch.
The third section of the High Line, by Diller Scofidio + Renfro, opens in New York, five years after the inaugural section (from Gansevoort to 20th Street) and three years after the second section (from 20th to 30th Streets).
The Venice Biennale is curated by Rem Koolhaas, widely regarded as one of the most important architectural thinkers and urbanists.
Frank Gehry's Fondation Louis Vuitton opens in Paris.
Every issue of Wallpaper this month contains a unique version of this poster, printed with HP Indigo's Mosaic software, which was first introduced to the mass market in 2014 in Israel, when HP managed to produce more than two million bottles for Diet Coke, none of them the same.
The Etihad Residence Suite, the world's only three-room suite on a commercial jet, features a living room, bedroom and bathroom.
Philippe Starck's revolutionary 'Starck V' tap for Axor brings the inside out with a transparent crystal glass body.
The Broad art museum, by Diller Scofidio + Renfro, opens in Los Angeles.
Apple Watch launches with our favourite straps by Hermès.
Ilse Crawford designs an award-winning collection for IKEA.
The New Whitney Museum, by Renzo Piano, opens in New York.
The Prada Foundation, by OMA, opens in Milan in a converted 100-year-old distillery, featuring a 'haunted house' clad in 24-carat gold leaf and a cinema camouflaged by mirrors.
The 13, the world's most expensive hotel is announced. Located in Macau, it will cost some $1.4 billion to bring to life.
The great dame of architecture Zaha Hadid – the first woman to receive the RIBA Gold Medal and one-time editor of Wallpaper – and Claude Parent – the provocative architect who built the church of Sainte-Bernadette du Banlay in Nevers – both die.
London gets a new Tate Modern extension by Herzog & de Meuron and a new Design Museum by John Pawson.
Raf Simons starts as chief creative officer at Calvin Klein.
Italian modern contemporary furniture company B&B Italia celebrates its 50th anniversary with a book and a film.
In Washington, the Watergate Hotel, designed by Ron Arad, opens in part of the same complex as the infamous Watergate Building, while David Adjaye's National Museum of African American History opens on the National Mall.
Rosa Bertoli was born in Udine, Italy, and now lives in London. Since 2014, she has been the Design Editor of Wallpaper*, where she oversees design content for the print and online editions, as well as special editorial projects. Through her role at Wallpaper*, she has written extensively about all areas of design. Rosa has been speaker and moderator for various design talks and conferences including London Craft Week, Maison & Objet, The Italian Cultural Institute (London), Clippings, Zaha Hadid Design, Kartell and Frieze Art Fair. Rosa has been on judging panels for the Chart Architecture Award, the Dutch Design Awards and the DesignGuild Marks. She has written for numerous English and Italian language publications, and worked as a content and communication consultant for fashion and design brands.