A new show at the Cooper Union delves into the archives of Alvin Boyarsky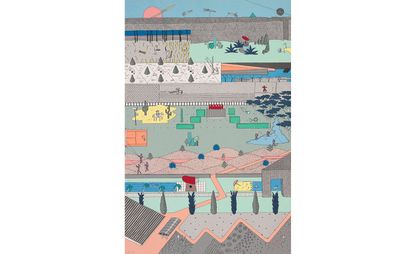 (Image credit: Office for Metropolitan Architecture, from the Collection of the Alvin Boyarsky Archive)
For what seems like eons architecture schools have debated the role of speculative artistic endeavour in their curricula. 'Drawing Ambience: Alvin Boyarksy and the Architectural Association', opening today at the Cooper Union School of Architecture (opens in new tab), makes one of the most powerful arguments for its value that you'll ever see.

The show, co-organised by the RISD Museum (opens in new tab) and the Mildred Lane Kemper Art Museum (opens in new tab) at Washington University in St. Louis (it was displayed at each before arriving at Cooper Union), highlights the collection of drawings and ephemera assembled by the late Alvin Boyarsky during his tenure as chairman of the Architectural Association (opens in new tab) (AA) in London from 1971 until his death in 1990.

Boyarsky oversaw the blossoming of some of the greatest talent in contemporary architectural history - largely a testament to his steadfast advocacy for experiment and his ability to nurture creativity. He received the 44 pieces in the show from John Hejduk, Frank Gehry, Daniel Libeskind, Zaha Hadid, Rem Koolhaas, Lebbeus Woods, Eduardo Paolozzi, Coop Himmelblau, Bernard Tschumi, Superstudio, and Archigram's Michael Webb and David Greene, to name just a few.

These works, which showcase an astonishing range of techniques, styles, and philosophies, reflect not just the flourishing of the groundbreaking school, but a time of unprecedented ingenuity, particularly in drawing, which arguably reached its pinnacle (and perhaps the pinnacle of artistic freedom in architecture, before software began to dictate aesthetic and practical choices) in this time just before the dawn of the digital age.

While the exhibition does contain a few technically-inspired pieces, such as Tschumi's striking sketches for La Villette in Paris and Hadid's study for the Irish Prime Minister's residence in Dublin, most of the depictions dive deep into alternate urban worlds, mega-structures, abstracted buildings, mashed-up landscapes, and visual manifestos. At times their sensibilities merge with Pop Art, collage, Cubism, Futurism, Hi-Tech, Russian Constructivism, or Japanese ukiyo-e.

Drawing Ambience also includes plates from AA publications containing these artworks, and construction photos of large-scale installations (by Hedjuk, Mary Miss, and Coop Himmelblau) in nearby Bedford Square during Boyarsky's tenure. Most of the drawings were exhibited at the school shortly after they were created, but with few exceptions this is the first time they've been accessible to a wider audience.

The sketches were given to Boyarsky as gifts, while these masters-to-be were still students, visiting lecturers, or pre-tenured professors, shedding light on their early processes and inspirations, and yielding unexpected surprises. Untitled by Libeskind, reveals a rare desire to break from ordered chaos into organic form; graphically-rich pieces by OMA's Alex Wall and Zoe and Elia Zenghelis reveal the firm's artistic depth (beyond Koolhaas' contribution) from its early days; and Hadid's four works expose a profound variety of investigation, from painterly, dimensional forms to surreally altered cityscapes.

'It was very much a time of pure experiment,' said Boyarsky's son Nicholas, who grew up with much of this art at his family's home. 'They didn't know where it was going.' He adds of his father: 'He was very much interested in the beginnings of things, and where they would go.'

Steven Hillyer, director of the Architecture Archives at Cooper Union, argues that the show will help today's students 'think more alternatively and poetically about their approach,' particularly because the bold inventions came during these architects' formative years.

Boyarsky, along with Joan Ockman, Tschumi, Webb, former Cooper Union Dean Anthony Vidler, and current Dean Nader Tehrani will be participating in a panel discussion inspired by the show on November 6.
INFORMATION
'Drawing Ambience: Alvin Boyarsky and the Architectural Association' (opens in new tab) runs until 25 November
ADDRESS
The Irwin S. Chanin School of Architecture
The Cooper Union
30 Cooper Sq, New York,
NY 10003, USA