On the dot: Yayoi Kusama embellishes Philip Johnson's Glass House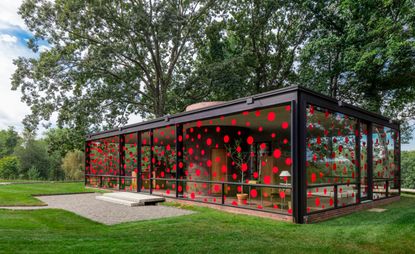 (Image credit: Matthew Placek)
Infinitely obsessed is Yayoi Kusama with her Pepsi-red polka dots, which arrive this time to another site of obsession: Philip Johnson's Glass House, the modernist estate that the pioneering architect spent years developing and cultivating in New Canaan, Connecticut. This summer, the beloved Japanese artist collaborated with the institution, and her third installation at the site, 'Dots Obsession – Alive, Seeking for Eternal Hope', may be her grandest yet. Kusama has stormed the central building of the Glass House armed with her signature polka dots, wherein she has covered the transparent glass interior walls with 1,200 low-tack, adhesive vinyl spots in three sizes (12cm, 18cm and 25cm), in the process creating one of her signature 'infinity rooms'.

On view until 26 September, this engagement is not only the first of many public opportunities to be dazzled by the octogenarian this autumn, but a rather meaningful one to the artist, who penned a poem to accompany her installation:

'The dotted glass house brings eternal love and hope. Before the Glass House, those who see it promise their eternal prayers for peace and love. Glass House, our everything. With feelings of life and death, the house that I love encourages life. Glass House forever.'

As Irene Shum, collections manager and curator of the Glass House puts it, '"Dots Obsession – Alive, Seeking for Eternal Hope" is a triumphant statement by Yayoi Kusama about the power of art to transform pain into beauty and meaning. It is both fun and artistic, with its playful colour and varying sizes of the polka dots; yet sophisticated and architectural in the interplay of shade, shadow and reflection.' The institution also involved famed fashion photographer Matthew Placek to document not simply the Dots, but the other two works on display: Narcissus Garden, in which Kusama placed 1,300 mirrored sphered into the garden's pond; and Pumpkin, her iconic dotted squash sculpture.
INFORMATION
'Dots Obsession – Alive, Seeking for Eternal Hope' is on view until 26 September. For more information, visit the Glass House website (opens in new tab)
Photography: Matthew Placek
ADDRESS
Glass House
199 Elm Street
New Canaan, CT 06840
VIEW GOOGLE MAPS (opens in new tab)