What to see at New York Design Week 2022
Discover Wallpaper's highlights from New York Design Week 2022 (10 – 20 May 2022): the fairs, exhibitions and design openings to discover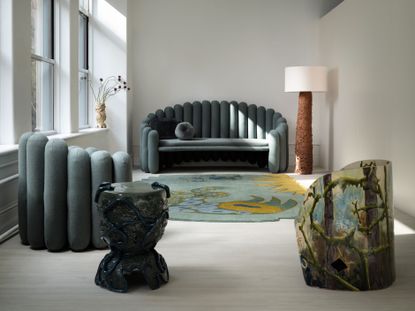 (Image credit: Joe Kramm)
Wallpaper* Newsletter
Receive our daily digest of inspiration, escapism and design stories from around the world direct to your inbox
Thank you for signing up to Wallpaper. You will receive a verification email shortly.
There was a problem. Please refresh the page and try again.
New York City's annual design festival, NYCxDesign, returns with a bang this month and a more diverse and designer-led programme than ever before. Just six months since its last iteration, this 2022 edition of New York Design Week (10 – 20 May) also marks the festival's tenth anniversary. With open-studio design crawls off the beaten path, a vibrant array of exhibitions and, of course, the International Contemporary Furniture Fair (ICFF) – which again joins forces with WantedDesign Manhattan to take place at the Javits Center – there will be plenty to see all over the city. Here, we break down what's in store and flag up our most anticipated highlights.
New York Design Fairs: under one roof at the Javits Center
ICFF 2022
As North America's leading platform for showcasing contemporary design, ICFF brings a wide array of furniture, lighting, accessories and more, and sees some of our favourite brands, such as Bernhardt Design and Armadillo rugs returning to show this year. To counter its density, the fair brings back 'Oasis', a restorative lounge space designed by Float Studio, which debuted last year. Decked out with lounge seating, curtained pods equipped with device-charging capabilities and guided-meditation headphones, this nature-inspired resting point will help revive visitors before they continue on.
15 – 17 May
Javits Center, 429 11th Avenue, New York
WantedDesign Manhattan
At WantedDesign Manhattan, emerging designers have always been a focal point. This year is no different, with the signature Launch Pad showcase highlighting the work of 46 emerging designers from around the world – more than twice as many as last year. WantedDesign is also launching a new schools exhibition, this year including Rhode Island School of Design, Rochester Institute of Technology, School of the Art Institute of Chicago, Michael Graves College at Kean University, Pratt Institute, and School of Visual Arts.
15 – 17 May
Javits Center, 429 11th Avenue, New York
New York Design Week exhibitions
NYCxDesign has become known for its dynamic mix of group exhibitions that pop up all over the city during the festival's duration. Independently staged and often designer-led, these curated showcases are rife with discovery and inspiration, not least because of their exclusive and often unseen locales.
'Industrialism' by Sized
For its first showing in New York, the LA-based curatorial platform Sized takes a deep dive into industrialism to honour its pervading influence on everyday life. Staged in partnership with Urban Zen and spread over two floors, the group exhibition explores how industrial production and collectible design intersect through the work of mostly New York-based artists and designers. Spanning design objects, jewellery, furniture, fine art and even vehicles, the show places materiality and construction front and centre. The show also sees the premiere of a selection of limited-edition pieces, amongst which is a chair (pictured) designed by Patrizio Gola and Guglielmo Giagnotti of Studioutte, in collaboration with Sized founder Alexander May.

19 – 28 May
Urban Zen Center, 711 Greenwich Street, New York
'Intervención/Intersección' by Masa
Mexico City's Masa gallery celebrates its arrival on American shores with its first exhibition of Mexican and Mexico-based artists, architects and designers in New York's Rockefeller Center. Located within a former federal post office, 'Intervención/Intersección' has been curated by the Mexico City-based writer and curator Su Wu and leans into the site's longstanding history as a place for cultural and intellectual exchange between Mexico and the United States. Featuring work by architect Frida Escobedo, artist Jose Dávila and sculptor Alma Allen amongst many others, the mix of contemporary and historical works celebrates the transcendence of boundaries in every sense of the word.

5 May – 24 June
Center Plaza and Rink Level Gallery, 610 Fifth Avenue Conc 1, Rockefeller Center, New York
'Spotlight One' by Black Folks in Design
Another in a series of firsts this week, Black Folks in Design, a collective of Black designers across design disciplines and artistic practices, presents its inaugural exhibition at Ace Hotel Brooklyn. The show casts the spotlight on six creatives and spans furniture, screen-printing, interiors and architecture. Ranging from Studio Anansi's elegant vessels to Luam Melake's perfectly proportioned chair and Kyle Lee's vibrant ceramics, the exhibition celebrates a diverse range of aesthetics.

13 May – 29 June
Ace Hotel Brooklyn, 252 Schermerhorn Street, Brooklyn
'Earthen Luminaries' at Trnk
Trnk honours craft and tradition with a group exhibition of lighting made from porcelain and ceramics. Featuring an international array of designers, including Marta Bonilla, Yuko Nishikawa, Nicholas Pourfard and Ellen Pong, the works on view reiterate the gentility and softness that artisanal stoneware and ceramics can bring to lighting, in contrast with the industrialised and highly precise specimens more commonly seen in the contemporary LED-geared designs on the market.

12 – 20 May
Trnk, 18 Jay Street, New York
'Hometown' by Galerie Philia
Occupying a historic, landmarked townhouse in the heart of Chelsea, Galerie Philia's latest showing combines old-world charm with a sculptural selection of contemporary design. Situated over five floors, the exhibition's evocative installation invites visitors to imagine what life could be like with pieces by Rick Owens, Pelle, Hagit Pincovici and Luke Malaney – many of which have been specially commissioned to fit the interiors.

21 April – 16 June
483 West 22nd Street, New York
'Craft in Transition' by Female Design Council and Carl Hansen & Søn
The work of 12 members of the Female Design Council is on display in a celebration of craftsmanship, process and design at Carl Hansen & Søn. Curated by the council's founder, Lora Appleton, 'Craft in Transition' brings together a contemporary collection of female-created work that showcases colour, innovation and a unique point of view, in a bid to bring women to the forefront of dialogues around design. Setting these forward-thinking works against a backdrop of Danish design classics is purposeful and demonstrates the connection between the considered use of materiality and superior workmanship to withstand time.
10 – 20 May
Carl Hansen & Søn, 251 Park Avenue South, 13th Floor, New York
Designer showcases and openings during New York Design Week 2022
While group shows are an opportunity to share the love, these solo efforts – from showrooms unveiling new collections to galleries dedicating the stage to the work of one designer – prove that there's no denying the power of one.
Jes Paone at E.R. Butler & Co.
'The vitrines at E.R. Butler & Co have always presented design in such a totally New York way,' says Jes Paone, the Brooklyn-based designer and architect whose ceramic light fixtures are currently housed in the architectural hardware showroom's elegant front windows. Paone's latest work includes two new pieces in his Desert series, which have been made using a unique fabrication technique pioneered by his aunt, ceramicist Anne Paone. Highly textured and paired with blackened brass hardware, the new Desert table lamp and Desert pendant designs are each one of a kind when realised in the Negative Finish. Mysterious due to their embrace of the wabi-sabi ethos, they are each perfectly imperfect in every way.
14 May 14 – 14 August
E.R. Butler & Co, 55 Prince Street, New York
'Groovitational' by Sunshine Thacker at Love House
The eclectic design showroom Love House has given up its swish Greenwich Village interiors over to Sunshine Thacker, a ceramic artist and designer, who debuts her first collection of upholstered work, alongside her signature ceramic pieces. For 'Groovitational', Thacker has enlarged and upholstered earlier ceramic forms in a nod to space age exploration, to give sofas, club chairs and a chaise a primitive, yet elevated appeal. Displayed alongside ceramic lights, stools and vessels that exude a comparatively raw and organic ethos, this showcase presents the full breadth of Thacker's practice.
19 May – 2 June
Love House, 214 Sullivan Street, #2D, New York
Minjae Kim and MyoungAe Lee at Matter Projects
Following a successful solo debut at Marta in Los Angeles last summer, artist-designer Minjae Kim returns to his home base of New York to present a second body of work at Matter Projects. Alongside highlights that include new furniture, lighting, his signature fibreglass chairs and a dining set produced in collaboration with Matter founder Jamie Gray, Kim's new showing is especially momentous because it also features paintings by his mother, MyoungAe Lee - an artist in her own right. A poetic dialogue is not only palpable through the different mediums on show, but also in the relationship between mother and son. Now also contemporaries and collaborators, this show lovingly comments on the idea of creating a sense of place.
19 May - 29 July
Matter Projects, 405 Broome Street, New York
Bassam Fellows at Stellarworks
Flat-packed furniture usually gets a bad rap, but certainly not in the case of Bassam Fellows' latest design for the Asian furniture brand, Stellar Works. Nodding to cafe chairs of mid-19th century Vienna and the cafe culture of Shanghai in the 1920s, the American design studio has created Pagoda - a collection of chairs that mixes comfort with efficiency. Reduced to the essentials, each chair is comprised of just six components; a curved seat, a rounded back and four legs. The seat, in particular, draws from the idea of 'oneness' in Chinese culture, while its arching arms subtle reference pagoda gates while imbuing the chair with an enveloping shape.
11 May - 31 August
Stellar Works, 304 Canal Street, New York
Maison Intègre x Noé Duchafour Lawrance at Les Ateliers Courbet
Maison Intègre, the Burkina Faso-based metalsmithing workshop and foundry, has teamed up with designer Noé Duchafour Lawrance on a series of bronze and brass works. Maison Integre's founder Amber Jarno invited Duchafour Lawrance to spend extensive periods of time with the studio's artisans and community, resulting in a collection of work that reinterprets and translates forms often seen sculpted in wood or clay, this time realised in metal. Made using traditional techniques of sculpting beeswax molds and casting the pieces from molten bronze, each of the works, which ranges from tables to lamps and light sconces, is steeped in artistry.
11 May - 26 July
Les Ateliers Courbet, 134 10th Avenue, New York
'Lights & Masks' by Bertjan Pot at Patrick Parrish Gallery
Design pioneer Patrick Parrish showcases the experimental, colour-drenched work of Dutch artist and designer Bertjan Pot in the latter's first solo exhibition on US soil. Known for his wild and imaginative masks and lighting designs, Pot's unique approach to structure, pattern and colour comes together in intricate and wondrous ways. Fueled by curiosity while pushing function and materiality to its limits, Pot wields a wide range of materials, from grass and rope to industrial elements, with an equal delicacy and dexterity.
12 May - 30 June
Patrick Parrish Gallery, 50 Lispenard Street, New York
Kvadrat showroom opening
Kvadrat throws open the doors of its first New York showroom this week, occupying a well-heeled corner of Park Avenue in Manhattan. Designed by Jonathan Olivares, a longtime collaborator of the textile house, Kvadrat's 8,000 sq ft space is a vision of aluminium, glass and colour. Olivares has imagined the two-storey showroom as a workshop/gallery space. A square catwalk on the second floor offers visitors a unique vantage point of the ground floor gallery, while modular furniture designed by Olivares for Moroso allows pieces to be moved and reconfigured as needs require.
Opens 16 May
475 Park Avenue at 58th Street, New York
'Vetro Alga' by Dana Arbib for Tiwa Select
Tiwa Select, the gallery and curatorial platform dedicated to craft, brings the contemporary glasswork of designer Dana Arbib to the fore. In her work, Arbib pays tribute to her Libyan heritage while expressing a romanticised fusion of Jewish, Italian and North African cultures that at one time existed symbiotically in one land. An ode to a distant great uncle, a Libyan migrant who owned a glassblowing furnace in Venice, Arbib's 'Vetro Alga' collection nods to the colours and shapes found in Roman glass and North African relics. Informally placed beside furniture by icons such as Charlotte Perriand and Jean Prouvé, Arbib's pieces add a new layer to the visual dialogue already happening inside Michael Bargo's chic gallery space

14 – 18 May
Galerie Michael Bargo, 15 Dutch Street, #403, New York
'Act Four' by Gabriel Hendifar at Apparatus
Apparatus' brand of sumptuous elegance is back in full force with the unveiling of its latest collection from the studio's co-founder and artistic director Gabriel Hendifar. Named 'Act Four' and inspired by the cultural developments and technological innovations of the 1960s, the optimistic collection celebrates manmade ingenuity by balancing machined perfection and the human hand. Apparatus' penthouse showroom is a must-see on any visit, but this new installation heralds a refreshed look that promises to go beyond expectation.

16 – 18 May
Apparatus, 124 West 30th Street, 4th Floor, New York
'Dada' by Atelier de Troupe
Inspired by Theo van Doesburg's letterpress book What is Dada? from 1923, Atelier de Troupe's eponymously named collection echoes a similarly bold sentiment in its new lighting and furniture designs. Presenting pieces at once functional yet surreal, the label has combined statuesque forms with industrial elements to create a chandelier, pendant lamp, sconce, armchair (pictured) and side table that each cut a strong figure.

10 – 20 May
Atelier de Troupe Galerie, 19 Mercer Street, New York
'Loose Parts' by Nifemi Marcus-Bello for Part and Whole
The Canadian furniture label Part and Whole brings its signature selection of sofas to Lichen's showroom in Ridgewood, Queens. Apart from presenting its flagship collections, Part and Whole also introduces its new Loose Parts programme, which sees the production of limited-edition pieces in collaboration with a designer. The programme's first iteration showcases the work of Nifemi Marcus-Bello, and sees his steel 'LM Stool' take on an eye-catching, fluorescent yellow tone. Designed in Nigeria and made in Canada, the edition of 40 stools will be available to purchase at Lichen and serves as a case study in decentralised manufacturing, while prompting questions about how production relates to place.

11 – 14 May
Lichen, 564 Woodward Avenue, Ridgewood, Queens
'Kingdom for a Horse' by Ben & Aja Blanc at The Future Perfect
The husband-and-wife duo Ben and Aja Blanc take the spotlight at The Future Perfect with an impressive array of lighting and objects that combine handcraft techniques with organic forms. In this showcase in particular, the couple exude an added expressiveness with materiality to push the limits of their visual language. Incorporating elements like horsehair, clay, glass and silver, the new objects are bestowed with a painterly and abstract aura that underscores the concept grounding each piece.

5 May – 15 June
The Future Perfect, 8 St. Luke's Place, New York
Formafantasma at Manitoga's Dragon Rock: Designing Nature
For anyone interested in venturing further afield, Manitoga, the home, studio and estate of the industrial designer Russel Wright, is hosting an exhibition of works by Studio Formafantasma. Installed within Dragon Rock, Wright's historic architectural home made from stone, wood and glass embedded into the landscape (also a national historic landmark), Formafantasma's objects riff off the relationship between the manmade and natural worlds on multiple levels. Made possible by Magazzino Italian Art, the show features several of Formafantasma's early pieces, which were specifically chosen to reiterate themes already present at Dragon Rock, be it architectural philosophy or aspects of Wright's practice. The first site-specific installation from the Italian duo on US soil, this is one not to be missed.
13 May - 14 November
Manitoga/The Russel Wright Design Center, Route 584 Route 9D, Garrison, New York
Receive our daily digest of inspiration, escapism and design stories from around the world direct to your inbox
Pei-Ru Keh is the US Editor at Wallpaper*. Born and raised in Singapore, she has been a New Yorker since 2013. Pei-Ru has held various titles at Wallpaper* since she joined in 2007. She currently reports on design, art, architecture, fashion, beauty and lifestyle happenings in the United States, both in print and digitally. Pei-Ru has taken a key role in championing diversity and representation within Wallpaper's content pillars and actively seeks out stories that reflect a wide range of perspectives. She lives in Brooklyn with her husband and two children, and is currently learning how to drive.