New lighting designs by Ingo Maurer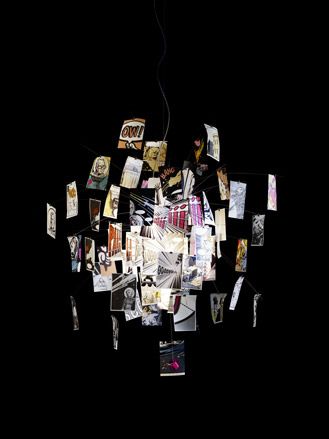 (Image credit: TBC)
Since he produced his first lights over four decades ago, German designer Ingo Maurer has transformed the humble task of illuminating a space into a respected art form. The latest piece to catch our eye from his studio is the 'BangBoom! Zettel'z', a characteristically playful chandelier, inspired by the work of Roy Lichtenstein.
The experimental design incorporates 80 printed sheets of Japanese paper illustrated by the witty hand of Thilo Rothacker. These are suspended from a mesh of stainless steel wires and lit up by halogen bulbs to dazzling effect.
The BangBoom! Zettel'z is a new, limited edition version of the 'Zettel'z 5', which featured 31 love letters and 49 blank sheets - an invitation to the owner to write their own. It replaces the 'Blushing Zettel'z', featuring images of Japanese Geisha, which sold out worldwide earlier this year.
Based in Munich, Ingo Maurer has been creating iconic lighting since 1966, the year his legendary 'Bulb' table lamp first went on sale. Since then he has released more than 150 different lights, as well as designing lighting systems for fashion runways, public buildings and monuments around the world.
Other newcomers to the Ingo Maurer stable include 'Radarrr', a floor lamp that resembles a radar antenna, composed of a faceted aluminium screen which reflects and disperses the light; 'Hoi Polloi', which consists of two cables fixed vertically, one over the other, onto which up to six WoonderLux bulbs can be attached; and the 'Looksoflat' table lamp, a quirky take on the anglepoise, designed by Stefan Geisbauer. 2010 has been a busy year.