Maharam and Serpentine Galleries launch second set of artist-designed wallpapers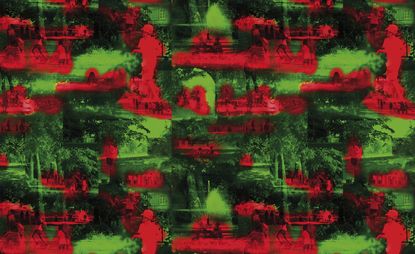 (Image credit: Jean Nouvel)
American textile house Maharam has released its second round of artist-designed wallpapers in collaboration with Serpentine Galleries during Frieze New York. This year, the collaboration gathered the multifaceted international talents of Beatriz González, Alex Katz, Jean Nouvel and Raqs Media Collective.

The four new designs join last year's inaugural release of prints by Ai Weiwei, John Baldessari, Marc Camille Chaimowicz, Toyo Ito, SANAA, Rosemarie Trockel and Lawrence Weiner. Still under the curation of Julia Peyton-Jones and Hans-Ulrich Obrist, the new works follow the same vibrant repetitive patterned theme, all imbued with their own subject matter and mastered using hi-tech digital printing, and high-resolution imagery on the paper.

Each of the wallpapers tells its own artistic story, with a little humour arriving in American artist Alex Katz's animated dog, Sunny. Realised here in a monochrome palette, he leaves just the blood red tongue of his family dog peeking out as the abstract focal point.

Alternatively, French architect Jean Nouvel paid tribute to the beauty of the English summer landscape with his scorching red and green print. Titled Summer Hours in Kensington, it includes photographs of idyllic English paraphernalia in two opposite hues. When discussing the colour choice, he poetically muses: 'Red is summer heat. Red complements green. Red is bright, alive, piercing. Red is provocative, forbidden, loud. Red is as English as a red rose, as red as London's iconic objects, a double-decker bus or a telephone box, the transitory places we gravitate towards.'

More solemn works were offered up by Indian artists Raqs Media Collective and Colombian pop artist Beatriz González, who draws on cultural references with her print Wiwa Stories. The pale blue painting captures the plight of 11 people killed by lightning during a Colombian tribal ceremony. Meanwhile, Raqs Media Collective adopt a similar gloomy palette with a line-up of ominously painted bottles called Antidote.

Proudly printed with UV-resistant inks on a washable, latex-reinforced substrate, the wallpapers will be available by the roll at the Serpentine Galleries shop in London or by the linear yard through Maharam.
Following the first round of designs, the new works adopt the same vibrant repetitive patterned themes, all imbued with their own subject matter and mastered using hi-tech digital printing, and high-resolution imagery on the paper. Pictured: Sunny, by Alex Katz
INFORMATION
Wallpapers are available by the roll at the Serpentine Galleries shop in London, or by the linear yard through Maharam. For more information, visit the Maharam website