Ferran Adrià reveals the secret to elBulli's success at a new exhibition in Madrid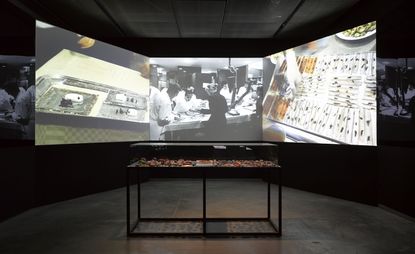 (Image credit: Fernando Maquieira)
'I needed to understand what had taken us to where we were. I wanted to find out what was the real DNA of elBulli,' explains renowned Catalan chef Ferran Adrià. It is this theme that he seeks to explore with a new exhibition, 'Ferran Adrià: Auditing the Creative Process', which opens today at the Espacio Fundación Telefónica in Madrid.

The exhibition charts 25 years of elBulli's storied history, mapping out 'the peculiarities and evolution' of the restaurant's creative process. 'All I have done is look back analyse and every step we took,' explains Adrià. 'Once I thought I had the answers to my questions, I realised that they might be useful to others so it was time to share them.'

Over 1,000 pieces of ephemera such as photographs, drawings, models and workbooks are on display, alongside an impressive audiovisual piece showcasing all 1,846 dishes that Adrià created during his tenure at the restaurant.

'We got to a point where we were actually fighting against elBulli,' he says, recalling the moment when, almost three a years ago, he announced the closure of his internationally influential restaurant. 'The restaurant was no longer a real challenge. It was time to stop.'

The announcement came during the 2010 edition of Madrid Fusión – the world's most important gastronomy event – to an astonished audience gathered at a press conference. But the man hailed as the greatest living chef - who redefined the limits of cooking - had a well-thought-out plan.

Adrià soon immersed himself in a mammoth research project that would eventually cumulate in this expansive show. He explains, 'It was all about creativity and innovation. That is what made us different. We cooked to surprise [guests], to shock them and to make them doubt.' To the show's visitors, however, there's no doubt that Adrià reimagined the language of cuisine.
ADDRESS
Espacio Fundación Telefónica
Gran Via, 28
Fuencarral street entrance, 3
28004, Madrid