Ron Gilad takes us on a tour of his new show at the Tel Aviv Museum of Art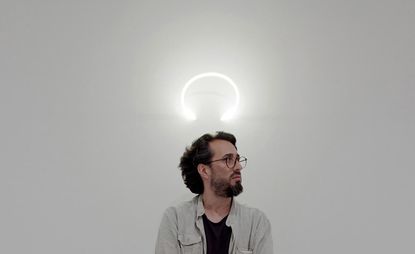 (Image credit: Ron Gilad)
Wander around Ron Gilad's new exhibition at the Tel Aviv Museum of Art and you'll get an unnerving feeling you are being watched. Sometimes the suggestion is subtle - implied by a light behind a closed door in the gallery's display wall - and at other times it's more direct, as with 'Peepholes', a work that spies on you as you peruse the show. Another exhibit ('The Man in the Wall') features a dagger protruding through the plaster with a blood-red thread trailing from its blade. There's definitely life inside these walls - and it can often be quite threatening.

'The exhibition started by dealing with walls as boundaries, which can bring a sense of security but can also be a little frightening,' says the Tel Aviv-based artist-cum-designer. 'There are so many different emotions and points of departure for each and every piece.'

Trickery and wit have long been part of Gilad's oeuvre, whether he is creating limited edition art pieces for the likes of Dilmos Gallery (opens in new tab), or art-infused industrial design works for brands such as Molteni & C (opens in new tab) - scooping the 2013 Wallpaper* Designer of the Year award (opens in new tab) along the way. 'He sustains his vision of design as a form of amusement, a provocation, a humoristic and at times enigmatic act,' says Meira Yagid-Haimovici, curator of design and architecture at the Tel Aviv Museum of Art.

In the Museum's Herta and Paul Amir Building (opens in new tab), this playfulness is at its height, as the show's title 'The logical, the ironic and the absurd (opens in new tab)' attests. To create some of the approximately 100 pieces in the show - most of which were produced in 2013 - Gilad has stripped objects of their intended functions, abstracted and used them to new ends, such as series of Thonet chairs that have been miniaturised and turned into legs for a sofa, or a pair of wooden doors that have been bent together to form a gate.

Meanwhile, standing proud at the end of the exhibition is 'Butler No.4', an extension to his most surreal series to date (opens in new tab). From the front, the sculpture (originally commissioned for our Handmade exhibition in Milan (opens in new tab) earlier this year) looks like a headless valet holding up a panel of wool as a room divider, while seen from behind, it's nothing more than an abstract stick figure. In this exhibition the Butler screens nothing, so his function becomes even further removed.

Witty as Gilad's works may be, they never feel gimmicky. Instead, they have an unusual beauty; even a poignancy at times. Many of the works dwell on the notion of 'home', a recurring theme for Gilad, expressed as far back as 2010 (opens in new tab) with his project '20 houses for 20 Friends'. At the Tel Aviv Museum of Art, there's 'Flat Façade', which looks like a normal house from the front but is completely flat when seen from the side. Then there's 'Smoking House', whose outline is fashioned from a pencil, with a hole in the roof emitting clouds of lead smoke.

Why this constant interest in the home? 'I think I have always felt foreign, and that sensation has been extreme in chaotic New York,' says the artist, who has only just returned to Israel after 11 years in the US. 'So these are like symbols of where I want to be.' 'Smoking' house suggests the warmth and heat within, while 'Flat Façade' is a sanctuary that can't quite be entered.

Part of the beauty of Gilad's work also lies in its simplicity. Even some of the largest pieces are merely suggested with outlines. 'I'm interested in the skeletons, which for me are the essay of the piece,' he explains. 'I never try to cover things with flesh and skin.' He also has the remarkable ability to make hefty materials seem lightweight and malleable: clouds are expressed in marble and a tent made from lead looks like it could float off in a gust of wind. It's this visual brevity and lightness of touch that gives his works their punch. In his hands, the smallest of sculptural details can be powerfully suggestive, which makes the life inside the gallery's walls all the more frightening.