Three days in Doha: art, sport, desert, heat
In our three-day Doha diary, we record the fruits of Qatar's cultural transformation, which involved Jeff Koons, a glass palace of books, and a desert sunset on Richard Serra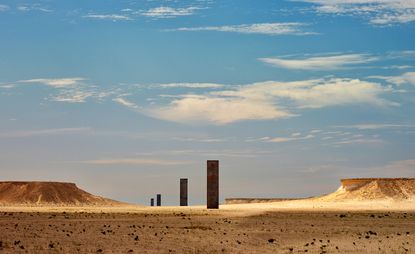 (Image credit: Qatar Museums)
Few places rival the intensity of Doha. Even in late November, your face is cocooned in heat; the horizon wobbles, sizzles and steams. Somewhere between England and Qatar, the colours have turned from green to gold. Doha emerges like a gilded, water-encircled canvas, primed for anyone with a creative vision as vast as its landscape.
I'm with a small group of journalists at the invitation of Qatar Museums. We're here to witness the fruits of the country's cultural transformation; one born with the discovery of oil in the mid-20th century, and that has since evolved into a contemporary Renaissance that has the attention of the world.
Day 1 in Doha: Jeff Koons, lunch at the Culture Pass Club, Christian Dior
At Qatar Museums' Gallery Al Riwaq, we find Jeff Koons: 'Lost in America'. This is the artist's first show in the Gulf, and its significance is not lost on Qatar.
Curated by Massimiliano Gioni, the show is presented as part of the Qatar-United States 2021 Year of Culture. Koons has conceived it as an expanded self-portrait of sorts. We're greeted by a photograph of him aged five, earnest, doe-eyed, and with that unmistakable, ready-made beam that's followed him throughout his career. He wears the same expression at the press conference, where he quotes The Beatles' 'I am the Walrus': 'I am he as you are he as you are me', and reasserts his well-trodden principles: transcendence, transformation and self-acceptance.
These days, the locations of Koons' exhibitions feel just as significant as their contents. As a concession to regional norms, the show is devoid of the raunchier facets of his work, yet it doesn't feel deprived.
The sheer enormity of the museum means the pieces are socially distanced. Until now, I had never quite appreciated the extent of Koons' calculating precision, his ability to optically toy with the viewer and suspend disbelief. He metamorphoses materials: bronze resembles vinyl, plaster looks like a cotton-covered inflatable, and, in his newest works, marble is dressed down as though an oversized ceramic trinket. These replicas of replicas reflect just how easily we fall for artifices; rather than critiquing consumerism, they celebrate it.
At lunchtime, we head to Qatar's first members-only arts club, Culture Pass Club. Think Soho House, but if every house consisted of multiple houses encircling an idyllic courtyard and had interiors by the likes of India Mahdavi, Rossana Orlandi and leading local designers including Aisha Al-Sowaidi and Wadha Al Hajri.
Next on the itinerary is M7, Qatar's 312,000 sq ft hub for fashion and design innovation. Earlier in November, the fashion world elite gathered at the art centre for the Fashion Trust Arabia prize, recognising emerging talent in the Middle East and North Africa region.
Following a momentary distraction from a thorny Isa Genzken sculpture in M7's atrium, we shift our focus to 'Christian Dior: Designer of Dreams'. It's a reinvention of a resoundingly successful exhibition that previously showed in Paris, London, Shanghai and New York, and features pieces from the private collection of Her Highness Sheikha Moza bint Nasser, mother of the Emir and long-time Dior client.
In the evening, we head back to Gallery Al Riwaq for the 'Lost in America' reception. It's disorientating and refreshing to mingle at an art world vernissage unaccompanied by flutes of champagne (In deference to Sharia law, the Qatari government places strict restrictions on the availability of alcohol). But what it lacks in booze, Qatar makes up for in juice, offered liberally, and in most shades of the rainbow. Armed with hyper-real sobriety and tripping on a sugar high, we're all ready to focus on the art.
It's dinnertime, and presumably owing to good behaviour, we've been invited by Her Excellency Sheikha Al Mayassa Bint Hamad Al-Thani, chairperson of Qatar Museums (and cultural arbiter of the nation) to attend the official dinner for Koons. I'm sartorially ill-prepared for the occasion, but manage to dress up my practical desert-wear to a passable standard.
We're ushered to a palatial first-floor courtyard at the IM Pei-designed Museum of Islamic Art – which is officially closed for renovation. The architect, who was 91 when he was coaxed out of retirement for the project, was given free rein to choose any spot in Doha for the museum, and he insisted that future buildings could not encroach on its space. The solution? Qatar gave the building its own island.
There's more multicoloured juice on silver platters, and American-themed food on the menu. There's also a photo booth for the star-studded guest list. (Photo booth is an understatement, I mean a self-contained studio where Brigitte Lacombe, portraitist to superstars, is taking the photographs).
After dinner, we're taken to the underground conservation laboratory. An expert restorer shows us to his workstation, where the magic is happening. We swarm like insatiable magpies around a falcon from 17th-century India: solid gold and laden in rubies, emeralds, diamonds and sapphires. It's impossibly beautiful, priceless beyond comprehension, and shimmers to the point of hypnosis. Suddenly, this begins to feel rather familiar – Jeff Koons would be all over this! Right on cue, he arrives at the lab for a closer look.
Day 2: Sport, Virgil Abloh, a history of Qatar
I have a hangover. Not the post-alcohol kind, but a juice-induced sugar comedown of epic proportions. But enough whining, it's time for sport.
Today is the first day of the inaugural Qatar Grand Prix Formula One and sport is on the agenda. Around Doha, construction is in abundance as Qatar spruces up to host the 2022 World Cup, which will kick off in precisely one year. It's a palpably exciting crescendo, but has not been without controversy. Qatar's treatment of migrant workers responsible for World Cup-related infrastructure has been under intense scrutiny. The Qatari government disputed a 16 November 2021 report by Amnesty International claiming that labour reforms have not translated into changes on the ground, but also stated that 'Qatar has never shied away from acknowledging that its labour system is still a work in progress.'
We are treated to a preview tour of the soon-to-open 3-2-1 Qatar Olympic and Sports Museum, sited adjacent to the Khalifa International Stadium. As an arts journalist, I'm a little out of my depth, but nonetheless an eager student. The museum aims to educate and entertain, offering a history of Qatari sport while providing family-focused interactive games to encourage physical activity.
Next, we head to the W Hotel for another dose of Jeff Koons. This time, he's in conversation with Sheikha Al Mayassa as part of the Art for Tomorrow Talks, in association with The New York Times. Just as I reflect on how, in the last three months, I have spent more time in the physical presence of Koons than I have my own mother, it's time for art by Virgil Abloh.
Like Koons', this is Abloh's first museum exhibition in the Middle East. Held at Fire Station, an arts hub and artist residency centre, 'Figures of Speech' offers a deep dive into Abloh's pioneering media practice spanning visual arts, music, fashion, architecture and design. (Since our visit, the show – a mid-career retrospective – has taken on a new poignancy. On Sunday 28 November, in a moment that shook the world, the celebrated artist Virgil Abloh passed away from a rare cancer, aged 41.)
The next stop is the Jean Nouvel-designed National Museum of Qatar, which blooms from the landscape like a desert rose. This extraordinary building comprises flying saucer-like discs of varying diameters, which engulf the restored palace of Sheikh Abdullah bin Jassim Al Thani, son of the founder of modern Qatar.
The galleries tell us about the history of Qatar, without following the conventional museum formula. Here, everything from the natural history of the Persian Gulf to the establishment of the Qatari state, and to the discovery of oil is narrated via innovative audiovisual elements, seamlessly integrated into Nouvel's design. The museum celebrates the heritage of Qatar, but also puts a spotlight on its rapid modernisation, growth and extraordinary cultural change.
We head back to the hotel on Doha's gleaming new UNStudio-designed metro. Completed in 2019, the network is divided into three travel sections: Standard, Family (for solo women and anyone commuting with children) and Gold (for Goldclub Travel Card holders). Boasting rapid speeds, onboard Wi-Fi and USB charging for Goldclub members, this is surely the envy of the subterranean world, and makes most of the London Underground look and smell like Dante's Inferno.
Day 3: Kader Attia, a palace of books, and the desert sun set on Richard Serra
We arrive at Mathaf: Arab Museum of Modern Art. Following a momentary malfunction of the Ehteraz app (Qatar's mandatory Covid-19 contact-tracing service), I'm soon in the clutches of 'Kader Attia: On Silence', a show of staggering scale, depth and intensity. Attia turns his focus to the complex histories of the Middle East and North Africa, and Doha itself, a multicultural global city of migration and constant social and political evolution.
At the centre of the show is the title work, On Silence. One of two new commissions for the exhibition, it comprises a room filled with prostheses suspended from the ceiling. Though unsettling in their number, they are presented as objects of restoration and optimism for those who have lost limbs in conflict. Attia uses silence as a vehicle for communication: silence to cut through the noise of human suffering (colonialism, political oppression and environmental devastation), enforced silence as a catalyst for trauma, voluntary silence as a conduit to reckoning and repair.
In the 1970s, Doha was but a few modest buildings surrounded by desert. Its statement piece was the spaceship-esque Sheraton Hotel, a striking example of modernism by architect William L Pereira (who also designed San Francisco's Transamerica Pyramid) that perfectly straddles utopia and dystopia. These days, the skyline is a tapestry of architectural delights, particularly in the Education City.
We're here to visit the Rem Koolhaas-designed Qatar National Library, a vast, tiered, glass-clad palace of books and artefacts fit for the digital age. This high-tech sanctuary for research also functions as a custodian of Qatar's heritage by preserving and making accessible the country's recorded history.
As the sun sets on our tour of Doha, there is one final stop, the middle of the desert. Our Jurassic Park-style off-roaders jiggle over the undulating dunes through the Brouq Nature Reserve. After 20 minutes of dizzying motion, we reach our destination: a natural corridor formed by gypsum plateaus, home to one of the most triumphant examples of public art: Richard Serra's East-West/West-East (2014). The installation comprises four vertiginous slabs of Corten steel, each 14m high, with rusted-matte surfaces absorbing the ethereal orange sun.
Spanning more than a kilometre, East-West/West-East slices up the sky like an oversized game of dominoes being played by some higher, much larger power. If an epiphany could occur anywhere, it's surely here.
INFORMATION
qm.org.qa (opens in new tab)
Harriet Lloyd-Smith is the Arts Editor of Wallpaper*, responsible for the art pages across digital and print, including profiles, exhibition reviews, and contemporary art collaborations. She started at Wallpaper* in 2017 and has written for leading contemporary art publications, auction houses and arts charities, and lectured on review writing and art journalism. When she's not writing about art, she's making her own.