India Mahdavi monograph reveals a life in full colour
An ode to the power of colour, India Mahdavi's first monograph shines the spotlight on the designer's trendsetting interiors and signature pieces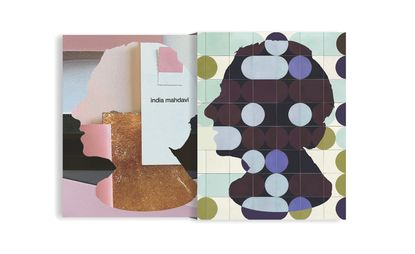 (Image credit: © courtesy India Mahavi)
Paris-based designer India Mahdavi is best known for her way with colour: from Ladurée's boutiques in various shades of acid and deep greens to the all-pink Gallery restaurant at Sketch (said to be the most Instagrammed interior in London, it helped create the trend for millennial pink), Mahdavi has a gift for eye-popping palettes. Now, a new monograph, released during Milan Design Week, explores her vibrant canon.
India Mahdavi: the monograph
It's 20 years since Mahdavi founded her studio, so this long-overdue publication is packed with an entire career's worth of creations. And we're lucky the interior design book has finally been published: it seems only the recent enforced lockdown allowed the designer the time to complete it.
Mahdavi, who trained at Paris' Beaux-Arts and worked for Christian Liaigre before setting up her own studio after the birth of her son, has barely stopped for two decades, as this retrospective makes clear.
There have been hotel designs in Mexico and Monte-Carlo, private cinemas and residences, and restaurants in New York and Paris. She's also opened three spaces of her own – a showroom, a boutique and a gallery – near her office on Rue Las Cases, from where she has launched designs including elegant blown-glass lamps, Mickey-shaped rattan masks, and her iconic 'Bishop' stools, the last now part of the collection of Musée des Arts Décoratifs de Paris.
Making colours sing is only part of Mahdavi's approach: 'I have always practised interior design at the crossroads of other disciplines, such as scenography, film, decor, furniture, and product design, exploring as many opportunities that were given to me to design, decorate, remodel, or reveal a space, creating new experiences, embellishing life,' she writes in the book's introduction.
'But if there is a common denominator to all my projects, it is the necessity of creating a sense of joy, a joie de vivre that I like to convey by using the primary colours of my emotions to listen, to understand, to feel, to respond to an environment,' she continues.
It's this joie de vivre that makes her output so special. And the source for this vision and passion for all things colourful might be found in Madhavi's countries of origin, Iran and Egypt, as well as her peripatetic childhood, which saw her move to the US, Germany and France. Certainly, the boldness of light and the pastel colours of the Mediterranean, where she lived as a child, seep through her work (coincidentally, many of her projects are based in the region).
As well as a detailed interview by Javier F Contreras, dean of the Department of Interior Architecture at HEAD in Geneva, the monograph includes a booklet of Mahdavi's photographs, capturing details, patterns, colours and more from her travels around the world.
Art-directed by Studio Achermann, the volume also comes with a bespoke patterned slipcase. Its cover features the designer's profile and dots in a variety of shades, including periwinkle blue. Perhaps the new colour of the decade? Mahdavi will know.
INFORMATION
India Mahdavi, Chronicle Books, $65, £50, €58
Léa Teuscher is a Sub-Editor at Wallpaper*. A former travel writer and production editor, she joined the magazine over a decade ago, and has been sprucing up copy and attempting to write clever headlines ever since. Having spent her childhood hopping between continents and cultures, she's a fan of all things travel, art and architecture. She has written three Wallpaper* City Guides on Geneva, Strasbourg and Basel.