Remembering Virgil Abloh: 1980–2021
We remember creative pioneer and innovator Virgil Abloh, who has passed away at age 41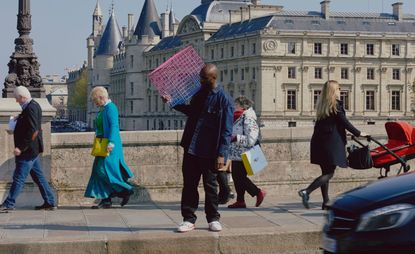 (Image credit: Marvin Leuvrey)
Virgil Abloh, the men's artistic director of Louis Vuitton and CEO of Off-White, has passed away at the age of 41. In a statement released this evening, 28 November 2021, LVMH, Louis Vuitton and Off-White announced that Abloh had died from cancer, which he had battled privately for several years.

A creative polymath and diverse, boundary-breaking figure, Abloh is famed for transcending a host of creative fields, spanning fashion, art, design and music. Born in 1980, in Rockford, Illinois, to Ghanaian immigrant parents, he obtained degrees in civil engineering and architecture, two fields which propelled him from distinct project to project – that he famously coordinated with digital wizardry largely via WhatsApp – including collaborations with Harvard Graduate School of Design, Ikea, Nike, Takashi Murakami, Carpenters Workshop Gallery and Mercedes-Benz.

Abloh first dipped his toe into the fashion industry in 2009, when interning at Roman house Fendi, alongside Kanye West. The stint encouraged a collaboration with the rapper, who appointed Abloh creative director of his creative agency, Donda. In 2012, Abloh launched his first fashion label, Pyrex Vision, a bootlegging-inspired brand that drew on his democratic approach to design, and screen-printed upcycled pieces from renowned labels including Ralph Lauren. 'Whenever I'm presented with a design project, the first thing I relate to is the context,' Abloh told Wallpaper* in June 2019.
Bridging the gap between luxury fashion streetwear, Abloh launched label Off-White, also in 2012, a men's and women's clothing label renowned for its semiotics-driven approach to design, using apostrophes and asterisks as motifs. In 2017, 'The Ten', saw the reinterpretation of ten signature Nike silhouettes, including the Air Jordan 1, Nike Air VaporMax, Nike Force 1 Low and Converse Chuck Taylor, which were reworked using collage, lettering, ironic labels like plastic tags and zip ties, and featured raw, sculpted finishes. The shoes sold out in minutes when they launched, and Nike's SNKRS App crashed due to unprecedented traffic.

In 2018, Abloh was appointed men's artistic director of Louis Vuitton – one of the few Black designers to lead a luxury French fashion house. The appointment marked a milestone moment for representation of people of colour within the fashion industry. His debut show for the house, held outdoors at the Palais-Royal gardens in Paris, featured models walking down a rainbow runway. 'It marked the beginning of a new era, an inclusive atmosphere as 1,000 fashion students were invited to attend. They lined the catwalk, each wearing collectable branded t-shirts. On show seats, guests were presented a map which highlighted the different continents the show's models hailed from. The first third of the show was walked by Black models, including a host of Abloh's musician industry friends,' wrote Wallpaper* contributing editor Dal Chodha in his report on the seismic show.

Abloh did not refer to himself as a designer, but an 'image-maker' – his Harvard University Graduate School of Design and Sternberg Press-published book, Insert Complicated Title Here, featured a series of his 'cheat codes' for working and designing. These include 'Signs of "Work in Progress"' – working without a perfectionist mindset; working according to 'A societal commentary'; and 'Question your mentors'.
In 2019, 'Virgil Abloh: Figures of Speech' opened at the MCA Chicago, celebrating Abloh's career output to date, spanning projects from his DJing to high jewellery design, Ikea and Nike collaborations. The show, designed by OMA, Abloh's long-term collaborators, opened with a new version in November 2021 at the Fire Station in Doha. A poignant section, Black Gaze, analyses Abloh's role in challenging the fashion and design industry's long-standing exclusion of Black talent, and his ability to provide other people of colour with a global platform.
Virgil Abloh and Wallpaper*
Last year, Wallpaper* invited Abloh to take over the limited-edition subscribers' cover of its September 2020 Style Special issue. In the most groundbreaking addition yet to Wallpaper's limited-edition cover series – understated, tactile and radical – Abloh invited the reader to cut the magazine in half with a scissored graphic. The act was meant to highlight the magazine as an object. As an added element of his cover takeover, Abloh personally cut and autographed 184 copies of the magazine, titling this 2 for the Price of 1. The cutting took place on 25 August 2020, at premises of Abloh's regular collaborators Oetee, and the issues were available to buy (funding a fashion scholarship project) on canary---yellow.com, an open access site dedicated to his incredible output of work.
'Virgil transcended culture and broke down boundaries. He was an absolute pleasure to work with – a creative force – engaged, intelligent, connected, collaborative and warm. We have lost a truly positive mind, his impact and legacy will live on,' says Sarah Douglas, editor-in-chief of Wallpaper*.
Famously humble, kind and softly spoken, Abloh was famed for his support of others, championing a new diversification of industries associated with elitism and inspiring a new generation of creatives. A group of burgeoning, talented names gained his support and mentorship, including Samuel Ross and Heron Preston. In August 2020, he launched the fashion scholarship fund 'POST-MODERN', which is dedicated to fostering equity and inclusion within the fashion industry by providing scholarships to promising students of Black, African-American, and African descent. The scholarships are managed in partnership with the Fashion Scholarship Fund (FSF), an American non-profit association that supports the future of fashion. It also encompasses the 'Free Game' Mentorship Series, a website of free how-to guides, accessible to anyone.

'It's important that the door is left open for kids just like me,' Abloh told Wallpaper* in September 2020. 'The future of fashion, the future of design, the future of management and all these careers is an urgent matter. It is vital that figures like me embed within their work a component to fortify that effort.'

After Abloh's first runway show for Louis Vuitton, he posted an image of himself, a hand clutched to his head, standing at the top of the runway. The caption read 'you can do it too...'. He is survived by his wife and two children.
Receive our daily digest of inspiration, escapism and design stories from around the world direct to your inbox