'Fashion to Furniture' explores fashion designers' forays into furniture
Including Rei Kawakubo, Virgil Abloh and Martin Margiela, 'Fashion to Furniture' at Paris' A1043 gallery looks towards the fashion designers who have turned their hands to furniture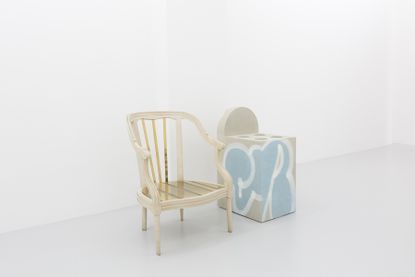 (Image credit: © Yann Bohac, courtesy of A1043)
Back in 2017, A1043 – a contemporary gallery in Paris founded by artist Didier Courbot and landscape architect Stéphanie Courbot – hosted an exhibition of works by Comme des Garçons founder Rei Kawakubo. While the radical Japanese fashion designer is best known for her sculptural, avant-garde clothing collections, the exhibition instead focused on her lesser-known furniture, created in the late 1980s and early 1990s. 'It doesn't have a classic definition; it's outside the codes,' Stéphanie told Wallpaper* at the time. 'What's interesting is that design can often evolve from people who do not work in design.'
The latter statement provides the impetus for a new exhibition, 'Fashion to Furniture' (1 April – May 6, 2023), which opens at A1043 this week. Expanding on the works from Kawakubo – which feature once again here – the exhibition looks more widely at furniture created by fashion designers, from a slew of seminal names including Virgil Abloh, Ann Demeulemeester, Jean Paul Gaultier and Martin Margiela. The Courbots say that they were particularly drawn to the idea of creators working outside of the medium for which they are known: 'Although it is not unusual for creators to go beyond the scope of their field, it is fair to say that these experiments often result in things that make an impression,' they say.
'Fashion to Furniture' at Paris' A1043 gallery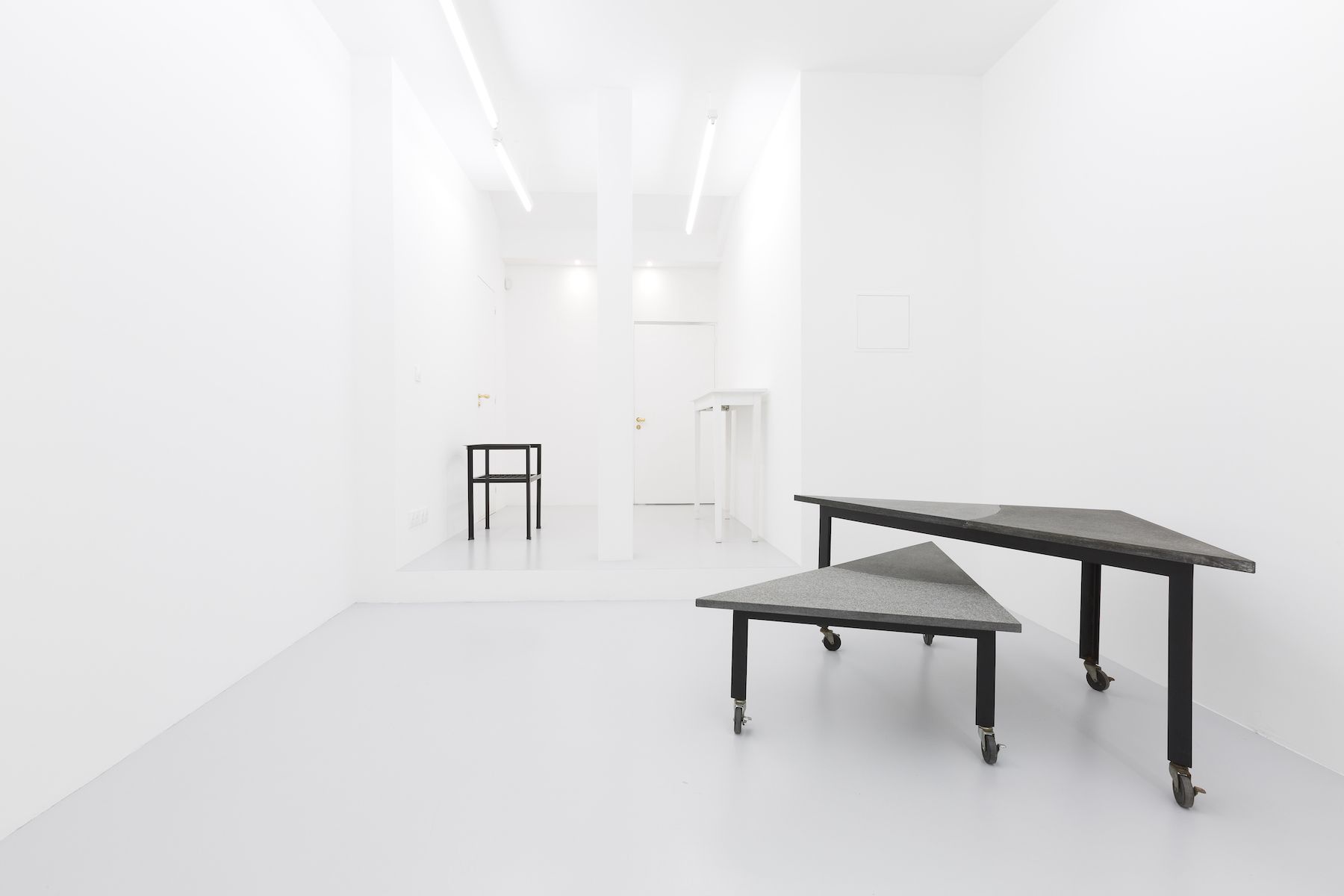 The exhibition begins in the 1980s with the works of Kawakubo, who first created furniture in order to populate her Comme des Garçons fashion stores. The oftentimes brutalist objects, featuring sharp corners and industrial elements, provided an interplay with both her clothing and the architecture of the unconventional retail spaces. '[It is] a technique to create an overall and coherent whole... the boutiques she creates in conjunction with architects are meticulously constructed and reflect very precise ideas,' say the Courbots. 'The shapes, materials, textures and dimensions are carefully considered with a particular purpose and meaning.'
Later works include forays into furniture by Paris' enfant terrible Jean Paul Gaultier, who was first commissioned by French furniture maker Via in the 1990s. In the exhibition, one of these pieces features – a stack of trunks on a metal-wheeled stand, which was his take on a traditional dresser (titled the 'House Mode' dresser, each of the trunks is actually a pull-out draw). 'At the time this dynamic designer was constantly travelling and on the move which is perhaps why the entire series is a reinterpretation of travel trunks,' say the Courbots. 'This is the world of travel, as well as of appearances, light, the moment and the ephemeral.'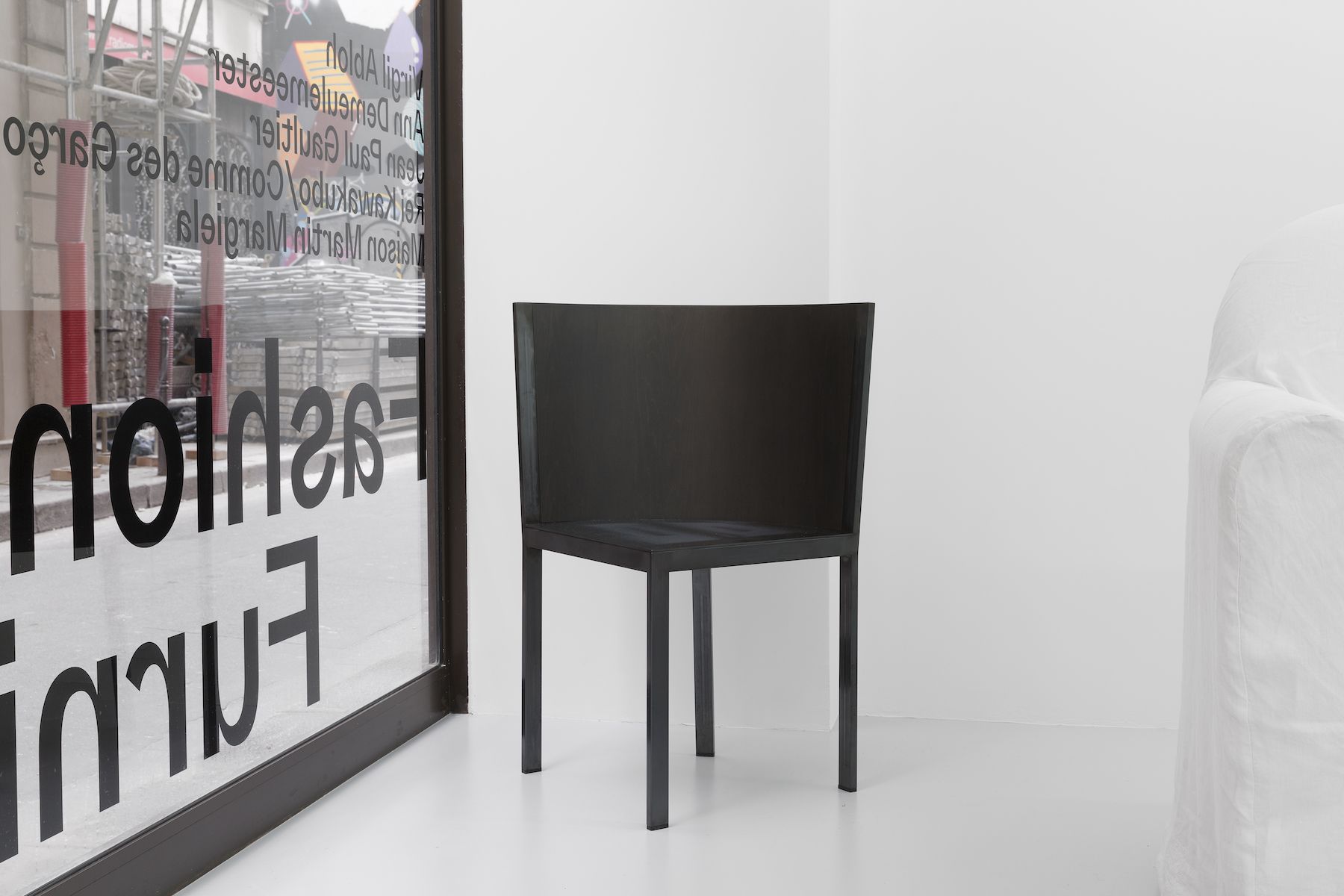 Other pieces include an all-white couch by Margiela – his label's headquarters were famously rendered entirely in the colour, from walls to furniture and the atelier's laboratory coats – and Demeulemeester's mid-1990s 'Table Blanche' set. Also painted white, its surface is designed to wear off in time to reveal the wood below. 'The furniture becomes a canvas on which the signs of use are etched... the bearer of wear and tear and the passing of time.'
The most contemporary work in the exhibition is by late multi-hyphenate designer Virgil Abloh, who transcended his work at fashion houses Off-White and Louis Vuitton to expand into numerous fields – including product design, art and music, alongside a number of collaborations with a diverse array of brands from Nike and Levi's to Cassina and Victorinox. Here, his 'Efflorescence Chair 3' features, a spray-painted concrete block that is part of a wider 'Efflorescence' collection first designed for Paris' Galerie Kreo in 2019. '[The] handful of pieces of furniture bring the noisy, hectic but rich world of cities into the interior space of the gallery,' say the Courbots. 'It is no longer just a question of design but of creating objects with significant evocative power, thus verging on the field of sculpture.'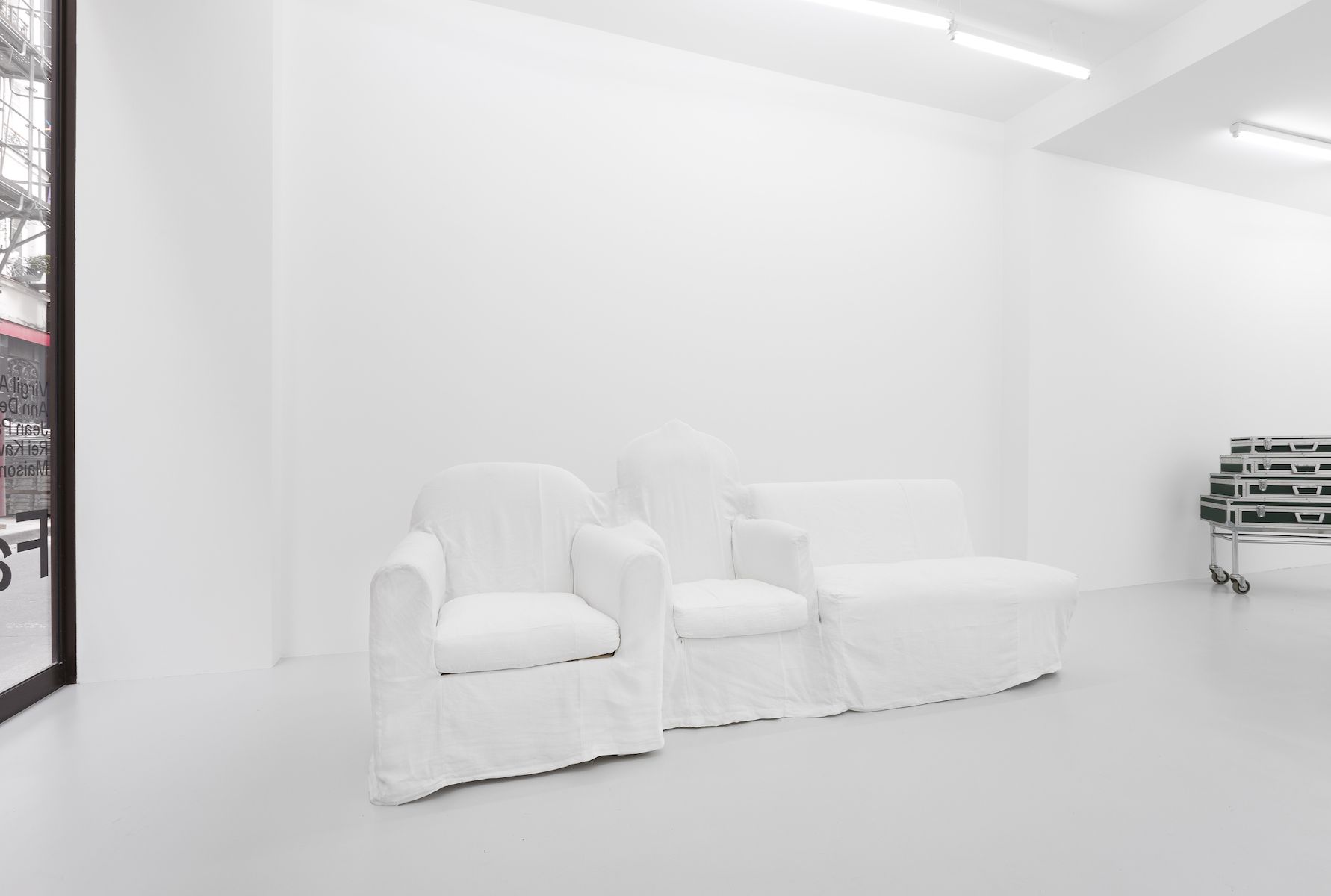 '"Fashion to Furniture" is an opportunity to exhibit under a unifying theme a range of works that can be grouped together using the term furniture, but which are created in a radically different way and stand out from mainstream design,' the Courbots continue.
'Indeed, is it really design at all? The designs originate in very different ways and without questioning the use, production or comfort. But what can be noted is that, without any obvious intention, this furniture adds to the field of design by questioning its limits.'
'Fashion to Furniture' runs from 1 April – May 6, 2023 at A1043, Paris.
Jack Moss is the Fashion Features Editor at Wallpaper*. Having previously held roles at 10, 10 Men and AnOther magazines, he joined the team in 2022. His work has a particular focus on the moments where fashion and style intersect with other creative disciplines – among them art and design – as well as championing a new generation of international talent and profiling the industry's leading figures and brands.