Future forward: Didier Courbot on how Rei Kawakubo created furniture ahead of its time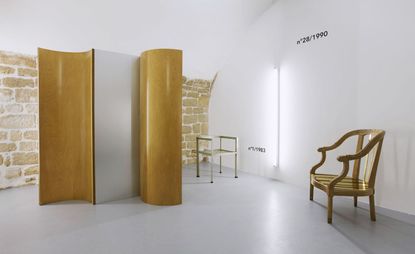 (Image credit: Yann Bohac)
Upon arriving at the Paris gallery, A1043, it becomes clear in an instant that the chairs running the length of the space seem less than hospitable. One seat consists of fence-like wire; another offers a triangular seat with two chains slung as meagre back support. The most extreme of the lot boasts a coiled steel base and upright rod, which give the impression of a Bauhaus prototype gone awry. But the fact that they appear so unwelcoming contributes to the intrigue stirred up by knowing who designed them: none other than Rei Kawakubo, the elusive visionary behind Comme des Garçons.

Gallery owners Didier Jean Anicet Courbot and partner Stéphanie Laurent Courbot have spent the better part of three years collecting furniture that Kawakubo designed between 1983-93. When the couple, who opened their space in 2016, began developing an interest in this niche category from the cult fashion brand, they soon realised how obscure the creations had become. Only after amassing 15 original pieces from across Europe, the US and Japan did they feel ready to mount a show, which furthers their mandate of pursuing a conceptual approach to contemporary design.

'This is furniture that was designed around the idea of transit,' said Didier Courbot during a walkthrough. '[Kawakubo] thought of it as temporary furniture and I love that idea – that you might sit, but only for five minutes. There's this idea of movement.' Accordingly, they envisaged an ultra-minimalist staging with neon tubes installed vertically at various intervals to create a dynamic atmosphere, as though speeding through a highway tunnel.
Within the more spacious lower level can be found the rarest piece among the grouping: a sinuous three-part screen in Japanese linden, its central partition over-paneled in aluminium. There's also Kawakubo's striking interpretation of a Louis XV-style armchair that is faithful to the ornamented French frame, only reconstructed in Japan and left unvarnished with plated brass panels along the seat. Compared to the other pieces, it veers towards baroque.

The final space features a table with a double-stacked top, plus two sets of chairs with vented backs, all created in 1987. The table, in particular, reveals its previous life, most likely as a work desk; if anything, it signals that the furniture was used, not simply conceived as objets d'art.

Indeed, Didier notes that just as Kawakubo has historically rejected the label of fashion designer, she would similarly eschew any notion that this series, numbered chronologically, represents art. Yet for enthusiasts, their limited function and contemplative forms easily qualify as such. 'She's someone who refuses to see herself as an artist; but in reality, she's an artist,' he said.
As store fixtures that were available for purchase, the numbered models – approximately 40 in total – would have supported her aesthetic, whether or not they were intended for wider distribution. Didier suggests they were 'a total commercial failure' on account of being 'too ahead of their time.'

Or else, the lack of comfort proved the deal-breaker. 'It's not made to be comfortable, but it's also not a sculpture,' explained Stéphanie. 'It doesn't have a classic definition; it's outside the codes.' Which is what will likely appeal to collectors some 25 years later. As Didier, himself an artist, pointed out, 'what's interesting is that design can often evolve from people who do not work in design.'

And he's sure enough of the collection's resonance today that beyond this show, he imagines re-editing the pieces so that more people can ultimately enjoy them – seated or not.
INFORMATION
'The Furniture of Rei Kawakubo' is on view until 22 December. For more information, visit the A1043 website
ADDRESS
A1043
47 rue de Montmorency
75003 Paris
Receive our daily digest of inspiration, escapism and design stories from around the world direct to your inbox