'Icons' by Virgil Abloh and Nike celebrates the design history of 'The Ten'
As rumours swirl around the release of 'The 20', Virgil Abloh and Nike release the Taschen-published tome 'Icons', which charts the making of the creative polymath and American sportswear giant's sneaker collaboration 'The 10'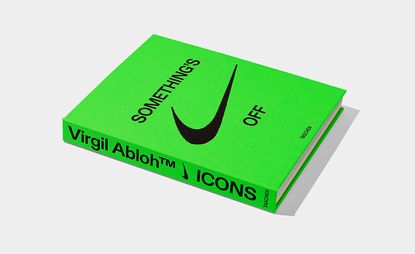 (Image credit: Virgil Abloh and Nike)
Virgil Abloh is famed for his harnessing of digital culture, designing via WhatsApp, creating dialogues through social media, and using the online world as a tool for democratising fashion and the elite luxury landscape. But for the the multi-hyphenate creative's latest project, a compendium charting the design history of 'The Ten', his famed 2016-born trainer collaboration with Nike, he looked to the power of the printed page.

'I teamed up with Taschen to publish a book titled ICONS 'Something's Off' that does exactly what Instagram captions can't do,' Abloh announced on his personal Instagram feed. 'It's essentially the whole logic of how. It's a printed documentary of the Off White and Nike project. All the ones I've done to date and a window into all the ones to come.'
The now cult 'The Ten', saw the reinterpretation of ten signature Nike silhouettes, including the Air Jordan 1, Nike Air VaporMax, Nike Force 1 Low and Converse Chuck Taylor, which were reworked using collage, lettering, ironic labels like plastic tags and zip ties, and featured raw, sculpted finishes. The shoes sold out in minutes when they launched initially back in 2017, and Nike's SNKRS App crashed due to unprecedented online traffic.
'Icons' traces the entire creative history of these designs, with its extensive 352 pages punctuated with concepts, prototypes and text messages between Abloh and Nike's designers. Designed in partnership with London-based studio Zak Group, the first half of the book presents a visual overview of sneaker lexicon, while the second, features the people, places, objects, ideas, materials, and scenes integral to the evolution of the project. Text is contributed by Nike's Nicholas Schonberger, writer Troy Patterson, curator and historian Glenn Adamson, and Abloh himself.

'I believe local bookstores are vital. Indie bookstores have always been hubs of community and culture and they deserve support', Abloh continued in his Instagram post, in reference to the physical distribution of Icons. An international group of independent bookshops, many of which are Black-owned are selling the book before its global release on 22 January, including Malik Book in Los Angeles, Mendo Books, Amsterdam and Mag Culture in London.
RELATED STORY
INFORMATION
nike.com (opens in new tab)
taschen.com (opens in new tab)