Virgil Abloh's cheat codes courtesy of Harvard Graduate School of Design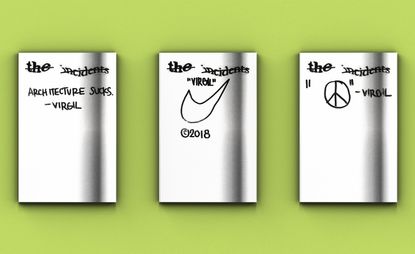 (Image credit: press)
'Insert Complicated Title Here' by Virgil Abloh is the latest book from 'The Incidents' series co-published by the Harvard University Graduate School of Design and Sternberg Press. Sixth in the series documenting 'uncommon events' at the Harvard University Graduate School of Design, the book is a transcript of a talk by Abloh on October 26, 2017, that reveals his 'cheat codes' for working and designing.

Jennifer Sigler, editor-in-chief at Harvard GSD, wanted to find a way to capture, preserve and communicate the spirit of various happenings at the school, such as Abloh's talk, within the medium of the printed word.

'The Incidents' series was born: 'When you're dealing with an event that's very real and tangible, in a book, how much of that energy can come through? The big ambition was how does one translate that in a subtle way, not with full colour photography, but how does one articulate that – the silences and what it feels like to listen.'

Sigler and co-editor Leah Whitman-Salkin worked with graphic designers Åbäke to reach a format that reflected the candid nature of the happening itself through design. 'It is communicating in a different manner that is more spontaneous and theatrical, more candid and honest. Academic text is highly crafted with an argument constructed, it communicates in a very different way. This is more human; not better or worse it's just different.'

The book was launched during the vernissage of Venice Architecture Biennale with Abloh customising covers with a marker pen at the Grafiche Veneziane, a historic printing press. 'What was really exciting about what we did in Venice was how the event turned into a book, then turned into an event, and it did so in the space of a very old printing house. This was completely radical, we aren't living in the age of print but it was Instagram meets Heidelberg.'
'Insert Complicated Title Here' is a casually rolling transcript – even more colloquial and direct because it's Abloh. He thanks Harvard for letting him come along to 'share random things' on his laptop. 'I wish that when I was a student, one person would have given me one ounce of advice that wasn't: The rest of your career will be an uphill battle. But instead: There are all these shortcuts that you can take,' he says. He's so right.
The book shares slides from Abloh's presentation. His cheat codes are laid out in white helvetica caps on black. They guide you towards finding your own signature and DNA. His sense of fearlessness, delivered through his surety in these codes, and his optimism is infectious. You can't help finding the codes applicable to your journey no matter who you are – a Harvard law student in the crowded lecture hall, a kid watching YouTube from her bedroom, or a weary architect picking up the light-weight slice of a book to read on a plane.
Born in 1980, Abloh is a 'multi-hyphenate' – an adaptable multi-tasker, a jack of all trades in the professional world. He trained as a civil engineer at the University of Wisconsin – Madison and completed a master's degree in architecture at the Illinois Institute of Technology. Yet, he works across fashion, creative direction, product design and music. He set up 'Off-White c/o Virgil AblohTM' in 2012 – his studio that combines streetwear with couture and runs collaborations with leading and luxury brands such as Nike, Ikea and Moncler.
'Virgil is never not Virgil, and that constant is what allows him to seamlessly navigate the abrupt terrain between different territories – be it fashion, music, scenography, art, architecture, industrial or graphic design,' says Oana Stanescu, architect and design critic at Harvard GSD, who invited him to talk and introduces him at Harvard.
The designer describes himself as a 'perpetual kid at school', a state that appeals to the crowd of Harvard students. Yet, it's probably this state of openness and curiosity that has lead him to be so adaptable, responsive to the 'new' and appealing to a younger generation of people who are leading the world into the future: 'I work at a feverish pace in a self-serving way, just to find my signature. What's my DNA?' he says.
Abloh works in a way that someone else might consider haptic, no matter how 'millennial' you are. 'The iPhone is my tool. I can have a conversation with you and work at the same time. WhatsApp is my program of choice,' he says.
It's exhausting to picture Abloh's brain engaging in all directions: speaking in the lecture theatre with 10 per cent of his brain, dedicating other percentages to other projects that float like balls in the air above his head. Yet he is convinced that the 'in-between space' is where the magic happens: 'You have no room if you work linearly. Do opposites — it just feels better. That in-between space gives you a new experience that you can use to problem-solve. That's why I work on so many things at one time. I couldn't just do one project day in, day out. That's not healthy.'
Åbäke's design features presentation cards from Virgil Abloh's talk at Harvard

Virgil Abloh's cheat codes

1. Readymade
'I'm sure that you're trying to challenge yourself to invent something new, trying to be avant-garde. Basically, that's impossible. These are things that I've figured out through working. As designers and artists we exist as a result of the many iterations before us, and we're collectively trekking in the same direction.'

3. The three per cent approach
This rule is about editing. Abloh applied it when designing for Nike: 'This is an Air Force 1. The Jordan way. I got asked to do another Air Force 1. This is a new, new one. But I was interested in restraining myself and only editing it three per cent because I don't want another shoe. I want to see something that makes me recognize the shoe I already have.'

5. Signs of 'Work in Progress'
'Once I realized that it's okay not to be a perfectionist, I could suddenly do a million things at once and still go to sleep at night. That's important. If I'm trying to be a perfectionist, then I'm not thinking anymore. It's important to trust your hand and your brain to tell you when something's finished. And then you can post-rationalize.'

6. A societal commentary
'Number six goes back to the question: Do we need another shoe? Do we need another whatever? Any output has to have a reason to exist. That's why we have trash bins and recycling bins. Overconsuming is obviously not okay. As designers, we're the thinkers; we're the ones who have to challenge all these generational decisions. But first: Does it need to exist? It's okay to say no.'

Question your mentors
'You also have to have mentors, dead or alive. You have to connect with a body of work or someone who formulated a thought and an aesthetic, and then build yours upon theirs.' Abloh counts Le Corbusier as a mentor, yet also 'Henrik' from IKEA. He reveals a valuable lesson he learnt from Henrik: 'We're at an age where design is just assumed. He's like: You don't notice that a door handle doesn't work until it's broken. You forget that it has been designed. We're in a world where we just expect design.'

Streetwear and 'adding contemporary value'
Abloh's contemporary lens is what makes him a success. He looks at people and the now. He reads the society by living in it. He places Streetwear as the current movement, after Contemporary Art, Modern Art, Romanticism and the Renaissance.
Throughout the talk, Abloh illustrates his cheat codes with projects he has worked on such as his Ikea commission to design 30 interior pieces for the millennial consumer. Abloh includes making 'storage visible' 'so you can recognise what you own', writing 'keep off' on a huge rug that probably wouldn't fit in a millennial apartment and making a broken mirror – 'Because the ethos is to embed art. Art is free. It's recognizable. It's not anonymous. And that makes it intriguing and worth coveting,' he says, explaining how he adds contemporary value to these pieces.
Abloh's designs are like tools for your brain. They build on a history of good design, that he has studied and can recognise, yet he provides something completely conceptually new. Abloh's DNA makes all this possible.
'A shoe isn't a shoe to me. I'm not approaching it as a shoe. That's where I found a little bit of open space. I was looking at a shoe as an object. That's where sneaker culture had gone. Shoes just sit above kids' beds. They sit in boxes. I wanted the shoes to feel like they were already used when you got them,' he says. What does this say about our society?
Abloh describes when he decided to scratch the word 'Air' into the side of the Air Jordan trainer to effectively label the air pocket: 'It caused a huge headache when I tried to pull this one off. I love making impossible products — products that don't seem like they could make it through a legal department.'
Reading this book may also cause a headache. Specially if you're also on WhatsApp, while having a conversation with someone and doing a talk at Harvard at the same time. But if you can handle it, embrace Virgil's tsunami of thought that hops from Le Corbusier, to Milan, to Rem Koolhaas, to Soho, to shopping, to T-shirt design like an ever-refreshing stream of ideas – you'll come out the other side feeling inspired.
INFORMATION
For more information visit the Harvard GSD Publications website (opens in new tab)
Harriet Thorpe is a writer, journalist and editor covering architecture, design and culture, with particular interest in sustainability, 20th-century architecture and community. After studying History of Art at the School of Oriental and African Studies (SOAS) and Journalism at City University in London, she developed her interest in architecture working at Wallpaper* magazine and today contributes to Wallpaper*, The World of Interiors and Icon magazine, amongst other titles. She is author of The Sustainable City (2022, Hoxton Mini Press), a book about sustainable architecture in London, and the Modern Cambridge Map (2023, Blue Crow Media), a map of 20th-century architecture in Cambridge, the city where she grew up.