'Christian Dior: Designer of Dreams' exhibition opens at the V&A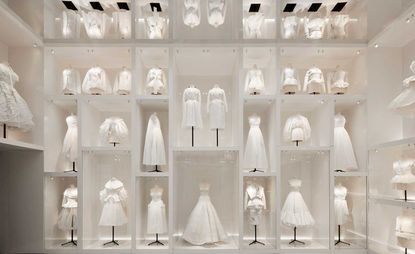 (Image credit: Adrien Dirand )
'For one thing, I love being in a country where the past lies so vividly around me' explains Christian Dior in his autobiography, of his affection for England. It was a sentiment born from his first trip to the country in 1926, to hone his language skills before beginning military service. It's wholly fitting, then, that the history of the couturier himself, and the nip-waisted heritage of the house of Dior, is the subject of a comprehensive exhibition at the V&A in London.

The largest show ever staged in the United Kingdom dedicated to the Parisian maison, Christian Dior: Designer of Dreams is a reimagined take on the seminal Musée des Arts Décoratifs exhibition staged in Paris in 2017. It places particular focus on Monsieur Dior's affection for Britain. Not only did the couturier favour Savile Row designed suits, 'the days of Gainsborough' and British gardens, he was a famous fashion favourite of Princess Margaret.

Dior established his maison in London in 1952, and staged a fashion show at the historic Blenheim Palace (at the behest of the Duchess of Marlborough to raise money for the Red Cross) in 1954. His youthful successor Yves Saint Laurent also held shows there in 1957 and 1958.
'Dior in Britain' is one section of what is an eleven-part exhibition, curated by Oriole Cullen, and designed by Nathalie Crinière. Others include 'The Ateliers' – a breathtaking monochromatic representation of the maison's historic toiles, displayed inside floor-to-ceiling vitrines, and 'Designers for Dior' a history-spanning celebration of the key artistic directors since Christian Dior's death in 1957.

Across a series of resplendent rooms, in the V&A's recently opened Amanda Levete-designed galleries, vitrines, dioramas and resplendently-clad mannequins convey the history of the house, most renowned for its groundbreaking reinterpretation of the female form, when M. Dior introduced 1947's Bar Jacket and its waist-accentuating 'New Look'.

M. Dior was passionate about horticulture, an affection that began during childhood, when he admired the gardens surrounding his seaside home of Granville. The couturier had a particular passion for roses, and even helped erect a clifftop rose garden in his family's grounds. We gravitated towards 'The Garden' section of the exhibition, which explores the importance of flora to Dior. This space features an impressive laser-cut and hand-assembled paper installation, created by Wanda Barcelona, featuring a new flower based on the Princess Margaret rose. Here, in an exclusive film you can see the installation bloom into life.

'Each of my subsequent visits to Great Britain has given me the same sensation of happiness and personal liberty, which I experienced in the first visit' M. Dior revealed in his memoir. This exhibition is sure to reveal similar sensations.
V&A "Christian Dior: Designer of Dreams' installation view. Photography: Adrien Dirand
INFORMATION
'Christian Dior: Designer of Dreams' is on view from 2 February until 14 July 2019. For more information, visist the V&A website (opens in new tab); Dior website (opens in new tab)
ADDRESS
Cromwell Road
London
SW7 2RL
VIEW GOOGLE MAPS (opens in new tab)