Isa Genzken stages a flight of fantasy at Hauser & Wirth
At Hauser & Wirth, the alpha female of German sculpture steers us through notions of travel, social architecture and the human condition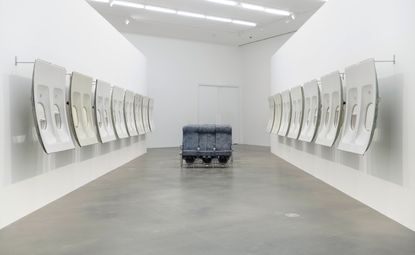 (Image credit: Alex Delfanne)
Wallpaper* Newsletter
Receive our daily digest of inspiration, escapism and design stories from around the world direct to your inbox
Thank you for signing up to Wallpaper. You will receive a verification email shortly.
There was a problem. Please refresh the page and try again.
We're inside an aeroplane cabin. The seats are upholstered in a dated, listless blue fabric and look like they might smell. Health and safety manuals rear their tattered edges from seat pockets. There are ashtrays in the armrests and signs on the window panels prohibiting smoking on board. But something feels off. There's too much headroom, the windows look onto blank white walls and we're standing on a polished concrete floor.

This is one part of German artist Isa Genzken's latest exhibition, 'Window', at Hauser & Wirth, London. These nine seats and 15 window panels, left in desolation, are already greater than the sum of their parts. Here, we're confronting our perception of air travel: familiarity, anticipation, glossy consumerism, anxiety and now more than ever, a jumbo-sized stain on the climate crisis. Genzken has managed to conjure all of this, and perhaps even a spell of phantom altitude sickness.
Both Isa Genzken and her work are difficult to pin down. She's reserved, enigmatic and reluctant to give interviews, but according to Hauser & Wirth Partner Florian Berktold, wields an 'incredible sense of humour.'

Berktold first worked with Genzken in 2004 for a show at Hauser & Wirth's former plot on Piccadilly in an old bank building designed by Edwin Lutyens. 'We did not know what Isa was conceiving for that exhibition, other than receiving the material for the invitation card,' he recalls. 'A few weeks before the show, Isa called to say that she had finished the show, asking for the works to be picked up immediately.'

As with the exhibition in 2004, 'Window' is staged almost exactly as it was conceived in Genzken's Berlin studio. 'It was again a phone call from her to say that the exhibition is done and that it waits to be sent to London,' says Berktold.

Where did she salvage the materials for this project? There's no clear answer, but Berktold has a clue. 'In the early 1990s, Isa's mother was very involved in helping source windows for her work. Isa has said that she would call up Lufthansa telling them that her daughter was in need of aeroplane windows – she was very instrumental in procuring these,' he explains.
Elsewhere in the exhibition is a hulking chunk of concrete, which looks as if Rachel Whiteread's House has been shrunk and posed on steel stilts. It's not a pretty composition, yet Genzken makes it appear tender, fragile and somehow beautiful like we've been handed a pair of rose-tinted glasses and worn them until we don't know any different.

Genzken has never had an exclusive relationship with any one medium or motif. Her shapeshifting practice has seen flings with everything from acoustics to plants. She's been more faithful to some: umbrellas, architecture, concrete and, as we might have already deduced, windows. 'Windows ask viewers to physically engage with these questions,' says Berktold. 'They act as a border between inside and outside, both architecturally and physiologically, whether they open onto a blank wall or remain firmly shut.'
Genzken grew up in West Germany, a country then in post-war tatters and Cold War angst. She took up studies at the Kunstakademie Düsseldorf in 1973 and began mingling in the same circles as Lawrence Weiner, Katharina Fritsch and Joseph Beuys. Her work flirted with Minimalism and Constructivism, but soon enough this elegant rigidity took a U-turn with her 'ruins': boxy lumps of coarse concrete, which dredged up memories of rubble-strewn German streets. Then things got trashy. Pizza boxes, police tape and other obscure readymade rubbish discovered while trawling the streets of Berlin were assembled to critique consumer culture and mass production. Her work has often embodied social unease and capitalist ideals conveyed through the architectural language of Berlin and her beloved New York. The 2000 series, Fuck the Bauhaus, using garishly tinted architectural assemblages of cardboard, shells and tape feels both optimistic and apocalyptic.

Architecture plays a big role in this exhibition too. In one corner of the space, five plinths bear eerie, whitewashed architectural models. Removed from context, they look like space-age, Kubrick-esque environments, but are examples of how Genzken has staged windows, with no apparent architectural function, in and around real-life buildings. In Spiegel, the artist places a symbolic 'mirror' up to the postmodern Stadthalle Bielefeld, asking it to face its reflection.
Isa Genzken's work will always be frustratingly hard to pigeonhole. Her work is radical and conflicting, with a heretical enthusiasm and unyielding ability for constant self-reinvention. She moves too quickly to be lumped into a movement or classification. Once again, this time at Hauser & Wirth, everything you thought you knew about Isa Genzken can go out of the window.
INFORMATION
'Window', until 2 May, Hauser & Wirth.
hauserwirth.com
ADDRESS
Hauser & Wirth
London 23 Savile Row
London W1S 2ET
Receive our daily digest of inspiration, escapism and design stories from around the world direct to your inbox
Harriet Lloyd-Smith is the Arts Editor of Wallpaper*, responsible for the art pages across digital and print, including profiles, exhibition reviews, and contemporary art collaborations. She started at Wallpaper* in 2017 and has written for leading contemporary art publications, auction houses and arts charities, and lectured on review writing and art journalism. When she's not writing about art, she's making her own.