'A Show About Nothing': group exhibition in Hangzhou celebrates emptiness
The inaugural exhibition at new Hangzhou cultural centre By Art Matters explores 'nothingness' through 30 local and international artists, including Maurizio Cattelan, Ghislaine Leung, Hiroshi Sugimoto, Liu Guoqiang and Yoko Ono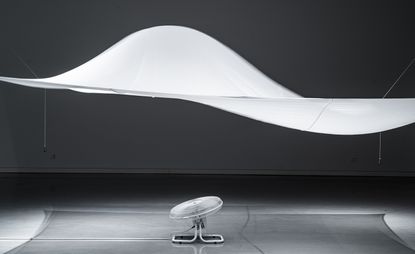 (Image credit: Wu Qingshan)
Wallpaper* Newsletter
Receive our daily digest of inspiration, escapism and design stories from around the world direct to your inbox
Thank you for signing up to Wallpaper. You will receive a verification email shortly.
There was a problem. Please refresh the page and try again.
Located in south-east China, about an hour's drive from Shanghai, Hangzhou has historically been an important hub for artists and scholars. In recent times, it has earned an enviable reputation for cultivating and exporting art and culture. Hangzhou cemented its artistic credentials with the opening last December – after nine years of preparation – of By Art Matters, the cultural centre and main architectural feature of the city's OōEli multi-use complex.
By Art Matters' inaugural exhibition, 'A Show About Nothing', explores the concept of 'nothingness'. Bringing together more than 30 local and international artists – including Francis Alÿs from Belgium, Maurizio Cattelan from Italy, Hiroshi Sugimoto and Yoko Ono from Japan, and Cady Noland and Robert Grosvenor from the US – the show was proposed by the museum's director Francesco Bonami, and curated by Stefano Collicelli Cagol together with Wu Tian and Sun Man.
One interpretation of the subject is German artist Hans Haacke's White Sail (1964 – 1965). White fabric floating in mid-air is loosely mounted on the wall by thin threads and weights. Its form is determined both by artificial wind and visitors' movements, making visible the otherwise unnoticeable interplay between the space, the people and the artworks within it. Museum visitors are all too often overloaded with images and information at the expense of the artistic experience. And while conventional exhibitions tell the stories of others, 'A Show About Nothing' 'invites you to tell your own story', says Bonami. 'The exhibition is a toast to empty spaces, the nothingness in our everyday lives.'
Visitors can seek their own interpretation of nothingness through a selection of seminal Chinese artworks on display including those by Zhengzhou artist Geng Jianyi, who had been an active voice in the 85 New Wave art movement and was an accomplished painter before venturing into performance, photography, installation and video. In the series The Reason Why Classic Is, Immerse and Ten Seconds Immersion (12) (both 1999), empty books of different textures and binding methods have been soaked in dye for varying lengths of time. As the colours bleed towards the centre of the books, they form a symmetrical pattern yet with subtle differences each time. Books are a representation of wisdom and authority, and through these works Geng aimed to denounce how ideologies infiltrate societies through cultural media.
Shandong artist Liu Guoqiang's Untitled (2021) consists of nine small digital screens, each showing a dissected minute hand of a clock in a one-minute video loop that plays asynchronously. A complete image of the clock will never be formed, yet it still depicts the notion of time as an undeniably dominant force in reality, no matter how we try to distort it. Bread (2020), by Swedish artist Ghislaine Leung, releases a bread-like aroma through an under-floor ventilation system. The presence of the sensory installation signifies that experience and engagement are both essential in a cultural institution.
Situated between the picturesque West Lake (a Unesco World Heritage Site) and Xixi Wetland, OōEli – designed by architect Renzo Piano – has a notched trapezoidal layout, about 260m x 175m, composed of 17 buildings with public space and greenery. By Art Matters resides in building number one, which is designed as the starting point for visitors to the complex. It is Piano's first museum building in China, envisaged as a hub of the international and domestic art scene and a centre for research and artistic practice, where nature, art, architecture and culture intersect. The nine-storey structure has a total exhibition area of about 2,000 sq m, with a lecture hall, library, office spaces, a meditation tea house created by Thai artist Rirkrit Tiravanija and a harvestable tea tree garden on the roof – a tribute to Hangzhou as the hometown of Longjing tea.
The museum team also commissioned British artist Richard Long to create a site-specific installation, Boulder Line, in the complex, and initiated a collaboration between Theaster Gates and the B1OCK concept store, where the American artist proposed ideas for the interior space, including antique objects and an installation of eight mixed-media artworks – a minimalist hybrid of exhibition and retail.
INFORMATION
'A Show About Nothing', until 8 May 2022, By Art Matters
Receive our daily digest of inspiration, escapism and design stories from around the world direct to your inbox
Yoko Choy is the China editor at Wallpaper* magazine, where she has contributed for over a decade. Her work has also been featured in numerous Chinese and international publications. As a creative and communications consultant, Yoko has worked with renowned institutions such as Art Basel and Beijing Design Week, as well as brands such as Hermès and Assouline. With dual bases in Hong Kong and Amsterdam, Yoko is an active participant in design awards judging panels and conferences, where she shares her mission of promoting cross-cultural exchange and translating insights from both the Eastern and Western worlds into a common creative language. Yoko is currently working on several exciting projects, including a sustainable lifestyle concept and a book on Chinese contemporary design.