Bosco Sodi's monumental new Mexico City studio is a multifunctional feat
As Bosco Sodi unveils his new Studio CMDX in Atlampa, Mexico City, we speak to the artist about how the vast Alberto Kalach-designed former warehouse is a feat in multitasking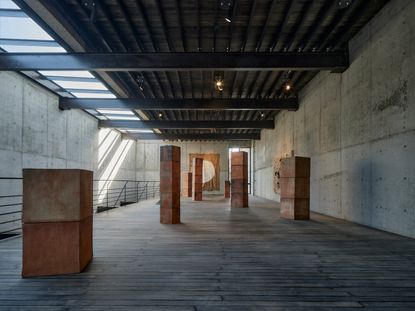 (Image credit: Sergio Lopez)
Bosco Sodi is a busy man. In the last two months, he has opened a new studio and exhibition space in Mexico City (his third worldwide), unveiled his fourth solo show at Galería Hilario Galguera in the Mexican capital, opened other solo exhibitions in Madrid's Fundación Casa de México en España and the Harvard Art Museums in Cambridge, Massachusetts, and is in the process of building a new studio in Greece and working towards a major show at China's He Art Museum in November 2024. We also recently showcased Casa Primitiva, a new space by architects Hanghar on the wine estate Sodi owns with his brother Claudio, just outside Madrid.
But Sodi, who, when I call him at 8 am, tells me he has already been up for hours in his home in New York, clearly thrives on spinning numerous plates. Even his new studio space in the Atlampa neighbourhood of Mexico City is a feat in multitasking. Sodi wanted to prepare for an eventuality where he might have to move back to Mexico to look after his parents while ensuring he also had somewhere to work. But in typical Sodi style, Studio CMDX rapidly became much more than just a studio.
With the help of his friend, architect and long-term collaborator Alberto Kalach (a 2022 Wallpaper* Design Awards winner for Hotel Terrestre in Puerto Escondido), the two have created a vast exhibition space housing an art gallery, artist residency, kitchen and terrace as well as Sodi's personal workspace. The building was originally an old warehouse in the industrial Atlampa colony that was demolished to make two separate structures. As with Sodi's previous forays into the world of architecture, the resulting space is almost monastic in its simplicity, a love letter to humble materials like red brick, concrete and wood with huge windows that bathe the rooms in warm Mexican light.
'We wanted a space where the art wasn't competing with the architecture,' Sodi explains, 'something with simple materials; we love wood, we love plants, we love concrete and bricks.' The terrace and exhibition space are filled with Sodi's own work that until recently had been languishing in storage. Newly dusted off, the pieces dotted around the space create a sort of interactive map of Sodi's CV over the last two decades. His signature paintings made from layering pigment, sawdust, water and glue adorn the walls and more recent golden clay sculptures are scattered around, creating pops of shiny opulence against muted grey breezeblocks.
Since its opening in early February 2023, more than 2,000 visitors have already visited the Mexico City studio, something that surprises Sodi. 'We never thought we would have so many visitors. In the first month of February, we opened it every day, but because of the number of people we've had to cut it down,' he marvels. Perhaps it isn't that surprising but rather the exact manifestation of Sodi's mantra that art has the power to bring communities together unlike anything else.
For Sodi, who was born in Mexico City in 1970, it was important to create a democratic artistic space and gallery in his hometown, particularly in a less affluent part of the metropolis: 'I believe in the power of art to change places, it can completely change the tone of a place and inspire people to reconnect with themselves.' This is something Sodi has witnessed first-hand at Casa Wabi, his first large-scale studio project that he designed with Japanese architect Tadao Ando in 2014 on Oaxaca's wild Pacific coastline. In the eight years since it opened, Casa Wabi has attracted a thriving community of creatives and fostered a new generation of local youths with access to and an interest in art.
The healing effect of creativity in childhood is something Sodi understands intimately. As a child, he was diagnosed with ADHD and dyslexia and was encouraged by his mother to try art classes to help calm his mind. This, it turned out, was the medicine he had needed all along. Inspired by art's healing balm for his own life and perhaps a strong sense of social conscience impressed upon him by his mother, a Marxist philosopher, Sodi has always felt compelled to share his good fortune. 'I think when you are a successful artist you have the responsibility to give back. I am a very lucky guy; I am able to do what I love the most and it's a necessity for me, it's like therapy. When I think where to give back I first think about my country and then also my fellow colleagues, the artists of this world.'
Sodi has lived and worked in many different places, from New York to Berlin, Barcelona to Mexico, but no matter where he is in the world two things remain constant in his work: creating and nature. His use of crude natural materials like volcanic ash, resin and clay is more than just an aesthetic penchant, they are a way of communing with and honouring the natural world.
'Art and nature help us to better understand the universe' he says. 'If you understand the universe you understand yourself and other human beings.' The new studio in Mexico City allows communities to take a break from the chaos outside and take a moment to observe the beauty of simple natural materials and thereby reconnect with the stillness in ourselves. 'Right now we are at a crunch point', Sodi warns. 'If we don't learn to connect with ourselves and what nature is, it will be a disaster.'
To make an appointment to visit Studio CDMX visit boscosodi.com/studio-cdmx.
'Bosco Sodi: Origen', until 9 June 2023, Harvard Art Museums, Cambridge, Massachusetts. https://harvardartmuseums.org/exhibitions/6298/bosco-sodi-origen
Alabanzas, until 7 April, Galeria Hilario Galguera, Mexico City https://www.galeriahilariogalguera.com/exhibitions/alabanzas