Artist Bosco Sodi on his inclusive vision for Mexico's Casa Wabi
Casa Wabi, on the Oaxacan coast of Mexico, combines world-class architecture by Tadao Ando with a mission to promote social commitment through art.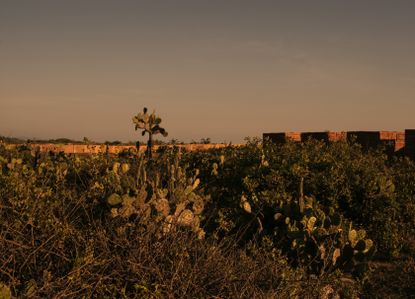 (Image credit: Spencer Wells)
Among cultural destinations that bring together art, architecture and nature, Casa Wabi stands out for the fact that it's founded and run by an artist. Buoyed not by inherited riches or a mining fortune, but by the grit and generosity of the Mexican painter and sculptor Bosco Sodi, it combines exceptional beauty with a refreshingly inclusive vision.

The origins of Casa Wabi are by now well chronicled. Sodi became an admirer of Tadao Ando during a residency in Japan around 2006 and would send regular faxes asking to commission the architect, only to be turned down repeatedly. It took six years for the architect and the artist to finally meet, at the latter's Brooklyn studio and then over lunch at a restaurant around the corner. Ando still didn't commit to the project, but drew a big wall on a napkin that would become the central feature of his eventual building. Sodi recalls, 'four months after that Hurricane Sandy happened, and my studio was totally destroyed. Someone sent Ando the photos, and he finally wrote me a letter saying he wanted to go ahead'.
By then, Sodi had secured a stretch of land, sandwiched between a beach and a mountain range, in Puerto Escondido on the Pacific coast of Mexico. It was available for the same amount of money that he just made on a show, again in Japan. 'It was destiny,' marvels the artist. Japan factors into the story in another way: the name Casa Wabi references the Japanese philosophy of wabi-sabi, which embraces imperfection and ephemerality.

The name befits the main building, which is made from exposed concrete, an Ando signature. It stands in stunning contrast to the landscape, while incorporating distinctive local elements such as a thatched roof in Oaxacan palapa palm. The aforementioned wall runs 312m along the site, 'emphasising the horizontality of the sea and the terrain of the mountain', explains Ando. Ando's plan further includes an open studio for Sodi, without doors or windows so light and air could also pass through from all sides; an exhibition space; an observatory and meditation space; and six bungalows for artist residencies. Meanwhile, the Mexico City-based architect Alberto Kalach transformed the landscape with new plantings of indigenous species, such as red-flowering tabachin trees and coconut palms.
Subsequent additions to Casa Wabi – which Sodi calls the pavilions – have involved both leading international architects and emerging local practices. Each has been commissioned with the local community in mind, supporting artisans and offering educational opportunities to young Oaxacans. 'I have done well in my career, so I feel an obligation to give back to my country, and to Puerto Escondido, one of the places I love the most,' Sodi says.
Thus, Álvaro Siza's clay pavilion serves to host children's workshops, Kalach's chimney tower will be installed with a ceramic kiln, and Gloria Cabral and Solano Benítez's newly completed composting pavilion will offer lessons on rejuvenating the local terrain. And it's not just humans who benefit: Kengo Kuma has created a charred-wood chicken coop, while young Mexican architects Ambrosi Etchegaray designed a nursery for guayacan, an endangered local plant species.
Above: Alberto Kalach's chimney tower, which has finished construction since the time of photography. It will house a ceramic kiln to fire pieces that have been created in the adjacent clay pavilion, by Álvaro Siza. Below: A view of Kengo Kuma's chicken coop, made from charred wooden boards using a traditional method from the western part of Japan. 'It gives a certain expression of serenity to a new construction, as if it had been there for over a century,' explains the architect
Six years since its initial opening, Casa Wabi has welcomed all manner of visitors: local children who come for workshops and movie screenings, and to learn about architecture; artists- and designers-in-residence, who can spend their time as they wish, provided that they engage in a community project; even a composer every year, who works with the local band to develop symphonies. There's now an open call for a bonsai master to develop a project for the guayacan pavilion.

The international art programme is likewise going strong: the likes of Daniel Buren, Ugo Rondinone and Izumi Kato have done solo shows. At the moment Lawrence Weiner has taken over the exhibition space with three new, site-specific works. Permanent installations on the grounds include Sodi's Los Atlantes, a land art piece made from 102,400 bricks, using local clay and ancestral burning methods; and from this year on, an 'Underground Sculpture Park' by the French conceptual artist Loris Gréaud. Gréaud has selected 20 of his works to be buried forever along the paths of the Casa Wabi gardens. The pieces are accessible only to the mind. Not until next February, once the burial spots are covered with vegetation, will benches be installed to indicate their location.
Casa Wabi has been the driving force for better architecture in the Puerto Escondido area: recent years have seen the completion of remarkable hotels and private homes, by the likes of Kalach, Ambrosi Etchegaray, and fellow Mexican talents Federico Rivera Rio, Alberto Calleja, S-AR and Aranza de Ariño. Concerns that the influx of wealth would create difficulties for longtime residents have certainly been on Sodi's mind; one of his current projects is a small store for the community at the back of the Casa Wabi plot, selling groceries and daily necessities to locals at a fair price.

The artist admits that the current pandemic has proven a stumbling block in his plans for Casa Wabi: 'I get some funding from the local government, but for the most part I pay for the Casa Wabi foundation myself. So we're having to do with less money and more creativity for now.' An upcoming woodworking pavilion, which would involve Japanese carpenters demonstrating their joinery techniques to local artisans, has been put on hold. Casa Wabi is temporarily closed to visitors too, though local children will be invited back for workshops soon, and a new batch of artists-in-residence (four Mexicans, and two Americans who live in Mexico) are expected in early June.
Here, we speak with its founder Bosco Sodi ahead of his @wallpapermag Instagram takeover
Usually based in Brooklyn, Sodi has taken refuge at Casa Wabi for the past two months. It's the longest amount of time he's been in a place for the last 15 years. 'I figured that it would be a good idea to come here and focus on improving the foundation. This pandemic is a terrible thing, but we as humans have the obligation to make the most of any tragedy and create a better world', he says. His reflections on the pandemic may well encapsulate the mission of Casa Wabi: 'We need to be more connected with the people around us, with all human beings, and with nature.'
RELATED STORY
The foundation's central complex is surrounded by six freestanding residences.
INFORMATION
ADDRESS
Casa Wabi Foundation
Salina Cruz
Santiago Pinotepa Nacional Km 113
Puerto Escondido, Oaxaca
Mexico
TF Chan is a former editor of Wallpaper* (2020-23), where he was responsible for the monthly print magazine, planning, commissioning, editing and writing long-lead content across all pillars. He also played a leading role in multi-channel editorial franchises, such as Wallpaper's annual Design Awards, Guest Editor takeovers and Next Generation series. He aims to create world-class, visually-driven content while championing diversity, international representation and social impact. TF joined Wallpaper* as an intern in January 2013, and served as its commissioning editor from 2017-20, winning a 30 under 30 New Talent Award from the Professional Publishers' Association. Born and raised in Hong Kong, he holds an undergraduate degree in history from Princeton University.
With contributions from