Tanya Aguiñiga: the artist weaving new narratives for borderless creativity
We profile Tanya Aguiñiga, the LA-based artist and Loewe Foundation Craft Prize finalist, whose work explores life on the US-Mexico border and seeks to empower transnational voices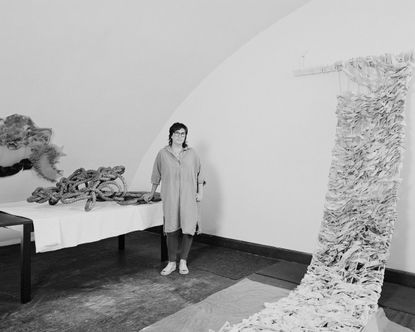 (Image credit: Amanda Hakan)
Wallpaper* Newsletter
Receive our daily digest of inspiration, escapism and design stories from around the world direct to your inbox
Thank you for signing up to Wallpaper. You will receive a verification email shortly.
There was a problem. Please refresh the page and try again.
Tanya Aguiñiga knows a thing or two about living in flux. From the age of four, each morning at 3.30am, she travelled across the US-Mexico border from her home in Tijuana to her school in San Diego. 'It's crazy, logistically. But it's also crazy, psychologically and emotionally,' she tells me via Zoom from her LA studio, with off-white fibre works dangling from the half-moon wall behind her. 'At the time, kind of similar to now, there were massive amounts of migrants at the border up against the fence trying to get to the US side. We had to navigate pretty difficult experiences on our way. There was incredible desperation on the faces of adults, and as a child, it's super difficult to deal with.'
At the age of 18, Aguiñiga moved in with her grandmother in San Diego and settled in the US. 'In a lot of our border towns, you're constantly part of whatever journeys people are on. Mostly, that involves people's really tragic journeys to get to the border,' says the artist, who, because she was born in the US, was able to cross freely. 'I constantly thought about my privilege, and I had a lot of guilt for being able to cross back and forth. It does, obviously, shape who you become.'
Aguiñiga's wide-ranging practice spans sculpture, furniture and fashion design, immersive installations, performance, and community-based projects. Her art is far
from a solitary pursuit; her studio of seven years, a Second World War Quonset hut in LA's Elysian Valley, has become a meeting point of sorts, for workshops, craft fairs, and to exhibit the work of other artists, particularly those marginalised.
'When I came to see it, I thought it was the most amazing studio space I had ever seen, she says. 'People are always like: "Are you in a spaceship?"' Overlooking the LA River, it sits within a hive of activity, but not the sort you might expect for an incubator of cross-border creativity. 'It's hard to ignore that I'm in a tow yard,' says Aguiñiga. 'I can hear arguments when people come to pick up their cars. The cops are usually here once a week to pick up stolen cars. There's a lot of tow yard activity.'
From a young age, Aguiñiga felt a sense of duty to give back to her community. At the age of 19, while in community college, she met her mentor, Michael Schnorr, a member of activist art collective, Border Art Workshop/Taller de Arte Fronterizo, which, founded in 1984, sought to give voice to those at the politically charged meeting point of two countries. Aguiñiga witnessed how art could be used to bridge communities, alter narratives and empower change, and she began making collaborative installations with the group. 'That immediately just exploded my head open,' she recalls. 'I had no idea that you could use art to help people.'
Aguiñiga first studied art at San Diego State University before going on to study furniture design at the Rhode Island School of Design, a decision informed by a desire to create something that was – as opposed to art – practical, and justifiable to her parents who had made sacrifices to facilitate her education. But then she began immersing herself in different craft-based processes. In 2007, she travelled through Mexico – from Oaxaca to the Mayan communities in Chiapas – to absorb the country's ancient and multifarious history of ancestral craft that existed long before Spanish colonisation of the Americas.
Informed by her experiences, Aguiñiga realised she had a choice: to use 'comfortable' European weaving technologies, or liberate her work from all that Western education had taught her, to 'decolonise' her practice. 'After learning how to backstrap loom weave, I had a massive revelation: I was like "the body and materials are connected, and the material is a witness to whatever emotional or physical state the body is going through, the tension is recorded",' she recalls.
Aguiñiga then began thinking about the ties we have to objects and territories,
and how art can be deployed as an accessible tool for protest, activism and community building. In 2016, Aguiñiga founded AMBOS (Art Made Between Opposite Sides), a platform that spotlights the experiences of binational artists. Although the non-profit AMBOS mostly operates in Tijuana, and Aguiñiga's own practice within her LA studio, the two are fundamentally interwoven.
'We fund AMBOS through the making of pretty things here,' says Aguiñiga, who is currently co-ordinating two ceramic studios at LGBTQ asylum shelters in Tijuana through the initiative. 'I'm thinking not just about what art can do, but what it's for and who gets to participate,' she says, noting the deeply-rooted, often class-based hierarchies in arts education. 'It's very rare that somebody who's self-taught makes it this far. The language is exclusionary, the spaces are exclusionary, the skill levels for certain things are exclusionary, so I'm constantly trying to think of how I can knock down barriers. A lot of that comes from growing up on the border and how there are limits that people set on us. We shouldn't have boundaries on our creativity.'
Earlier this year, Aguiñiga was one of 30 finalists selected for the 2023 Loewe Foundation Craft Prize, and currently features in the prize's exhibition at the Noguchi Museum, New York. It was something of a journey to get here. 'I think I've applied maybe four times to the craft prize, and never make it in!' Aguiñiga quips. 'I was like, oh, the [projects] that get in are about mastery of skill. Connection to culture, yes, but mastery, that's where I keep messing up! I was sending in stuff that was too loaded.' Her shortlisted entry is Matriarchal Womb, which combines a deft command of materials with the cultural depth synonymous with the artist's multifaceted practice. '
Matriarchal Womb skilfully layers textiles from distinct craft lineages, from crochet to coiling, as a metaphor for the bonds that exist between families and within communities. 'It's an intricate and poignant work', says Jonathan Anderson, creative director of Loewe.
Like many of Aguiñiga's fibre works (including those currently on view in a solo exhibition at Chicago's Volume Gallery), Matriarchal Womb uses off-loom woven, undyed cotton to signify the interconnected non-hierarchical relationships within communities. The knotted fibre, dipped in self-drying Mexican terracotta, represents ancient forms of communication in Mesoamerica, Aguiñiga's own identity, and what it means to 'have more brown objects in a very white space'. But at its core, the piece is about motherhood, womanhood and nurture. 'In the beginning, it was about making spaces of care,' she says. 'I didn't think I was going to make me and my daughter.'
Aguiñiga emphasises the importance of such prizes in broadening the conversation around global craft, and defending its validity as a device for storytelling against capitalism and hyper-commodification. 'It's important for people to know how many of us are still making stuff', she concludes. 'And that we care about craft, but also connecting with each other globally through what our hands can do.' By carving space for non-hierarchical making, decolonised craft and borderless creativity, she is developing a practice that encompasses her own, and the voices of many, in pain, joy and solidarity.
A version of this article appears in the July 2023 issue of Wallpaper*, on newsstands now and available to subscribers. Subscribe to Wallpaper* today
Matriarchal Womb is on show as part of the Loewe Foundation Craft Prize exhibition at the Noguchi Museum, New York, until 18 June, craftprize.loewe.com
Swallowing Dirt is on view at Volume Gallery, Chicago, until 17 June, wvvolumes.com, tanyaaguiniga.com
Receive our daily digest of inspiration, escapism and design stories from around the world direct to your inbox
Harriet Lloyd-Smith is the Arts Editor of Wallpaper*, responsible for the art pages across digital and print, including profiles, exhibition reviews, and contemporary art collaborations. She started at Wallpaper* in 2017 and has written for leading contemporary art publications, auction houses and arts charities, and lectured on review writing and art journalism. When she's not writing about art, she's making her own.