Inside Ricardo Bofill's Walden 7, a cathedral of postmodern curiosity
A new series by architectural photographer Sebastian Weiss takes us on a tour of Walden 7, Ricardo Bofill's majestic Catelonian apartment building – a cathedral of utopian curiosity and community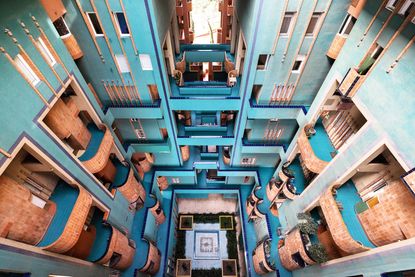 (Image credit: Sebastian Weiss)
Photographer Sebastian Weiss, like many of us, has a thing for the work of Ricardo Bofill. The legendary Spanish architect, who died in 2022, made his name with experimental pop-coloured facades, geometrically stacked or tiered residential buildings and Escher-like staircases that appear both postmodern and futuristic.
Hamburg-based Weiss has a particular interest in Bofill's early apartment buildings. Following on from his acclaimed series exploring La Muralla Roja in Spain, Hamburg-based Weiss has now turned his lens on another of Bofill's masterpieces, the 1975 apartment complex Walden 7, in Sant Just Desvern near Barcelona, in Catalonia, Spain.
Here, Weiss offers us an exclusive photographic tour of the iconic building, which was built on the most quintessential of modernist ideals: to enhance the quality of life for those who inhabit it.
Ricardo Bofill's Walden 7: a visual tour by Sebastian Weiss
'Walden 7 is far more than just a residential building, but is a community experiment with new forms of coexistence beyond the classic family. The building is visually delightfully absurd and heavenly [and] irrational. A huge red mountain that can be seen from a great distance. With a playful façade and an entrance reminiscent of a temple or ziggurat. In the foyer, I immediately thought of a cathedral, it looks so big and majestic inside. There are more than 400 apartments spread over 14 floors in the house and about 1,000 people live in it.'
'The orientation is a bit complicated at first. Walden 7 appears as a vertical, turquoise-blue tiled labyrinth in which corridors intersect, bridges overlap and squares open up to dizzying heights. While the colossal structure appears to be well-fortified from the outside, it reveals its monumental beauty on the inside with fantastic views of the outside and sometimes surreal perspectives. It's a walk-through work of art and a feast for the eyes, but it's also a feast for all the senses.'
'Walden 7 is known for its lively community and so you can hear many voices in the corridors, in the stairwell, in the bar on the ground floor or the clatter of table tennis players next to the elevators. When it's hot and dusty outside, the inner courtyards remain pleasantly cool and there is a smell of laundry drying on the arcades and of plants that grow everywhere in the house and on large balconies.'
Harriet Lloyd-Smith is the Arts Editor of Wallpaper*, responsible for the art pages across digital and print, including profiles, exhibition reviews, and contemporary art collaborations. She started at Wallpaper* in 2017 and has written for leading contemporary art publications, auction houses and arts charities, and lectured on review writing and art journalism. When she's not writing about art, she's making her own.