Spain's Casa Primitiva is ruled by simplicity
The pared-back Casa Primitiva by Hanghar fits in perfectly in its semi-rural Spanish context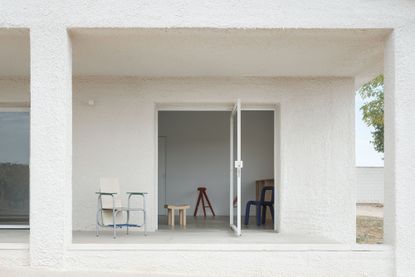 (Image credit: Luis Díaz Díaz )
Casa Primitiva, as its name suggests, is an unpretentious structure. The one-storey, 120 sq m building has a rectilinear footprint; its brick perimeter walls bear five identical steel trusses that support the gabled roof and divide the space underneath into four bays. The material palette is pared back (off-white mortar for the exterior walls, concrete for the flooring, natural wood for the countertops), and openings are reduced to rudimentary forms.
Making Casa Primitiva
The structure's simplicity belies bold ambitions and a sophisticated design process. It was commissioned by a pair of brothers, Claudio and Bosco Sodi. Brooklyn-based Bosco is an internationally renowned painter and sculptor, and creator of Casa Wabi – a cultural destination on the coast of Puerto Escondido, Mexico, featuring architecture by the likes of Tadao Ando, Alberto Kalach, Álvaro Siza and Kengo Kuma; while Claudio is a prolific theatre producer in Madrid.
They recently bought a wine estate on the outskirts of the Spanish capital, and have set their sights on recruiting leading architects to add a wine pavilion and villas to the vicinity of the existing winery building. But first, they needed a place for these architects to stay. The task of creating such accommodations fell to Hanghar, a boutique architecture practice in Madrid.
Founder Eduardo Mediero calls Hanghar 'a ten-year architectural office', established on 1 January 2021 and expiring on 31 December 2030. Its limited lifespan is a deliberate rejection of mission creep: other architects may aspire to go from small projects to making a big concert hall, but he wants Hanghar to stay focused on 'residential projects that question normative ways of owning a house', within the context of its rapidly developing home city. The practice has a flat structure, and is owned by a foundation comprising friends from fields such as architecture, sociology and urban planning. He explains, 'We send them an annual report, which they use to evaluate whether what we do is of value and worth continuing. By putting ourselves under this sword of Damocles every year, we make sure we are on track to achieve our goals.'
At the invitation of the Sodi family, Hanghar had created a proposal for the Orchid Pavilion – a small, temporary covering for indigenous flowers at Casa Wabi – but that project did not come to fruition. So Casa Primitiva is their first collaboration.
On his initial visit to the wine estate in early 2022, Mediero was drawn to the site's transitional character. 'It's set in this bucolic landscape of rolling fields of vineyards, but if you turn around, you see the skyline of Madrid. So you're in complete connection with nature, but the presence of urbanity is still somewhere in the background, reminding you that you're not that far away,' he says. This dichotomy came to inform the structure of Casa Primitiva, a temporary dwelling that also serves as a space for meetings. Mediero describes it as 'a project that never fully decides what it is'.
Taking cues from local homes, Hanghar gave Casa Primitiva a modest profile, so it gives the impression of a secluded retreat in a vast landscape. The exterior walls are finished with an off-white splashed waterproof mortar. Mediero points out that, in addition to being cheap and efficient, the mortar has a raw, unpredictable character that has parallels with Bosco's work: 'You can't really control the final outcome. It's like his clay balls and clay cubes – they are perfect in the beginning, but get deformed in the firing process. He never knows how they are going to come out.'
Inside, the high ceilings, exposed roof trusses and concrete floor suggest a more industrial character, akin to an artist's warehouse. The house's layout is informed by the landscape: going from the most communal areas (front porch and a combined kitchen, living and dining room) on the side with the best views, to the most private (bathrooms and closets) on the opposite side, with two identical bedrooms in between. The lack of interior ornamentation reflects Hanghar's intention 'to explore a long-fixed obsession in the field of architecture: the minimum, essential dwelling'.
Mediero is particularly fond of Casa Primitiva's two large, square-frame windows, whose pristine glass and precisely cut metal frames stand in contrast with the exterior walls. Connecting the front porch and living space, the windows offer generous views and double as doors. 'I like the fact that you don't enter the house through an actual door, you go through the windows,' he says. Meanwhile, interior doors are 'as invisible as possible', just one panel with two hinges and a sliver of a handle, and the smaller windows at the back of the house are inset to offer more privacy.
Furniture that the Sodis acquired over the years from dealers in Spain, France and beyond – featuring rugged forms, natural materials and a muted colour palette – is complemented by a selection of 'wackier and more colourful' seating by contemporary talents: a blue 'Bold' chair by Swiss design studio Big-Game; playful stools by Tornasol Studio, which shares its offices with Hanghar; and an armchair and coffee table, made of metallic tubes and sheets, by Chilean practice Fun Furniture for Friends.
While the house was completed in 2022, Mediero notes that 'it feels like it has always been there, in its simplicity and locality'. It's also a reflection of his clients' personalities: 'Bosco and Claudio are breezy and easygoing people, and in the same way, the house has a chill vibe. It's very down to earth.' 
A version of this story appears in the April 2023 Global Interiors issue of Wallpaper*, available now in print, on the Wallpaper* app on Apple iOS, and to subscribers of Apple News +. Subscribe to Wallpaper* today
TF Chan is a former editor of Wallpaper* (2020-23), where he was responsible for the monthly print magazine, planning, commissioning, editing and writing long-lead content across all pillars. He also played a leading role in multi-channel editorial franchises, such as Wallpaper's annual Design Awards, Guest Editor takeovers and Next Generation series. He aims to create world-class, visually-driven content while championing diversity, international representation and social impact. TF joined Wallpaper* as an intern in January 2013, and served as its commissioning editor from 2017-20, winning a 30 under 30 New Talent Award from the Professional Publishers' Association. Born and raised in Hong Kong, he holds an undergraduate degree in history from Princeton University.