Marseille's Museum of Contemporary Art (MAC) reopens with a pop
Amidst social turmoil, MAC, Marseille's Museum of Contemporary Art reopens following a four-year facelift with a pop-coloured show by Paola Pivi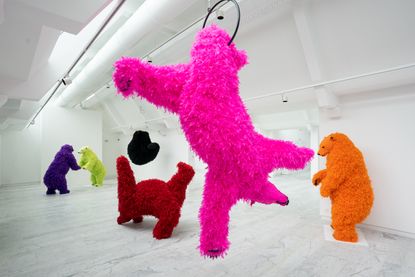 (Image credit: Photographer: Hugo Glendinning. Courtesy of the artist and Perrotin)
Marseille's Museum of Contemporary Art (MAC) has just received a facelift. In the wake of the Covid-19 pandemic, the institution – located in the affluent southern neighbourhood of Bonneveine – underwent a four-year refurbishment. As a result, it now boasts a brand-new reception hall, a rooftop terrace and a new exhibition space.
The reinvented museum – whose new artistic director Stéphanie Airaud is due to stem in this summer – opened with a bang last night with a temporary exhibition by Italian artist Paola Pivi and a rehang of its impressive collection featuring works by Louise Bourgeois, Zineb Sedira and Niki de Saint Phalle. But the celebration was tainted by ongoing social turmoil linked to President Emmanuel Macron's pension reform.
Designed in the late 1970s by the German physician Gustav Rau with views to house his private collection, MAC's building was subsequently donated to the City of Marseille which opened its doors to the public in 1994 before obtaining museum status in 2003. Its modernist building is characterised by an imposing saw-tooth roof which graces its 2,500 sqm of marble-floored exhibition space with abundant sunlight.
Now, thanks to a €5 million refurbishing project spearheaded by local architecture firm Bureau Architecture Méditerranée (BAM), the museum boasts an uncluttered entrance hall open to the street and over 300 sq m of additional exhibition space dedicated to experimental projects. Outside, a ramp now also links the entrance courtyard to the Bonneveine garden at the rear of the building and to a brand-new rooftop terrace with an aluminium bar and panoramic views of the surrounding eight arrondissements.
Inside, a newly-conceived hang gives an overview of the museum's impressive collection which features some 600 works spanning twentieth-century movements such as Art Povera, Nouveau Réalisme, Fluxus and Supports-Surfaces. Inspired by Italian critic and artist Germano Celant's seminal essay '1968: Towards a Global diversity', the new display titled 'PARADE' features 130 works divided into six sections exploring such themes as materiality, subjectivity and fiction.
Some masterpieces would certainly earn the envy of other museums. Among them, Mexican artist Gabriel Orozco's iconic 1993 sculpture La DS – a modified Citroën DS conceived to fit only one body; Jean-Michel Basquiat's 1985 painting The King of Zulus – an homage to Louis Armstrong made of acrylic, oil pastels and glued photocopies on canvas, purchased by MAC in 1986 for the modest sum of 30,000 French francs (approximately 8,500 € today); and French artist Annette Messager's 1984 Couteau Baiser – an enlarged photograph of a passionate kiss retouched with bright monochromatic acrylic colours and mounted on canvas.
Alongside this, a temporary exhibition by Paola Pivi titled 'It's not my job, it's your job' features her ever-so Instagrammable multi-coloured feathered bears, among other large-size interactive works.
For Marseille – France's third largest city historically burdened by high rates of criminality and unemployment – MAC's reopening is a symbol of its recently-elected socialist mayor Benoît Payan's culturally-progressive international vision, one which contrasts with his centre-right clientelist predecessor of 25 years Jean-Claude Gaudin. But on the evening of the launch, the city's enthusiasm was overshadowed by the stark reality of nationwide social turmoil over pension reforms when a group of some 40 protestors stormed the podium chanting 'Macron démission!' ('Macron resign!') and brandishing banners reading 'No to the privatisation of the art world!' The intervention served as a harsh reminder that a revitalised museum alone can't save Marseille from its complex urban ills.
Paola Pivi, 'It's not my job, it's your job', 6 August 2023, MAC, Musée d'art contemporain, 69, avenue d'Haïfa, 13008 Marseille. macm.org