Gathering: the new Soho gallery blending art and social activism
Gathering, the newest gallery resident in London's Soho, will focus on contemporary art exploring systemic social issues. Ahead of Tai Shani's inaugural show, we speak to founders Alex Flick and Trinidad Fombella about their vision for the gallery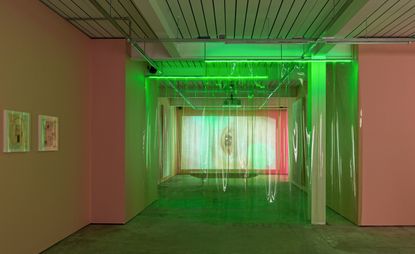 (Image credit: Brotherton Lock, courtesy of the artist and Gathering.)
Soho and the contemporary art world go way back. This centuries-old breeding ground for radical art has been responsible for cultivating the careers of many a canon-steering artist. But even now, when a new gallery moves in, it's big news.
Enter Gathering, a new two-floor gallery space on Warwick Street founded by Alex Flick and Trinidad Fombella. Opening in time for Frieze Week 2022, Turner Prize winner Tai Shani inaugurates the space with 'Your Arms Outstretched Above Your Head, Coding With The Angels' – an ethereal, psychedelic show exploring power structures and political ideology.
Flick and Fombella's vision for the Gathering is a fusion of contemporary international art and social activism, particularly artists focusing on gender, race, queer culture, colonialism, the environment, inequality and marginalisation.
Wallpaper*: When and how did the idea for Gathering come about?
Trinidad Fombella: The idea for Gathering had been in the works for a long time, but we started working on it full-time last year. After two years of isolation, of exhibitions being cancelled and feeling as though life had been postponed, we decided it was time to build a place where we could come together physically and intellectually.
Alex Flick: We wanted to create a new, inclusive platform where we could showcase a diverse programme of site-specific exhibitions focusing on our shared passion for immersive installations and radical practices by international artists.
Wallpaper*: Can you describe the vision for the gallery and the artists you hope to work with?
AF: Our vision for Gathering is guided by our deep interest in showcasing unique artistic voices, and fostering cultural exchange, dialogue and social interventions. To open our gallery with a solo exhibition by Tai Shani is incredibly exciting, her multi-disciplinary practice could not be more relevant, both to our vision and to today's cultural climate.
TF: Our guiding principle is that the work we show be innovative, exciting, and artistically and intellectually relevant. We are particularly interested in radical, experimental and multidisciplinary artists. Tai has been making work in this realm for nearly two decades, but her exhibitions have mostly lived within institutional frameworks. She is known for large-scale installations, and constellations of enigmatic works that make poetic environments which are politically charged and actively address power structures.
Wallpaper*: Why was it so important to anchor the gallery in social activism (the Gallery Climate Coalition, Embode and The Anti-Slavery Collective) from the outset? And how will this inform your programming?
TF: The environment is an issue that we care about deeply. Gallery Climate Coalition is a brilliant initiative that really creates awareness about how even the smallest changes you can make as a company have a larger impact. We also see it as a blueprint for how the art world can band together for causes that are important to humanity.
AF: From the outset we wanted Gathering's ethos to encompass issues that are very close to our hearts. We see our work with both Embode and The Anti-Slavery Collective as opportunities to highlight their important work and to collaborate with exceptional people. We are currently developing a campaign of limited-edition graphic T-shirts coinciding with each exhibition, designed by the artists we will show. All proceeds of the sales will be going to our initiative with Embode.
Wallpaper*: Why did you choose Tai Shani for the inaugural exhibition?
TF: Tai Shani is an artist we have long admired for her contributions to contemporary art discourse and beyond. Her work and social activism are complex and fearless, and her values and ideas are clearly defined in her multi-disciplinary practice and in all aspects of her life and work. A former teacher at the Royal College of Art and joint 2019 Turner Prize winner, Tai is extremely well respected and admired in the art community.
AF: To open our gallery in London, the place we call home, with a British artist of her calibre, who has a strong social commitment and who has never had a commercial exhibition in the city before, expresses our vision in every possible way. Tai's practice revolves around experimental texts, fantastical images and sculptural works in which she re-imagines feminine otherness, building a world of cosmologies, myths and histories that confront established narratives which need to be challenged. An immersive other-worldly installation will be taking over our lower gallery floor and it will only be reachable through a screening of Tai's nine-chapter film The Neon Hieroglyph. A must-see experience for those who can make it to London this autumn.
Wallpaper*: Can you describe the architectural approach for the space, and why you chose Matheson Whiteley for the design?
AF: We wanted a space to mirror the challenging and ambitious programme we have planned. We are always looking to collaborate with people who can understand our vision and complement it. Matheson Whiteley have an incredible reputation with great projects under their belts, such as Studio Voltaire and Thomas Dane Gallery.
TF: Jason Whiteley and James Bailey have inspired us with ideas that have shaped a unique architecture with raw, overlapping spaces and carefully designed suspended lighting structures. The existing space was stripped-out and renovated throughout, exposing the structural frame and revealing fragments of older walls and structural systems which have such a strong character.
INFORMATION
Tai Shani, 'Your Arms Outstretched Above Your Head, Coding With The Angels', Gathering, London, 6 October – 6 December 2022. gathering.london
Receive our daily digest of inspiration, escapism and design stories from around the world direct to your inbox
Harriet Lloyd-Smith was the Arts Editor of Wallpaper*, responsible for the art pages across digital and print, including profiles, exhibition reviews, and contemporary art collaborations. She started at Wallpaper* in 2017 and has written for leading contemporary art publications, auction houses and arts charities, and lectured on review writing and art journalism. When she's not writing about art, she's making her own.