Year in review: fashion features editor Laura Hawkins picks her top 10 posts of 2021
Wallpaper's Laura Hawkins reveals her top 10 fashion posts from 2021, spanning designer interviews, scene-stealing show sets, and innovations towards sustainability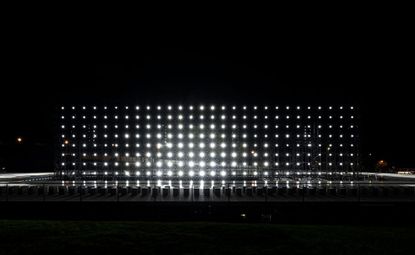 (Image credit: press)
Wallpaper* Newsletter
Receive our daily digest of inspiration, escapism and design stories from around the world direct to your inbox
Thank you for signing up to Wallpaper. You will receive a verification email shortly.
There was a problem. Please refresh the page and try again.
Settle back and take a sartorial peruse through the top 10 fashion posts of 2021, as picked by Wallpaper* fashion features editor Laura Hawkins. From major designer interviews to profiles of burgeoning brands championing diversity and cross-cultural narratives, celebrations of scene-stealing runway show design, to the think tanks pushing for sustainable approaches to fashion, our leading stories of the year are expansive in their subject sweep. Here, innovation, celebration and imagination collide. Scroll down for this year's top 10 fashion stories (in no particular order).
Top 10 fashion posts of the year
01. Fendi's Silvia Venturini considers fashion, family and the future
In February 2021, we sat down with the third-generation matriarch of the Fendi family to discuss the traditions and values that shaped her S/S 2021 womenswear collection – one that drew on both the trappings and liberations born& of the first global lockdown in the wake of the Covid-19 pandemic. Fendi designed the offering from her home in Rome; it abounded with bedding-inspired fabrications and protective, cocooning silhouettes. 'Lace-embroidered bed linens reminded me of Karl Lagerfeld,' she explained, referencing the designer who worked as creative director at Fendi for 54 years, until his death in 2019. 'He had a big collection.' Soon after, she handed over the creative keys of Fendi's womenswear and couture lines to Kim Jones, returning to her role of artistic director of accessories and menswear.
02. Scene-stealing runway sets from S/S 2022 womenswear shows
After an 18-month hiatus, physical fashion shows were back with a bang across New York, London, Milan and Paris& for the S/S 2022 womenswear show. We rounded up the best runway sets and venues that stole the show for the upcoming season, from Saint Laurent's womenswear spectacular under the sparkling lights of the Eiffel Tower, to Dior's gaming-inspired show set at the Jardin des Tuileries in Paris, featuring kaleidoscopic roulette wheels, created in collaboration with octogenarian Italian artist Anna Paparatti. Other catwalk extravaganzas that caught our eye? Rejina Pyo's Olympic divers in London and Prada's time zone-spanning, continent-crossing runway shows in Milan and Shanghai.
03. Maximilian: 'I'm reclaiming iconic moments and references for the Black community'
With the lens through which we have traditionally viewed fashion now thrown wide open, the rise of the Manchester-born designer Maxmilian Davis couldn't feel more perfect, or needed. Davis, who only made his debut a year ago when he presented his inaugural collection with Fashion East, has quickly become a frontrunner in the international fashion circles for his sophisticated vision of Black elegance. Continually drawing from his Trinidadian heritage and family upbringing, while questioning a wider breadth of historical references along the way, Davis' multifaceted approach is consistently unified in visionary collections, his A/W 2021 offering being his second. Writer: Pei-Ru Keh
04. Nona Source: the deadstock resale platform pioneering circular fashion
Welcome to the warehouse of Nona Source, a new sustainability-focused digital platform that resells second-life fabrics at competitive prices. Launched in April 2021, it was incubated by LVMH's entrepreneurial innovation programme DARE. 'My idea was to create a platform that could connect designers with surplus fabrics or what I call "sleeping beauties",' says Romain Brabo, one of the three founders of the company, who is also its ready-to-wear industrial and operations manager. Nona Source doesn't just allow eco-minded brands to work using a second-life materiality model, it also gives them access to the highest quality fabrics, like cloudy cloque in a delectable peach, a gauzy seersucker with vivid jacquard flowers, an undulating floral lace, a wool and silk Prince of Wales check in bold blues and reds, at a reduced cost. 'This isn't about profit, it's about supporting creative communities,' Brabo adds.
05. Photography series captures London tailoring designer's lockdown lethargy
In July 2021, London-based fashion designer Ester Kubisz collaborated with longtime friend Barbora Mrazkova on a sartorially led photography series, titled Artist Is Incognito, illuminating the lethargy of life in lockdown. The visual diary captures a faceless model in various positions around Kubisz's home: slouched over the soft arm of a sofa; lying at the top of a carpeted staircase; performing yoga positions; head slumped in boredom on a writing desk. 'The inspiration was based around the idea of being inside for so long that you don't know what to do with yourself,' Kubisz explains. 'It's like a little mosaic of thoughts and feelings gathered over the past year or so.'
06. Meet Hugo, the digital alter ego of photographer Till Janz
The photographs that form a cover and fashion shoot for our September 2021 Style Special issue read as ordinary snapshots of two housemates messing about at home. Except that the home is a spectacular concrete monolith, dotted with icons of furniture design; the housemates wear A/W 2021 Gucci and Balenciaga to eat breakfast, Fendi to arm-wrestle, and Bottega Veneta to take selfies; and one of the pair, his lips full and luscious, his brow and cheekbones razor-sharp, is clearly not human at all. The series is the work of photographer Till Janz, whose experiments in art and technological innovation led to the conception of Hugo, a magnificently antagonistic digital persona who has entered into this fantasy world explicitly to make Janz's life difficult. Writer: Maisie Skidmore
07. The Danish chef-turned-crochet designer you need to know now
'Copenhagen is so small and everybody knows everybody,' says crochet designer Lulu Kaalund. Like the Danish capital, where cultural disciplines such as food, fashion, art, design and music cross-pollinate, Kaalund herself is a creative polymath. Crochet was a second career she never envisaged. After four years' training at culinary school in Denmark, she landed her dream job at restaurant Relæ (a regular fixture on the world's top 50 restaurant lists until its closure in 2020). Then, five years ago, Kaalund had an accident that left her with severe concussion and unable to continue working as a chef. A friend taught her to crochet while she was recovering.
One of her first self-initiated projects was to crochet a baby blanket for friends, the model Emma Rosenzweig (formerly Leth) and artist Tal R. They were astounded with her gift and encouraged her to continue. 'Then it happened immediately,' she says of her professional metamorphosis. Three years ago, she started creating art pieces and wall hangings, as well as unique sweaters, tunics and dresses. Writer: Tilly Macalister-Smith
09. Dior and Peter Doig's painterly vision of contemporary craftsmanship
For A/W21, Dior menswear artistic director Kim Jones brought a sartorially-inclined lens to Peter Doig's oeuvre, zooming in on the bodies in Scottish-born, Trinidad-based artist Doig's paintings, which draw from a wide range of photographic and artistic references (boldly hued hockey players, spectral Napoleonic soldiers, fiery lions, and figures that nod to Rousseau and Cézanne), and transposing their silhouettes onto the catwalk. For the collaboration, Jones was fascinated with translating the surfaces of Doig's paintings, rich in layers of pigment, oil skeins and drips of paint, into intricate fabrications.
'Peter brought in a series of amazing watercolours,' says Jones. 'I thought they'd work really well in mohair, which would have the same sort of colour registration. He was in every single meeting and fitting and worked with every element of the Dior studio. We're still texting virtually every day, sending each other interesting things we've seen.' Added Doig: 'It was exciting and inspiring working within a team, rather than solo in my studio.'
09. Commission: 'Asian cultures have been deeply stereotyped for so long, we know when things look too dated'
Dylan Cao, Jin Kay and Huy Luong are the indomitable founders of the exhilarating New York-based label Commission, which debuts a standalone men's collection for A/W 2021. Fashion folklore has too often ignored the experience and aesthetics of first-generation immigrants and so, with the trio's rigorous celebration of their mothers' 1990s corporate glamour, Cao, Kay and Luong are broadening the lexicon of style.
Everything Commission does is informed by imagery from films, books and street scenes collected over time. 'We wanted that to serve as a backdrop to this disintegration of this perceived formality of the Asian male archetype of the 1980s, while playing into it a little but through a modern lens. With a hint of sexual confidence,' they say. Naturally they looked at themselves, too, when developing their first men's collection: 'What's still expected of us, how we should behave, how we carry ourselves – the way we want clothes to fit on our body.' Writer: Dal Chodha
10. Michèle Lamy, agent of change, on the artists to lead us into the future
As part of Wallpaper's 25th anniversary '5x5' project, which launched in September 2021, contributing editor Dal Chodha asked the co-founder of Owenscorp, artist, performer, agent of change Michèle Lamy to reveal the five creatives she believes can lead us into the future. Her top five? German artist Anne Imhof; artist Etel Adnan, a potent voice of contemporary Arab-American culture (who has sadly since passed away); coder Tameem Antoniades, co-founder of Ninja Theory, who works with neuroscientists on video games to help understand mental health; Argentine artist Tomás Saraceno; and LA-based artist Jordan Wolfson.
Receive our daily digest of inspiration, escapism and design stories from around the world direct to your inbox
Jack Moss is the Fashion Features Editor at Wallpaper*. Having previously held roles at 10, 10 Men and AnOther magazines, he joined the team in 2022. His work has a particular focus on the moments where fashion and style intersect with other creative disciplines – among them art and design – as well as championing a new generation of international talent and profiling the industry's leading figures and brands.