Etel Adnan obituary: 1925 – 2021
We remember Etel Adnan, writer, artist and pioneer in Arab-American culture, who has died in Paris aged 96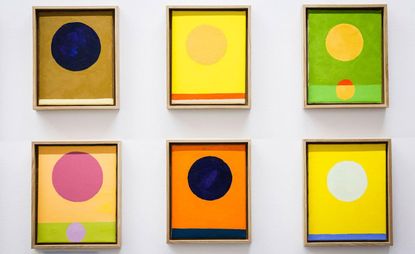 (Image credit: Photo by Tristan Fewings/Getty Images for Serpentine Galleries)
Etel Adnan, acclaimed writer, trailblazing artist and pioneer in Arab-American culture, has died in Paris at the age of 96.
Born in 1925 in Beirut, Lebanon, to a Greek mother and Syrian father, Etel Adnan started painting in the early 1960s. After studying philosophy at the Sorbonne in Paris, she moved to America in 1955 to pursue her education at University of California, Berkeley and Harvard. Three years later, she settled in California to teach philosophy of art and aesthetics at the Dominican University of California. She wrote essays, articles, novels, poetry and plays in various languages, including French, Arabic, and English.
Adnan rose to prominence in 1977 with Sitt Marie-Rose, a novel set before and during the 1975 – 1990 Lebanese Civil War, considered as one of the key examples of war literature.
When the Algerian war exploded, Adnan made a conscious decision to stop writing in French and identified painting as an alternative channel for communication. Her earlier visual artwork was refined and abstract, created by applying thick layers of oil paint onto canvases laid flat on a table. Heavily relying on bright colours and non-figurative shapes, Adnan's oeuvre has often been compared to the work of painters Nicolas de Staël and Paul Klee. 'Colours exist for me as entities in themselves, as metaphysical beings, like the attributes of God exist as metaphysical entities,' she would later say.
When she settled in California, Adnan began representing the natural environment around her. This move was partly prompted by a growing interest in Mount Tamalpais, which was visible from the windows of her home; she would draw and paint the mountain repeatedly, capturing its fluctuating appearance throughout seasons. This long-term endeavour resulted in the creation of Journey to Mount Tamalpais, a book she published in 1986, celebrating the connection between art and nature.

Still, painting only represented one facet of the artist's vast creative abilities. She was also known for vivid tapestries that captured her adoration for colour in a new medium, and her 'leporellos', striking pocket-sized pamphlets featuring drawings of distilled landscapes and passages of Arab poetry.

RELATED STORY
Throughout the last decades of her life, Adnan embraced a new creative process: instead of capturing subjects instantaneously, she began channelling memories, steered by the many different places she had called home throughout her life. The artist's most recent compositions include landscapes in which the horizon, sun, and sky are represented in a suggestive and conceptual manner, with orange-hued shapes recalling the distinctive light and shadows of her childhood in Beirut combined with the sun-drenched Californian countryside.
Adnan was an artist who rarely stood still; her prolific, wide-ranging and ever-evolving practice continued throughout the final decade of her life.

In 2012, she showcased her work at Documenta 13 in Kassel, Germany. In the years that followed, her work was the subject of various solo shows in international galleries and institutions including the Serpentine Gallery in London and the San Francisco Museum of Modern Art. In 2014, she was awarded France's highest cultural honour, the Ordre de Chevalier des Arts et des Lettres.
For Wallpaper's October 2021 25th Anniversary issue, Adnan was selected by Michèle Lamy as one of her five creative pioneers. 'When I saw her work, I could not believe that I did not know her all my life,' Lamy reflected. 'You really have to read her writing to understand her painting…'
Her final, and ongoing show, 'Light's New Measure', at the Guggenheim New York (until 10 January 2022) captures Adnan's extraordinary creative and intellectual vision: one which maintained an unwavering commitment to chronicling social injustice while capturing the beauty of the natural world.
Politically and artistically, Adnan always engaged with her environment. Her varied and nomadic background led her to create work that defied cultures and disciplines to create a powerful dialogue between art and writing, humanity and nature.
Receive our daily digest of inspiration, escapism and design stories from around the world direct to your inbox