Remembering Phyllida Barlow (1944 – 2023): a titanic force of British sculpture
We look back on the life and work of Phyllida Barlow, revered British sculptor, educator and Hauser & Wirth artist who has passed away aged 78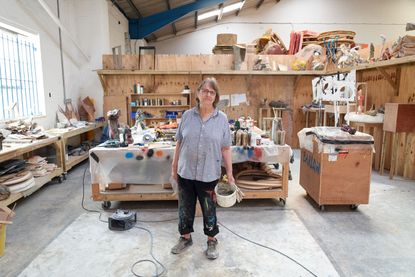 (Image credit: © Phyllida Barlow Courtesy the artist and Hauser & Wirth Photo: Cat Garcia)
Phyllida Barlow, one of the most extraordinary forces in British sculpture and arts education, has died aged 78.
During her 60-year career, Barlow reshaped British sculpture as it was known. Monumental yet anti-monumental, her ability to draw directly from her surroundings and transform humble into entirely new environments was unparalleled.
Barlow was born in Newcastle upon Tyne, England, on 4 April 1944. In the wake of the Second World War, she and her family moved to Richmond, London. There, her childhood was set against a backdrop of a city in flux, as London began to repair extensive bomb damage and rebuild its infrastructure and identity – scenes that would have a lasting impact on her work.
Barlow began her education at London's Chelsea College of Art from 1960-63, where she met her husband, the artist and writer Fabian Benedict Peake and studied under Anthony Hatwell and the more progressive sculptor George Fullard. Although her experiences at Chelsea (notably discovering an affinity with clay) sowed the seeds for her career, she found many of the male-dominated teaching methods restrictive.
After Chelsea, she enrolled at the Slade School of Art, where she first experimented with materials such as plaster, fibreglass and wood. After graduating in 1966, she went on to teach at a variety of notable UK arts institutions (including Bristol School of Art, Chelsea and Brighton) while pursuing her art practice in parallel. From 1988, she returned to the Slade, where she taught for the next 20 years, retiring to the role of emerita professor of fine art in 2009. During her tenure, she had a palpable impact on the then-emerging generation of contemporary sculptors, including Rachel Whiteread and Angela de la Cruz, Monster Chetwynd, Bill Woodrow and Eva Rothschild.
Barlow's primary point of interest was in the potential in the everyday. She repurposed overlooked, peripheral materials – including cardboard, plywood and cement – to execute high-impact installations that viewers could not only look at but be within. 'There's something about walking around sculpture that has the possibility of being reflective, like walking through a landscape,' Barlow once said. 'The largeness of sculpture has that infinite possibility to make one engage beyond just the object itself and into other realms of experience.'
Barlow's first breakout moment arrived in 2004, when she staged 'Peninsula' at the Baltic Centre for Contemporary Art. Another was in 2010, in a solo exhibition at Studio Voltaire, London, a staggering show that prompted curator Hans Ulrich Obrist to invite Barlow to exhibit at the Serpentine Galleries with Nairy Baghramian, which put her work on the international stage.
The same year, Barlow joined Hauser & Wirth gallery, with whom she went on to stage eight solo exhibitions and published three monographs, including the recent Phyllida Barlow, Collected Lectures, Writings and Interviews.
Says Iwan Wirth, president of Hauser & Wirth: 'Phyllida Barlow was a cherished friend as well as a visionary artist. Her ideas, knowledge, experience and wry humour were always shared with the most extraordinary warmth. Her generosity of spirit extended through her art, her writings, and her many years of teaching and mentorship. A truly thoughtful and companionable human being, Phyllida was a guiding light and inspiration to so many. Her loss will be felt deeply by all who knew and collaborated with her in the art community and beyond. Our thoughts are with Fabian and the wonderful family they created together.'
Barlow turned the inherent dullness of industrial matter on its head, injecting bold colour onto muted surfaces and breathing life into otherwise lifeless materials. Her mammoth sculptures often deployed crudely painted, childlike colour palettes, and were composed of awkward amalgams that induced awe and unease in equal measure, and defied both gravity and expectation.
Her installations were confrontational, intriguing, and owned a singular beauty in their ability to rouse thought, prompt the body to move, and urged us to look, and then look again.
Barlow's convention-shattering approach also extended to painting (a discipline she was encouraged to pursue by none other than Henry Moore back in her Chelsea College of Art days); she was a prolific painter throughout her career, yet still described her work in this discipline as 'sculptural drawings'.
By the age of 65, Barlow was an acclaimed figure in international sculpture. In 2011, she was accepted as a member of the Royal Academy of Arts (where she exhibited cul-de-sac in 2019) and was awarded the Art Prize Aachen in 2012. In 2014, she dominated Tate Britain's Duveen Galleries with dock, an intrusive, materially frenzied counterpoint to the austere neoclassical architecture.
Frances Morris, director of Tate Modern commented: 'Barlow's practice implicitly acknowledges that in a world saturated with objects, the role of sculpture and the job of the sculptor might be less about making things than generating a particular type of experience of the work, and of the world in which it temporarily resides.' In 2021, Barlow was awarded a damehood in The Queen's birthday honours list, which recognises outstanding achievements of people across the United Kingdom.
In 2017, Barlow represented Britain at the Venice Biennale. 'Folly' was a staggering and lauded achievement that took up every available inch of the pavilion and even spilled outdoors. The viewer became an explorer, encouraged to decipher the enormity of her sculptural labyrinth of columns and baubles.
One of her most recent projects saw Barlow crown London's newly remodelled The Audley pub in a zesty sky of collaged colour. The ceiling installation for Artfarm's first London destination has since become a defining characteristic of the storied institution. When asked about her approach to the installation, she told me: 'You've got to be as bold as you want to be and as free as you want to be.' And it's that sentiment of bold freedom that was at the essence of Barlow's vision – in her work, and in her progressive approach to art education. It led her to become an inimitable force in sculpture, a legacy that will be cemented for generations to come.
Barlow is survived by her husband artist Fabian Peake, their children Florence, Clover, Tabitha, Eddie and Lewis, grandchildren, and her siblings Camilla Whitworth-Jones and Jeremy Barlow.
hauserwirth.com (opens in new tab)
Harriet Lloyd-Smith is the Arts Editor of Wallpaper*, responsible for the art pages across digital and print, including profiles, exhibition reviews, and contemporary art collaborations. She started at Wallpaper* in 2017 and has written for leading contemporary art publications, auction houses and arts charities, and lectured on review writing and art journalism. When she's not writing about art, she's making her own.