Phyllida Barlow has us on the edge at the Royal Academy
The British sculptor's teetering site-specific installations open up new perspectives to the London institution's architecture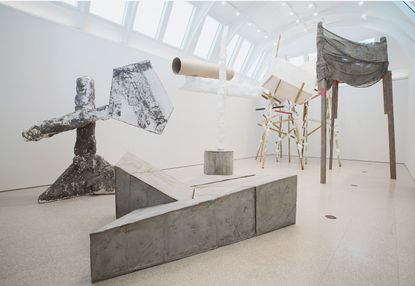 (Image credit: David Parry)
There is palpable momentum behind the sculptural force that is Phyllida Barlow. Her latest operatic aria for the Royal Academy, fulfils every expectation of the acclaimed British sculptor: master of paradaox, connoisseur of materiality and astute interrogator of space. All offset with her unique self-effacing, quietly-spoken charm. But within this soaring three-room sequence in cement, fabric, polystyrene and plaster, a new type of sculptural magic is afoot.

From the entrance, a linear trajectory unfolds as a figure of eight. Immediately, a flurry of stained canvas drapes, bustling like polychrome ghosts. Dusty reds, oranges, greens and yellows sing to a cheerful tune, the only hint of melancholy in their concrete bases; cold and tactile against the frayed fabric folds. Circling behind the canvas thicket the second masterpiece approaches: a treehouse or watchtower of sorts, asymmetric, three-legged, and unsettlingly top-heavy.
Derived from her lintel-inspired work, the spindly timber posts surmounted by concrete slab are here mammoth in scale, and strikingly pared back. 'After Venice, I wanted to break away from things getting submerged,' Barlow explains. She quotes Brâncuși's famous proposition: 'Why would you make a stool with four legs, when three will do?'. This is a the new era for the artist. Theatricality lives on, but her new sculptural agenda is one of expediency, simplicity and precision.

In the second room, space is compressed, 'like a ship in a bottle'. A tilting platform lowers our gaze, impaled with jagged posts like cranes legs stuck in the mud. In close quarters, a lumpy column of painted dull grey rises floor to ceiling, futile in its engorged proportions. Confusion and illusion rises – the metallic structure pierced with the apparent ease of cardboard, while beckoning the column into its empty concave form. Is this a reference to the ominous, sinister quality a cul-de-sac imbues for the artist? 'You get to the end and you're not sure how to get out. It is a David Lynch moment!'

Entering the cul-de-sac of the exhibition, absurd acts of balance reach new heights, literally. Three skip-sized boxes perch atop a rickety timber skeleton, seemingly fixed with no more than dabs of plaster and an upwards prayer. It wills us to climb up to see the view, but we must suspend all disbelief – the effect lies in our imagining, the equivalent of Méret Oppenheim's fur teacup. 'You are left in a state of obeyance,' says Barlow. Never before has a cul-de-sac seemed so psychologically charged, so geniusly irrational, nor so fantastically absurd.
INFORMATION
'cul-de-sac' is on view 23 February – 23 June. For more information, visit the Royal Academy website (opens in new tab)
ADDRESS
Royal Academy
Piccadilly
London W1J 0BD
VIEW GOOGLE MAPS (opens in new tab)