Paris Fashion Week A/W 2022: Chanel to Miu Miu
In this extended report, Wallpaper* updates you live from Paris Fashion Week A/W 2022 shows, with rolling coverage as runway events unfold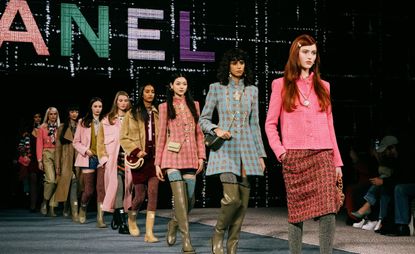 (Image credit: TBC)
The fashion week bubble – moving from city to city for a month – has been criticised for its insularity, herding a well-heeled community that travels from New York to London, Milan to Paris, taking in catwalk after catwalk of new clothing. Paris Fashion Week A/W 2022 began on Monday 28 February 2022, four days after Russian forces began their invasion of Ukraine, an assault led by Putin that, at the time of reporting, has seen more than 1.3 million people flee the country's borders and attacks on civilians in cities including the capital Kyiv, causing devastating loss of life.
For those attending fashion weeks and viewing them online, there's a discordance between posting and scrolling through images of extravagant, escapist clothing collections on Instagram, followed by shocking images of war. As the Paris shows began, Ukrainian fashion journalists, now refugees, and Ukrainian designers – including Lilia Litkovskaya, who had been preparing her show for the French capital before the invasion began, and escaped Kyiv via Poland with her two-year-old daughter – mobilised those around them to use their platforms to support and amplify the Ukrainian plight.
Fashion provides a fantasy, an escape, a salve, but also offers a socio-political reflection of the world around us. And so, just as Giorgio Armani marked the outbreak of war with a Milan Fashion Week show on 27 February 2022 in total silence, in Paris, Ralph Toledano, president of the Fédération de la Haute Couture et de la Mode, released a statement advising people to 'experience the shows of the coming days with solemnity, and in reflection of these dark hours'.
Hungarian brand Nanushka – which presented for the first time in Paris since the outbreak of the Covid-19 pandemic, and whose home country shares a border with Ukraine – announced its solidarity with its neighbouring country, partnering with the Hungarian Charity Service of the Order of Malta to provide accommodation, food, clothing and transport to those entering Budapest. Balenciaga – creatively helmed by Georgian national Demna Gvasalia – also wiped its Instagram feed, posting only a single image of the Ukrainian flag. The brand stated in the caption 'we will open our platforms in the next days to report and relay information around the situation in Ukraine.'
Meanwhile, the shows go on, and include a series of firsts. Among them is the debut Paris show of NYC label Vaquera, which brought voluminous shapes, 1980s bodysuits, profusions of sequins, tinsel and leopard print to the opening day of shows. The Row and Cecilie Bahnsen are also presenting runway shows for the first time in the French capital. And A/W 2022 marked a poignant high-fashion tribute show to Off-White founder Virgil Abloh – who passed away in November 2021 – walked by Cindy Crawford, Kaia Gerber, Serena Williams and Bella Hadid; poignantly, a male model held a white flag reading 'Question Everything'.

Here's everything you need to know about Paris Fashion Week A/W 2022, as it happens.
Paris Fashion Week A/W 2022:
Tuesday 8 March
Chanel
While enjoying rambling walks through the Scottish countryside, Gabrielle Chanel would collect sprigs of purple moss and minty bracken, which she would use as colour cards to inspire new designs. So explained creative director Virginie Viard of her starting point for an A/W 2022 collection brimming with vibrant colours. 'Devoting the entire collection to tweed is a tribute,' she said, honouring the native textile of the highlands, and of the jackets that Gabrielle would commandeer from her lover, the Duke of Westminster. This aristocratic country scene intersected with Viard's vision of England in the 1960s, a psychedelic youthquake of rainbow-coloured vinyl record covers, abbreviated hemlines and walking home from parties in the dawn mist. The upshot of these two contrasting happenstances? Thigh-skimming leather shift dresses worn with cable knit tights in teal and purple. Boxy neat skirt suits and jacket dresses worn with wellington boots. Some jackets were generously cut, hinting at the enduring 'borrowed from him' look whilst managing to avoid overwhelming models. At a time when geo-political affairs are front of mind, it felt like an affectionate doffing of the cap to some of the jewels Britain has to offer, from culture to nature, yet only nostalgically referencing moments from a pre-Brexit Britain. Tilly Macalister-Smith
Miu Miu
The cropped-jumper-and-skirt ensemble from Miuccia Prada's S/S show last season has become so popular it's garnered its own dedicated Instagram handle (@miumiuset). This season, she underscored its success, cementing the trajectory with a cropped-shirt-and-mini-skirt outfit, albeit this time, by way of the tennis court. Tennis skirts came pleated and worn low slung, shorn off or swishing about at the knee (like the one Miuccia emerged in to take her bow). Polo shirts were spliced with provocatively placed panels of lace; slouchy cashmere socks were worn with ballet flats or pin-heel slippers with plié-lean legs. Forever playing on concepts of youthful naivety versus adulthood, Miuccia paired tweedy prim overcoats with zip-up track tops; argyle sweaters with teensy-tiny hot pants. Embroidered and crystal-embellished sheer tulle dresses were exquisite and the most gorgeous counterpoint to motorcycle boots and flight jackets. Rows of sun loungers painted with imaginary creatures – the work of Swedish artists Hans Berg and Nathalie Djurberg – provided seating. A comment on the discombobulation of weather and seasons? Or a sympathetic seat for fashion editors who have been on the road for a month? TMS
Akris
Switzerland's University of St. Gallen backdropped Akris' latest collection, revealed via short film – specifically, SQUARE, the institution's new 'forum for the future of learning' designed by Japanese architect

Sou Fujimoto. The building's gridlike proportions were fitting for a collection that Albert Kriemler centred on 'grid and play', with colourful squares adorning the Swiss designer's exacting tailoring and handkerchief dresses – on some, prints were reminiscent of falling Tetris blocks – as well as across softer cocooning poncho knits and shearling jackets. These prints emerged as part of a collaboration with Reinhard Voigt, a German painter whose work reduces images to colourful open grids, an idea first inspired by a childhood preoccupation with his mother's cross-stitch patterns. Kriemler has also long been fascinated with shape and line, here manifesting in a collection which juxtaposes reduction and rigour with a feeling of softness, an opposition which has defined the designer's work at the label so far. 'Voigt once told me that his motive in art is raising the question, how far can reduction go without abandoning beauty?' said Kriemler, a statement which could just as easily be the raison d'être for his own work. JM
Lanvin
Lanvin's latest collection film began with one of Hollywood's most recognised symbols, Paramount's 'Majestic Mountain', crowned with stars – here, Paramount replaced with 'Lanvin' to introduce a collection which celebrated the illusory power of cinema. It made for perhaps Bruno Sialelli's most glamorous offering yet, mining Lanvin's historical association with after-dark decadence in a stream of looks which would be at home on dancefloor and red carpet alike. The designer offered Ancient Egypt and Art Deco as inspiration points, noting that the graphic nature of Egyptian art and architecture was reflected in Modernism's approach to design. As such, Art Deco style motifs appeared across the collection – whether in print, knit, fil-coupé silk, or hand-painted, each demonstrated Sialelli's painstaking devotion to craft (bead-work, washed cashmere and silk panné velvets added to this feeling of richness). An all-in-one riff on the tuxedo – slim-cut, wide-shouldered – was perhaps the season's defining look, the perfect opposition to a diaphanous bridal gown, edged with ruffles, which closed the show. JM
Monday 7 March
Louis Vuitton
If youth is wasted on the young, Nicolas Ghesquière wouldn't agree. His A/W 2022 collection was an homage to adolescence, and its accompanying naivety, optimism, introspection and wonder. Ghesquière, who turned 50 last year, borrowed early images from the photographer David Sims – who shoots big campaigns for the house today – in particular, some images Sims shot in 1993, right around the time Ghesquière turned 21, another coming of age. Sims' photographs of the models Ash Lewis, Tom Bowen and Emma Balfour appeared on T-shirts worn under dresses that seemed to evaporate at their edges. Slouchy trousers came in techno wools with a subtle trademark Ghesquière nautical button-front or a leather jock-fly front; shirts were worn with floral neckties; blown-up suiting included gigantic double-breasted overcoats and exaggerated shawl-collar jackets. On their feet, models wore hiking-workout hybrid sneakers. Although it was the first-ever fashion show to take place at Musée d'Orsay (impressive), there was no flashy theatrical set. It was the clothes alone that determined the attitude. To label this as 'boyish' or 'masculine' feels dated. It was powerful, direct, confident. And who wouldn't want that? TMS
Sacai
Chitose Abe is something of an anomaly in fashion. She is no enigma but certainly doesn't court attention. So it's remarkable to remember for a moment that Abe has been designing under her own name for well over two decades, relying not on her own social media presence or celebrity endorsements for her popularity, but brilliant considered clothes that continue to feel as relevant as ever. Abe is known for her signature splicing of garments, merging ideas together to create a sort of twofer. What she does so effortlessly is blend streetwear, everyday pieces, with a perfectionist's eye for fabrics – after all, this is the woman who has been sought out to guest-design Jean Paul Gaultier's haute couture line while simultaneously collaborating with Nike. For her return to Paris after two years spent in Tokyo riding out the pandemic, waists were nipped and hips exaggerated, as if in search of a couture silhouette. Billowing skirts in structured nylon had drawstring waists. A corset jacket (there she goes with the splicing of ideas) was cinched over a crisp white shirt. Giant puffer jackets morphed into neat shoulders; a floral printed dress was equipped with two enormous patch pockets. She explored scarlet in shearling jackets and enveloping cardigans – perhaps inspired by a new collaboration with Cartier, launching later this year. TMS
Sunday 6 March
Balenciaga
A few days before the show, Balenciaga wiped its Instagram feed of images and declared it was going to use its platform to highlight the invasion of Ukraine. To accompany his show on Saturday 5 March, Demna Gvasalia, born in Georgia, penned a personal message, leaving it on the audience's seats with an oversized blue and yellow T-shirt for guests. 'The war in Ukraine has triggered the pain of a past trauma I have carried with me since 1993, when the same thing happened in my home country and I became a forever refugee,' he wrote. He went on to tackle the precise tension that arises when fashion addresses politics. 'In a time like this, fashion loses its relevance and its actual right to exist. Fashion Week feels like some kind of absurdity. I thought for a moment about cancelling the show that I and my team worked so hard on and were all looking forward to. But then I realised that cancelling this show would mean giving in, surrendering to the evil that had already hurt me so much for 30 years… This show needs no explanation. It is a dedication to fearlessness, to resistance, and to the victory of love and peace.'
For a presentation titled '360° Show', a giant circular arena in Le Bourget Airport was transformed into a post-apocalyptic snow storm. A clear barrier separated the models from the audience, adding to the eeriness of voyeuristically observing the runway at a distance as models battled against the treacherous wind. Some wore high heels and fur coats, others leaned into the snow wearing only underwear and sneakers, as if caught off guard. Many dragged stuffed bin bags, albeit made in leather.
The set was originally intended as a comment on climate change, Gvasalia's premonition of a not-too-distant future where even weather is man-made (bringing to mind recent reports that the Winter Olympics snow in Beijing was made using water that was couriered in, against the backdrop of a city experiencing serious water shortages). But in light of the events of the previous week, it took on an entirely different meaning. Were the flashes of white light evoking an electric storm or explosions? A haunting, uncomfortable and urgent show. TMS
Valentino
Pierpaolo Piccioli is an undisputed master of colour and shape. His adroitness for serving up a complexity of complementary and unexpected shades is a thing of beauty to observe – an artist at work. In particular, he has a knack for creating monochromatic looks that feel entirely relevant, elegant and not at all like costume. This season, he leaned into this and delivered a collection so optimistic and artfully constructed that to have explored a spectrum of colour would have felt beside the point. Instead, it was almost entirely pink. Piccioli declared it a 'radical gesture'. The singular cerise hue – which is being added to Pantone's official roster under the name Pink PP, which was also the show's title – allowed the craftsmanship to cut through, whether in sculpted modern mini shift dresses, sharp overcoats, clavicle-revealing gowns or exaggerated platform shoes that were simultaneously elevating and grounding.
Douglas Coupland, the writer and artist known for his postmodern take on life (Generation X; Girlfriend in a Coma; Life After God), made a collectible boxed invite for the show, as well as a series of pink-on-pink text tiles that took over Valentino's Instagram, including the phrases, 'I miss my pre-internet brain' and 'Modernity is eternal'. What is the meaning of pink in all this? 'Love, community, energy, freedom,' said the brand. And on that note, along with Camera Nazionale della Moda Italiana (the National Chamber of Italian Fashion), Valentino has donated half a million euros to UNHCR in support of Ukraine's refugees. TMS
Kenneth Ize
In 2019, Ize presented an exhibition of looms at Copenhagen International Fashion Fair, featuring a reworked loom that was designed in collaboration with Nifemi Marcus-Bello of Lagos-based industrial design practice Nmbello Studio, created to be lightweight and portable. That is to say, Ize has consistently been a strong promoter of traditional Nigerian weaving techniques, in particular the hand-woven aso oke fabric of the West African Yoruba tribe, with its distinctive striped patterns. He has also opened a factory locally with 30 hand looms. He chose straightforward silhouettes to show off this approach to its fullest. A blazer worn with a split-front skirt, the weft left raw and flowing, opened the succinct show. Denim, velvet and knitwear also featured, hinting at Ize's desire to diversify, but the aso oke stripes felt entirely his own. TMS
Givenchy
Givenchy's creative director Matthew M Williams leaned on his musical roots for his seventh collection for the house. A former art director for Kanye West, Williams was part of the DJ collective Been Trill (along with Heron Preston, Virgil Abloh and Justin Saunders) before he founded his own line 1017 Alyx 9SM. Which says much about the leather leggings and baseball caps, band T-shirts, thigh-high boots and mini slips, and dramatic long trench coats seen here, that had a hard, dark spirit. Williams launched his first collection for Givenchy during the pandemic, and its influence was seen here in mask-like balaclavas and gloves (which have arguably become an evergreen part of our wardrobes). An emphasis on fabrics – leather, wools, flannel – and tailoring made intentionally 'everyday' pieces feel all the more special. TMS
Saturday 5 March
Ester Manas
Paris Fashion Week is not usually the launch pad for buzzy young names; London often takes that role, and increasingly New York, too. (The schedules in Paris and Milan are always packed shoulder to shoulder with punchy household power brands and important advertisers, leaving little room for much else.) No matter, the debut show of 2020 LVMH Prize semi-finalists Balthazar Delepierre and Ester Manas and their label, named after Manas, was fizzing with energy. Neon and pastel stretchy mesh and chiffon were ruched and pulled taught over gorgeous bodies. Cropped tops and dresses displayed sporty drawstrings and peek-a-boo cut-aways. 'Sensual and libertarian,' the duo said. At a moment when Nensi Dojaka (a fellow LVMH Prize entrant; she won in 2021) is forging a delectable new kind of sexy for all body sizes, the audience's appetite is whet for this. Worth noting, Ester Manas only produces its clothes in one size, using stretch materials to ensure a versatile fit, and invites customers on its website to get in touch should they want to know more about its ethos and approach. This kind of inclusivity and transparency has a real future. What's more, the pair studied in Belgium at La Cambre, the respected visual arts school, and between them share experiences from Balenciaga, Paco Rabanne and Acne Studios. That's some serious credentials. TMS
Hermès
The show notes for Hermès' collection read like a meandering narrative, intentionally ambiguous yet somehow familiar. The stream-of-consciousness story was penned by French film journalist and critic Philippe Azoury (several other brands this season have leaned on authors to provide a fictional context – Proenza Schouler on Ottessa Moshfegh, and Valentino on Douglas Coupland, for example) and led us on a journey of sorts. But, as enigmatic as the 'sphinxlike riddle' was, it didn't neglect to mention the clothes, among them: 'a loose-fitting, lichen-blue sheepskin reversible coat', 'a ballet-neck faience-blue jumpsuit', and 'an off-white silk leotard with a jabot collar'. The clothes were more revealing than perhaps Nadège Vanhee-Cybulski, artistic director of women's ready-to-wear, has shown before, but commanding with it. Icy cool neutrals and mossy autumnal shades met with glossy black leather that moved like liquid. There were micro shorts and over-knee socks, but given the Hermès filter, it all looked immaculate and grown-up. New handbags debuted asymmetrically placed pockets and hardware, and felt like a clever departure for the storied house. 'Where will we be heading tomorrow?,' Azoury asked in his text. Who only knows. TMS
Rokh
Rok Hwang eschewed any desire to implement or chase trends of any sort. Instead, he followed his nose for our current fascination with individualism – not his own per se, but the women who have been important in his life: his mother; sister; university professor (the late great Louise Wilson at Central Saint Martins); work colleagues and friends. He dedicated the collection to them, and each of their personal takes on dressing. It hinged on one item: the sneaker. With Hwang perhaps better known for his sharp and faultless tailoring, footwear was a surprising lynchpin of the collection. Less surprising were the iterations they came in – chunky; hyper dad outdoorsy; retro city commuter – and the accompanying clothes: knife-pleat skirts full of movement worn with sharp overcoats, tailored pants and monochrome shirt-and-tie combinations. Sneakers were also perhaps responsible for the sporty turn towards varsity colours. The power of sneakers to be able to change our mood, attitude, and outfit feels particularly of the moment. TMS
Friday 4 March
Loewe
Rebirth and chaos were top of mind for Jonathan Anderson when assembling Loewe's A/W 2022 collection. In thinking about a genesis, Anderson delved into primitive forms, stripped bare to reveal a touch of kink. An opening series of mini dresses almost seemed frozen in time with the swish of a skirt sculpted into the garments. Tactile materials, such as latex, shearling, 3D-printed fibres and tweed, imbued the collection with a surrealist quality as moulded lips doubled as breastplates, balloon-like bras and trompe l'oeil prints tricked the eye, waists on trousers were trimmed with shearling and form-fitting dresses highlighted the female form. Footwear was equally provocative, with silver-foil bows wrapping around ankles, oversized bead embellishments and ambiguous, leather-wrapped forms. The set for the show itself also evoked this surrealist state. Comprised of a square arena covered in brown carpeting that alluded to soil, the space showcased British artist Anthea Hamilton's Giant Pumpkins, 2022 – accurately scaled replicas of real giant pumpkins, typically grown for competition, crafted from leather and produced in collaboration with Loewe. Pei-Ru Keh
Issey Miyake
Issey Miyake embraced the virtual medium by releasing a film directed by Yuichi Kodama to unveil its A/W 2022 collection. Mirroring the collection's inspiration, the beauty of plants and their wild, unpredictable nature as they grow from seed to stem, the film artistically narrates a plant's life-cycle, starting off with garments laid flat on the stage and progressing to models stalking around and winding their way around an architectural set, as they make their way towards light. This metaphor of growth is equally evident in the garments themselves, which have been poetically grouped to emulate various forms and aspects in botany. From seamless, asymmetric rhizome-like dresses and voluminous, pod-like silhouettes to hand-dyed prints nodding to the cross-sections of fruits and vegetables, and a series of graphically painted coats that are inspired by plant growth, the brightly saturated collection is both wild and wonderful. PRK
Margaret Howell
The devil is always in the detail at Margaret Howell. This season, the label's signature approach to relaxed tailoring and elevated staples is renewed through the use of new fabrics, a warm and autumnal palette, and the introduction of rainwear and more practically-minded pieces, all designed for being outdoors. Separates, ranging from roomy shirts and knitwear to cropped trousers and utilitarian denim overalls, exhibit an ease of wear, while not compromising on craftsmanship and materials. The collection sees the debut of specially developed fabrics, including a new pinstripe design, redeveloped in a lightweight wool by longtime supplier Fox Brothers, which celebrates its 250th anniversary this year. A raincoat, based on a 1960s oil-coat style synonymous with fisherman and dockers, features welded seams for superior waterproofing and is available with matching PVC sou'wester and buckled rain boots. Elsewhere, heritage fabrics are teamed with new colours, such as an off-white corduroy from the British mill Brisbane Moss and a yellow ochre Harris Tweed, woven by hand in the Outer Hebrides of Scotland. With shades like plum, blackberry, rust and khaki peppering the rest of the collection, the offering has us feeling warm on the inside and out. PRK
Marine Serre
The Rem Koolhaas-designed Lafayette Anticipations, a multidisciplinary exhibition space, proved to be a fitting setting for Marine Serre's latest collection. Aside from the architecture, the presentation was staged within an exhibition by Serre that laid bare the label's processes of creating, producing and upcycling to manufacture its wares. On the second floor, an anthropomorphic diorama reinterprets well-known paintings from the 15th to 17th centuries with a Marine Serre twist. This view of the creative process served as a poignant prelude for the presentation. Named 'Hard Drive' after that equipment's ability to store and protect essential information, the new collection essentially compresses the label's signature ability to blur boundaries across the board into one supercharged distillation of what it does best. From crisply tailored suiting to sporty puffer jackets – similarly emblazoned with the house's now-iconic moon diamond motif – to a series of tartan pieces that nod to both Scottish heritage as well as heavy punk leanings, the collection's equitable embrace of multiple representations conveyed a liberated feel. Particularly impressive was a group of tattoo-print garments, ranging from second-skin catsuits to fluid dresses, each covered in the swirling print. Ancient yet universal, the print's significance felt intentionally left open to interpretation. PRK
Thursday 3 March
Coperni
A longing for the carefree nature of youth was apparent in Coperni's latest presentation, not least because of the unfolding political situation in Ukraine. A day before its show, the brand posted a statement on Instagram in a show of solidarity, dedicating its upcoming show to Cap Est Sarl, who produces its tailoring in Ukraine. Teenage rebellion and naivete were both on display on the utilitarian, square catwalk, which nodded to the spartan setting of an American high school gym hall, complete with rows of student lockers. Set to an indie sleaze soundtrack, designers Arnaud Vaillant and Sébastien Meyer reinterpreted school dress codes by transforming school blazers into capes and herringbone jackets into cropped tops, while recognisable prom dress silhouettes were realised in latex. The subversion of uniform dressing worked particularly well with the brand's provocative attitude, each ensemble a self-assured display of dissent and defiance. Finished with sculptural glass handbags, made in collaboration with the glass-making studio Heven, Coperni's A/A 2022 collection is brooding, light-hearted and memorable, all at once. PRK
Paul Smith
The rich, sumptuous world of arthouse and New Wave cinema provided the jumping-off point for Paul Smith this season. Inspired by the visionary directors who revolutionised visual imagery in film, the collection brings together dynamic prints, a highly saturated colour palette and luxurious textures to mirror the fact that we are all going out again. The collection particularly embraces femininity this season. Tailoring is slender and cut to outline the figure; dresses are cut on the bias again to make the most of the feminine form. A new trouser shape, slimline and highwaisted, features a subtle kick-flare for added oomph. Patterns and prints veer on the surrealist side, while presenting an optical quality with zigzagging lines on multiple scales and an energetic floral print that swirls and feels psychedelic. Never one to shy away from colour, Smith has paired the collection with a vivid palette of blues, reds and greens that recall the bright hues that arrived with the onset of Technicolor cinema. PRK
Chloe
There was no getting away from the climate crisis at Chloe's runway show. Set to stirring acoustic guitar music and a pulsating heartbeat-like bassline, the show's soundtrack made its sandy, desert-like setting more of an impending reality than a travel fantasy. Creative director Gabriela Hearst has been on a mission to transform what sustainable fashion looks like, especially at a luxury level. At Chloe, this means using 56 per cent lower-impact materials within its ready-to-wear offering and taking action through partnerships that support social enterprises and initiatives. (The house currently supports Akanjo – a Madagascan trade organisation promoting training and craftsmanship, the American quilting non-profit, Gee's Bend, based in Alabama, and the Indigenous Women Fellowship programme.) It's the latter which benefits from this season's Climate Success range – pieces that depict landscapes in climate catastrophes, such as melting glaciers, droughts and forest fires, realised as prints on clothing, intarsia knits and hand-painted on accessories. Beautifully rendered while laying bare the painful state of the world, the collection served up a multi-tiered reminder that the time to act is now. PRK
Rick Owens
Rick Owens' dystopian, futuristic aesthetic could not feel more of the moment. Staged amidst clouds of fog, which was maintained throughout the presentation by models carrying portable fog machines emitting a new fragrance created in collaboration with Aesop, Owens' consistently otherworldly vision seemed to encapsulate the delicate balance of contemporary times. Exaggerated silhouettes featuring prominent shoulders and elongated proportions were balanced by ethereally tactile fabrics, occasionally glistening with sequins, bestowing the collection with a sensual and almost alien-like beauty. Mantles, tunics and cowl necks exuded a gentle quality, while more protective layers like duvet jackets and parkas were rendered in recycled denim and python or trimmed in goat fur (sourced as by-products of the food industry). Equally captivating was Owens' choice of palette, which ranged from crimson, bright yellow and pale baby blues, to unexpected natural tones like dust, taupe and a pale, vein-like green. In his statement accompanying the collection, Owens' summed up, 'I have always found great comfort that in the history of the world, good has somehow always managed to triumph over evil. During times of heartbreak, beauty can be one of the ways to maintain faith.' PRK
Celine Homme
Hedi Slimane revealed his latest creations for Celine Homme by film. Titled Boy Doll, the piece was filmed in January by the creative polymath, who also oversaw its casting, styling and set design at the iconic L'Olympia Bruno Coquatrix music hall, one of the oldest cultural venues in Paris. Set to original music by the Swedish thrash-pop artist ShitKid, which Slimane also commissioned and co-produced, the collection featured many of the mainstays that the designer is revered for, albeit in updated, tweaked proportions. Jackets, whether biker-style and in leather or tailored and pinstriped, were oversized and boxy, as were trousers and jeans. The collection exuded a strong glam-rock vibe with plenty of metallic finishes, embellishments and fringe turning wearable staples, like T-shirts, hoodies and bomber jackets, into statements. Teamed with heeled, pointed-toe boots and large wraparound sunglasses, the collection exuded a strong adrogynous vibe. Always one to share the spotlight, Slimane collaborated with eight artists on the collection, including Banks Violette, who has been a recurring collaborator since 2007. PRK
Wednesday 2 March
Cecilie Bahnsen
Crumpled cloque, ruched tulle, quilted silk: the layered, complex materiality of Copenhagen-based Cecilie Bahnsens's designs was celebrated for the first time on the Paris Fashion Week runway. The designer placed the 1939 poem 'Night Wandering' by Tove Ditlevsen on the seats of guests (Ditlevsen's memoir series The Copenhagen Trilogy has just been released in one volume, to critical acclaim), and her models wandered in ethereal, delicate designs, like ballooning-bow detail dresses, quilted silk slips, transparent deconstructed suiting and layered petticoats, paired with tricky-terrain-ready scuba shoes. A saccharine colour palette – sugared almond green, icing white, candyfloss pink – was accented with bold cherry red (one of A/W 2022's favourite hues), emerald green and Klein blue. Laura Hawkins
The Row
Note to self: don't wear The Row's elongated silhouettes – sumptuous V-neck jumpers and exquisite white shirts with trailing sleeves – near dusty services. Although it's doubtful that the discerning customers of the brand – which moved from the New York to the Paris runway – spend much time cleaning. The label's latest offering revelled in exaggerated, romantic and even humorous flourishes that shifted away from the minimalist classicism the label is associated with – long pointed collars, high necklines in a profusion of tulle, draped shawl collars – which leant into Japanese avant-gardism and Old World glamour (note the pillbox hats and handbags held daintily at the elbow). In the brand's typically lean colour palette, blacks, whites and greys were complemented with khaki and pops of pillar box red. LH
Courrèges
Nicolas Di Felice used an aluminium can – shiny, jagged, soft beneath the feet – as a symbol of the juxtaposing elements that define the contemporary Courrèges woman. For Di Felice, whose vision for the brand aligns with club culture, clothing for partying, good times and escapism, the image of thousands of crumpled aluminium cans on the brand's Paris Fashion Week runway also evoked drinks tins squeezing underfoot on a club or festival floor. A/W 2022 ushered in an overt, evening-out seductiveness, featuring vinyl mini skirts (the skirt length of the season), clavicle-bearing tops, thigh-high boots and spliced leather trousers, in burgundy, black, silver and cherry red and orange. There's a sporty casualness to the Courrèges girl, noted in her insouciant out-out accessories: baseball caps, visor sunglasses and quilted outerwear. LH
Tuesday 1 March
Saint Laurent
Saint Laurent is on something of an anniversary high, taking over six museums in Paris, in celebration of its 60th anniversary. Anthony Vaccarello's A/W 2022 collection for the French maison also hit a high note, riffing on art deco aesthetics and the androgynous wardrobe of British writer, heiress and political activist Nancy Cunard, who battled racism and fascism. This translated into a fluid, sublimely sensual collection, in a restricted colour palette, revelling in black, chocolate brown, and silver, with flashes of emerald green, with an incredible ease and elegance. There were tuxedo suits that exposed the decolletage, draped shoulder-skimming gowns, square-shouldered pea coats paired with silk slips, leather trench coats with delicate tulle layers trailing below their hem, and a purist roll-neck dress paired with stacked bangles. LH
Dior
A wall of duplicated and cut eyes – staring from paintings by Italian artist Mariella Bettineschi, replicating canonical female portraits from the 16th to 19th centuries – watched guests gathering to see the A/W 2022 Dior show. The male gaze, in particular, has long fascinated Maria Grazia Chiuri, whose collections for Dior riff on female empowerment and reinterpret the house's liberating, silhouette-celebrating 1947 New Look silhouette. For the upcoming season, this translated into strong, sports-inflected silhouettes, which saw Dior's Bar Jacket reworked and deconstructed into American-football centric corsets, layered over delicate lace dresses and trench coats. Vivid motocross gloves were paired with capes, voluminous skirts and shirt dresses, biking jackets and boiler suits were juxtaposed against feminine floral prints and ginghams, and a modern insouciance seen in slouchy denim two-pieces, relaxed velvet tuxedos and soft coats in Cannage quilting. LH
Jack Moss is the Fashion Features Editor at Wallpaper*. Having previously held roles at 10, 10 Men and AnOther magazines, he joined the team in 2022. His work has a particular focus on the moments where fashion and style intersect with other creative disciplines – among them art and design – as well as championing a new generation of international talent and profiling the industry's leading figures and brands.