Yves Saint Laurent takes over six museums in Paris
In celebration of the 60th anniversary of the founding of the Maison of Yves Saint Laurent, six museums in Paris pay tribute to the late couturier, from Centre Pompidou to the Louvre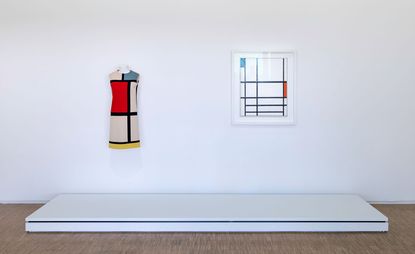 (Image credit: Helene Mauri)
Yves Saint Laurent may be most associated with the Left Bank of Paris, but in celebration of the 60th anniversary of the house's founding, six of the French capital's most prestigious museums are paying tribute to the creative legacy of the late designer, one who, after founding his maison when aged just 26, revolutionised the concept of ready-to-wear, fused the spheres of fashion and art, and popularised silhouettes now synonymous with the contemporary woman's wardrobe, from the Le Smoking tuxedo to the safari jacket.
The expansive, multi-location show, which moves between neighbourhoods including the 1st, 4th and 7th arrondissements, has been conceived and made possible by the Fondation Pierre Bergé – Yves Saint Laurent and encompasses six partnering institutions: Centre Pompidou, Musée d'Art Moderne de Paris, Musée du Louvre, Musée d'Orsay, Musée National Picasso-Paris, and Musée Yves Saint Laurent Paris. Each location, distinctly different in design, from the high-tech postmodern architecture of Richard Rogers and Renzo Piano's Centre Pompidou to the gilded Neo-Baroque of the Louvre, instigates a dialogue between Yves Saint Laurent's fashion designs and objects in the museum's permanent collection, pulling together a series of themes and subjects that span decorative and modern art. 'Yves Saint Laurent aux Musées' has been curated by Madison Cox, president of the Fondation Pierre Bergé – Yves Saint Laurent; Stephan Janson; and Mouna Mekouar.
At Centre Pompidou, the relationship between Yves Saint Laurent's creative output and 20th- century art is explored. Most famously, the designer created a shift dress in homage to Piet Mondrian in 1965, reinterpreting the abstract, colour-blocked shapes on a flat canvas into 3D fabric form. 'I believe the work of a couturier is very close to that of an artist. Indeed, I have constantly drawn a quality of inspiration from the work of contemporary painters: Picasso, Matisse, Mondrian,' he once said.
Centre Pompidou to the Louvre: Yves Saint Laurent takes over six museums in Paris
Inside the ornate Galerie d'Apollon at the Louvre, densely embroidered, rock crystal-festooned and gilded fashion and jewellery pieces are complemented by antique marbles, enamels, mirrors, cameos, ivories and a collection of Louis XIV's gems. The rooms of the Musée National Picasso-Paris analyse the relationship between Yves Saint Laurent and Picasso and the impact that Cubism and deconstruction had on his creative output.
'With age, my sketches become more and more spontaneous. I don't sketch a dress in a precise way: it is always in motion,' said Yves Saint Laurent. Like his revolutionary creative approach, 'Yves Saint Laurent aux Musées' exists in movement, spanning locations, neighbourhoods, decades and artistic genres.
INFORMATION
Yves Saint Laurent aux Musées: on view from from 29 January to 15 May 2022