Remembering Richard Rogers (1933 – 2021)
We celebrate the life and career of Richard Rogers, one of the most influential architects of our era and winner of the 2007 Pritzker Prize, who passed away on 18 December 2021 at age 88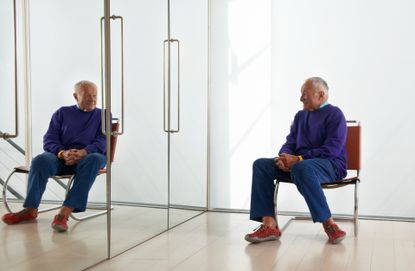 (Image credit: Tim Gutt)
As one of the most influential architects of our era, Richard Rogers had an immeasurable impact on the modern city. His studio brought artistry and elegance to everything from factories and warehouses to office towers, transforming the literal building blocks of architecture into their primary aesthetic expression. As a pioneering exponent of what became known as 'high-tech', Rogers and his peers realised the machine-age dreams of the first modern architects.

Born in Italy, Rogers studied at the Architectural Association and then Yale, where he met Norman Foster and Su Bramwell, later to become his first wife and partner, together with Foster and Wendy Cheesman, in Team 4 Architects, founded in 1963. After over a decade of experimental, pioneering practice, working mostly in industrial architecture, the studio fragmented, and the Richard Rogers Partnership was set up in 1977. The studio's first major work, the Centre Pompidou in Paris, came to define an era. Devised in collaboration with another titan of the new industrial architecture, the Italian Renzo Piano, the Pompidou was the most prominent of the five projects the partnership completed. Drawing on the spirit of 1960s experimenters like Archigram, the arts centre created huge floor plates of flexible exhibition space by pushing all its services to the exterior. The result was a jigsaw of coloured pipework and snaking escalators that stood in striking contrast to the historic fabric of the city.
Piano went on to set up his own Building Workshop in Genoa, but Rogers, it seems, was destined to go from one epoch-defining building to another. The next project on the drawing board was a new office for Lloyd's of London. Whereas Pompidou carried the loose fit legacy of 60s freedom into the 70s, the Lloyd's Building presaged the rather more strait-laced and venal qualities of the 80s. It was corporate HQ as power suit, adopting the Pompidou's infamous 'inside-out' qualities for the City streets, yet with a sober disavowal of colour; stainless steel and glass were the dominant materials. In the six years it took to build, technology barely had time to catch up with the vision and it opened in 1984, over-budget and highly controversial, but also undeniably brilliant. It was perhaps the first modern office building to capture the joy in detail that defined the great municipal buildings of Soane or Lutyens, swapping decoration for a delight in technology.
In 1986, Rogers, alongside James Stirling and Foster, had an epoch-defining show at the Royal Academy. This was the architectural equivalent of Hugh Hudson's cinematic war-cry: 'The British are coming!'. High-tech architecture was deemed the true heir to the legacy of the country's white hot technological revolution, a space age affirmation of the Dan Dare futurism that infused the post-war era. Rogers, however, never quite subscribed to his former partner's love of the machine. RRP's work was underpinned by a long-running obsession with urbanism and sense of social justice. Rogers' commitment to big 'm' Modernism was firmly rooted in the movement's socialist origins. Rogers had architecture in his blood. His cousin, Ernesto Nathan Rogers, was one of Italy's leading post-war architects and the creator of the 1958 Torre Velasca in Milan, along with his partners in BBPR. There has always been a broadly Mediterranean approach to the role of society, family, culture and space in the Rogers office. The practice's self-designed studios in Hammersmith were famous for being to adjacent to the River Café – co-founded by Rogers' second wife Ruth. The practice itself limits its directors' salaries to a proportion of the lowest wages, and there are generous employee benefits that have maintained a loyal, long-serving team.
For a while, Lloyd's' industrial aesthetic led to a run of genuinely industrial projects, with schemes for urban design thwarted by funds or opposition. Massively complexity bred specialisation within the firm, and decade-long projects became increasingly common as clients approached Rogers' team to untangle complex puzzles of urbanism and infrastructure. At the same time, the firm evolved a palette of materials, forms and colours, refining off-the-shelf components and developing their own bespoke solutions for the services and structure that shaped their works.At the pioneering, Philip Johnson-curated 'Machine Art' exhibition at New York's Museum of Modern Art in 1934, industrial objects like ball-bearings and springs were placed on pedestals and celebrated like shiny abstract sculptures. Perhaps this point of divergence – one path to streamlining and machine-made purity, one path to naked mechanical fascination – is what divides Rogers from Foster. The latter might be said to have more discipline, more desire to see the machine subsumed by the sculptural potential of new material; but Rogers, on the other hand, finds not just aesthetic purity in mechanical innards, but a freedom of space and function.
Inevitably, success has meant an increase in scale. From its inception, the Rogers Partnership has never baulked at grand projects. This has occasionally meant sticking his head up above the parapet and taking some political flak. It's widely agreed that RRP's Millennium Dome was the best thing to come out of the UK's flawed year 2000 celebrations, a vast structure that subsequently fulfilled its flexible brief. Despite other well-publicised spats – most especially with the Prince of Wales – Rogers inevitably became an establishment figure, living in a grand Georgian conversion in the heart of Chelsea, receiving a knighthood in 1991 and taking a seat in the House of Lords five years later. Baron Rogers of Riverside can still rile the industry, only these days it's the firm's broad portfolio – running from the Homeshell experimental pre-fab housing unit through to London's most expensive apartment building at One Hyde Park – that is sometimes at odds with its social conscience.
The practice's own democratic structure is undiminished. In 2007, Ivan Harbour and Graham Stirk became senior partners and the name was changed to Rogers Stirk Harbour + Partners. Rogers retired in September 2020, and his final project, the Drawing Gallery at Provence's Château La Coste, was unveiled in spring 2021. A small but spectaular building within an orange still frame that cantilevers out of a thickly wooded ridge, the building offered a powerful summation of the life and work of a visionary architect.
Experimentation and innovation are high on the agenda for Rogers Stirk Harbour + Partners. Housed in 122 Leadenhall in the City of London – the firm's own smartly designed spec office building, sitting over the road to the tailored perfectionism of Lloyd's – upcoming projects include Terminal 4 at Shenzhen Bao'an Airport, a distillery for Horse Soldier Bourbon in Kentucky, the Hammersmith & Fulham Civic Campus in London, and H-Farm, a library and auditorium at the heart of a start-up education campus in Venice. Rogers Stirk Harbour + Partners continues to offer a bold architectural vision.
Jonathan Bell has written for Wallpaper* magazine since 1999, covering everything from architecture and transport design to books, tech and graphic design. He is now the magazine's Transport and Technology Editor. Jonathan has written and edited 15 books, including Concept Car Design, 21st Century House, and The New Modern House. He is also the host of Wallpaper's first podcast.