New York Fashion Week S/S 2022: nine lessons and observations
Fashion brands are back with a bang in The Big Apple. Here's everything you need to know from New York Fashion Week S/S 2022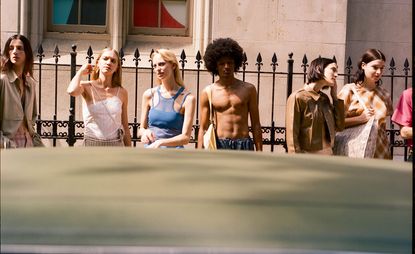 (Image credit: press)
The 'will it or won't it' of whether New York Fashion Week would happen while emerging from a pandemic was answered on the very first day: street style is back, traffic is back, and venues are back, back, back. So, what has the last year and half taught us? Nine lessons and observations from Fashion Week follow:
New York Fashion Week S/S 2022: nine lessons and observations
Family first, community is king
Know your audience. Literally. More shows than ever felt like a family gathering, a community bash of sorts. Eckhaus Latta, Maryam Nassir Zadeh and Collina Strada conjured camaraderie in the bleachers. What's more, many friends of the houses were called on to walk in the shows. Casting at Collina Strada included mother-daughter duos, best friends, lovers (in general, runways were positively populated with intersectionality). The show was a response to being physically distanced from one another: 'print on print, layers on layers'.
Maryam Nassir Zadeh's collection notes read 'Family / Community / People I love', and the show took place at her East Village store: a meeting spot for family, friends and the community. For his inaugural show, Peter Do brought his collective of designers out from backstage to take a bow together against the Manhattan skyline, sun glaring low over the glass skyscrapers.
Dreams of escape, visions of renewal
Wet beachy hair, glossy sunkissed skin, scuba vests, sports sandals, bags big enough to pack for a weekend away. Escape was travelling across many mood boards this season, albeit filtered through the lens of city life: as if we know we can't quite escape the daily grind just yet. Proenza Schouler delivered a highlight show of the week on Thomas Heatherwick-designed Little Island: 'A utilitarian wardrobe for the intelligent, adult, urban woman of today is filtered through the romantic lens of expedition and travel, rendered into a collection resolutely made for the city streets,' the designers said. Models wore handmade feather lei garlands (made by a Maui specialist) over their compact viscose-knit sculpted dresses and jacquard suit jackets in hot pink, yellow and sunset orange.
For Peter Do's debut NYFW show, he treated guests to a skyline view of Manhattan, staging his show across the water in Brooklyn. Further distilling a house signature, long lean ribbed jersey dresses worn over trousers were layered with perfectly cut boxy suit jackets. Pleated shirts billowed generously like sails; Swarovski crystal-covered jackets shimmered like the river behind.
Comfort the soul and senses
One of the most touching moments was Peter Do's handwritten press release; a love letter to his childhood spent cooking with his father, an army chef, where he likened making the collection to making a bowl of pho: 'Every weekend my father would make lots of food and invite the family and friends. On one of our weekends he taught me how to make pho. The process was long... there was beef, pork bones, spices, dry shrimp, rock sugar and other secrets. There was a process of burning onions over fire for the broth. It took lots of patience. A good pho doesn't need much, it is reduced and edited to an essence. It is comforting and it feels like home. In making this collection, it felt like the time I made pho with my dad. Welcome to our home: let us make you a bowl of pho.'
Elsewhere, Gabriela Hearst's best friend Paola Pravato, whose drawings were translated into prints in the collection, recalled the healing power of lavender oil, discovered during a challenging year in lockdown in Argentina, which inspired her to sketch.
Sensuality, magnetism, attitude
It's resolutely time to hang up the pandemic athleisure. Molten metal at Tom Ford; Khaite's crystal and ruffle mesh dishabille finale gown; Rodarte's racy lacey gowns – sex appeal is back. LaQuan Smith was once dismissed by FIT and Parsons, only to set up his own company making body-sculpting leggings and going on to dress Rihanna. This week he showed his glossy body-confident collection of patent leather, slippery satin, and luminous stretch on top of the Empire State Building. Instantly iconic.
The maker's hand
The hand of the craftsperson was felt urgently, irrespective of the breath of outcomes. Gabriela Hearst worked with Navajo communities, and collectives in Uruguay and Bolivia, producing expertly woven and knitted items in limited numbers. In contrast, Cate Holstein's highly polished modern city pieces at Khaite were realised using couture techniques, including invisible boning, horse hair layers, and intricate hand sewing. Vaquera's tongue-in-cheek punk-party-DIY equalled taped breasts, spliced neon T-shirts and lacy slips worn with little else (co-founder Bryn Taubensee took her bow wearing a skirt with a pair of knickers stitched on front and back).
Fashion as social enterprise
Collina Strada's Hillary Taymour chose the Brooklyn Grange 'not only to share New York's largest rooftop farm with our fashion family but also to encourage each of you to pursue a rooftop garden for your own living situation'. The designer included a draft template for attendees to send to landlords with the state protocols. 'We are in a crucial state of change right now and the more we do the more we can impact others to take action,' says Taymour.
Meanwhile, Tory Burch launched the Tory Burch Claire McCardell Fashion Fellowship at the Maryland Center for History and Culture. Additionally, earlier in the year, Studio One Eighty Nine designer Abrima Erwiah (who co-founded her brand with Rosario Dawson), who launched @fashionourfuture2020 last year to encourage people to vote, was named a CFDA Vogue Fashion Fund 2021 finalist.
America's heavyweights still pack a punch
Just days before The Met inaugurated its American-themed extravaganza, some of the biggest names in American fashion – both establishment and the more recently promoted – were proving their weight as global power players, broadcasting the message of American style far and wide. From the original guard of Michael Kors, Tom Ford and Carolina Herrera – who was celebrating her brand's 40th anniversary with AR gowns designed in collaboration with Tribute – to Thom Browne's couture-level creations; Tory Burch's tribute to Claire McCardell's free-spirited city clothes; Stuart Vevers' honouring of Coach designer Bonnie Cashin; and Rodarte's barefoot models in pastel tunics and slinky monochrome gowns. America's influence lives on.
Missing in action
Some notable names were absent from the Fashion Week calendar for various reasons. Amongst them, sorely missed Christopher John Rogers, who will show later off schedule; The Row already presented its S/S 2022 collection in July; Calvin Klein is taking a hiatus from runway; Tommy Hilfiger launched a buy now wear now collection with Romeo Hunte in late summer; and Ralph Lauren.
On the ascent...
Artist-turned-designer Carly Mark has been making characterful clothes under the name Puppets and Puppets for the past couple of years. This season she produced a collection 'teetering the line between hauntedness and hopefulness', exploring the tension of being not quite out of the pandemic, and yet not fully in it. Describing her brand as geared towards 'future thinking', it was one of the original, delightfully exploratory and playful shows. (Also worth keeping an eye on – Telfar's founder Telfar Clemens is launching a TV network, along with a new 'so hot you can't even hold it' handbag; it's cylindrical, btw).
Tilly is a British writer, editor and digital consultant based in New York, covering luxury fashion, jewellery, design, culture, art, travel, wellness and more. An alumna of Central Saint Martins, she is Contributing Editor for Wallpaper* and has interviewed a cross section of design legends including Sir David Adjaye, Samuel Ross, Pamela Shamshiri and Piet Oudolf for the magazine.