Milan Fashion Week S/S 2022: 'Fendace' to Ferragamo
Fashion Week returns to form in the Italian home of style and design. Here is everything you need to know about Milan Fashion Week S/S 2022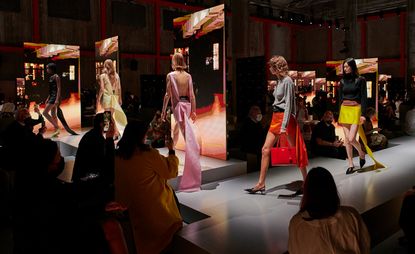 (Image credit: press)
Ciao from Milano! Mere weeks after Salone del Mobile 2021, the Italian fashion capital's show season is back with a bang, with S/S 2022 serving up IRL and digital experiences, from a host of behemoth and burgeoning brands, from Fendi to Andrea Adamo, Prada to Sunnei, across a plethora of landmark locations. It's been 18 months since Milan hosted such a bumper week of shows and presentations. Here's everything you need to know about Milan Fashion Week S/S 2022, as it happens.
Versace by Fendi – Fendi by Versace
Rumours swirled throughout Milan Fashion Week of a link-up between Italian behemoths Fendi and Versace. In an intimate show, the two labels unveiled an offering rich in maximalist motifs idiosyncratic of each house – Versace safety pins, chainmail and baroque Le Greca print, Fendi silk faille, double FF monogram and soft shearling – that featured not one collaborative collection, but two: Versace by Fendi and Fendi by Versace. In both offerings, designed by Kim Jones and Donatella Versace, brand signatures morphed into modern markings: the FF and Versace logos were reimagined as a double-branded print on a trompe l'oeil denim suit, a foulard silk bomber jacket, a shaved shearling trench coat. Fendi's 'Baguette' bag featured a Versace Medusa head clasp and safety pin details. 'Fendace is Fashion with a capital F – and a capital V. Together they stand for Freedom, Fun and Virtuosity,' read the Versace and Fendi show notes.
Gucci
Gucci forwent a fashion show, in favour of launching its latest project Gucci Vault, a creative-laboratory-come-online-space which boasts a range of limited pieces from emerging brands, plus pre-loved vintage Gucci items source by the brand's specialist in-house archvists. This digitial platform, designed to celebrate upcoming talent and the longevity of rare design, features collaborations with a host of global labels, including Stefan Cooke, Collina Strada and Rave Review and is impactful way for a luxury brand to create dialgoudes with other emerging designers. Says creative director Alessandro Michele, 'Vault is the place where wonders will hybridize and come together, giving life to new creations. Gucci's greatest gift, in the end, is to never stay the same; to never grow old.'
Giorgio Armani
Milan Fashion Week marked the 40th anniversary of Giorgio Armani's more youthful label Emporio Armani, a celebration inaugurated with the opening of the exhibition 'The Way We Are' at Armani Silos. On the final day of the season, Giorgio Armani presented an ode to sun-drenched escape, with a collection brimming with oceanic and sunset hues, featherlight and glittering fabrics, relaxed tailoring and embellished evening wear. Double-breasted blazers were paired with ballooning trousers, skirts swished with stripes, sportswear and gauzy gowns were imagined in the brand's signature greys. Asymmetric suiting shone in cornflower and magenta, cocooning skirts were swathed in abstract florals and waistcoats shimmered with beading. Escapist, ease-fuelled elegance.
Dolce & Gabbana
The Y2K spirit has swept the S/S 2022 catwalks (just look to Blumarine and Missoni). It's an era that Dolce & Gabbana dialled up for spring, with a collection brimming with optimism and energy, embellishment and exuberance. Wild animal motifs, camouflage, cascading crystals, baroque prints, chainmail, bright beading, metallic fringing – details for S/S 2022 were dazzling and dramatic, featured across voluminous puff-shouldered jackets, mini skirts, party dresses and cargo pants. Jeans were layered with 'Dolce & Gabbana' branded boxer shorts, LBDs were designed in lace and with lingerie details, and body suits were bold in their skin-baring cuts. Models strode a gleaming mirrored catwalk, strutting to the pulsing beats of Black Legend's 'You See The Trouble With Me'.
Salvatore Ferragamo
Salvatore Ferragamo returned to the historic Rotonda della Besana, where an interior was lined with geometric mirrored structures, designed to reflect the models and clothing on the catwalk. In a collection rich in texture, colour and summertime silhouettes that had an escapist, relaxed ease, Guillaume Meilland served up lean menswear looks, such as featherlight knitted T-shirts paired with relaxed suiting, and leather shirting paired with shorts, alongside womenswear ranging from plunging cotton sundresses, parachute-centric kaftans, zip-up playsuits and suede jackets. Bold tiger stripes, intricate knits and floral prints punctuated the collection, including a 1970s Ferragamo floral foulard repurposed by Parisian artist Julien Colombier.
MSGM
Designers have professed an enthusiasm for returning to Milan's cultural landmarks, among them MSGM's Massimo Giorgetti, whose brand is tied up with the typography of the city, and who showed its S/S 2022 collection outdoors in a park called the Biblioteca degli Alberi, or 'Library of Trees'. This was an offering of bold, optimistic and easy silhouettes, that referenced the carefree attitude of the 1980s in Milan, the fashion of Fiorucci, the tones of ice lollies and fresh smoothies, and the 'picnic posters' designed by Steven Frykholm for Herman Miller in the 1970s and 1980s for the company's open-air gatherings. Think flowing strawberry-print dresses, hybrid shell suits, Pointillist floral tailoring, ruffled shirts and slouchy denim, all paired with foam sliders or lace-up gladiator sandals with sporty ribbons.
Moncler MONDOGENIUS
For Moncler's latest Genius spectacle, featuring innovative collections from 11 brands, including JW Anderson, Palm Angels and Hyke, the label staged an immersive phygital live-streamed event spanning five cities: Milan, Shanghai, Tokyo, Seoul and New York. In Milan, guests watched from a film studio location, as host Alicia Keys appeared IRL, interacting with Shanghai host Victoria Song via a huge screen, and presenting 11 collection films, which were showcased one by one. Spanning territories and time zones and a plethora of individually minded collaborators, the event tapped into a global, digital and diverse perspective, acknowledging its worldwide audience. Collection film highlights included JW Anderson's collaboration with Luca Guadagnino for a film titled Veronica, and Solange's performance for Moncler 1952; the films were projected on screens in city squares including Times Square in New York City and Shibuya in Tokyo.
Ports 1961
'Short. Sharp. Strong', read the show notes that accompanied Ports 1961's S/S 2022 offering, a confident, assertive, rebellious and youth-focused collection, from stylist and creative director Karl Templer. Here, silhouettes were short –mini skirts came in supple leather and shimmering with studs; prints were bold – imagined as colourful splashes of graffiti, snakeskin and geometric panels; and accessories were emphatic – chunky, thick-soled ankle boots; and oversized basketball sneakers. Standouts include a leather trench coat laser-cut with ovular holes, and a bourgeois skirt suit – one of the archetypal silhouettes referenced in the collection – reimagined in black and white leather and thigh-skimming proportions.
Versace
Campaign star Dua Lipa dazzling on the runway, topless male models tugging on bell pulls from the sky, bold Versace silks billowing like flags in the breeze, chainmail, leather, neon, scintillating sex appeal – what more could you want from a Versace fashion catwalk show? After 18 months of standout collection films, the doyenne of drama Donatella Versace was back with an IRL bang for S/S 2022. Spring served up a vibrant, body-flaunting men's and women's offering, revelling in Versace signatures: cut-out tailoring securing with Crayola-coloured safety pins, draped dresses slashed to reveal glimpses of foulard silk, basketball vests and handkerchief tops paired with relaxed suiting, trench coats patchworked with the Baroque El Greco motif. Just like Dua Lipa's album name, a flawless blend of Future Nostalgia.
Prada
Prada's subtly subversive sex appeal is back for spring. Simmering seduction took centre stage at the label's first physical runway show since Raf Simons was appointed co-creative director of the brand in February 2020. In a digitally-minded, forward-thinking runway show, that saw two simultaneous catwalks presented at the Deposito space of the Prada Foundation in Milan and in Shanghai's Bund One, models sported duchesse satin dresses in orange, sorbet pink and neon green, which were opened to reveal a flash of flesh at the back. Mini skirts trailed a train of fabric, mannish white shirts were boned with corsetry details, pea coats slouched in distressed leather, and once conservative button-up polo shirts were moulded around the bust. 'Pieces trace ideas and outlines of dress – the memory of a train, the bones of a corset, the curve of a brassiere,' read the brand's show notes, of silhouettes that interacted with the body – reduced in structure and synonymous with seduction.
Sportmax
Motion has been on the mind for S/S 2022. Case in point: Sportmax, which looked to the creative interaction between composer John Cage and his longtime companion, dancer and choreographer Merce Cunningham, as inspiration. It served up a balletic collection, rich in fluid, draped and voluminous silhouettes, spanning nudes and soft pinks and bolder lilac and magenta. Taffeta dresses fell softly from the shoulder, corsets were imagined in delicate net tulle, jackets fastened across the body with soft bows, and chunky flatform sandals laced around the ankle with silk ribbons. Poetic and pretty, easy and elegant, contemporary clothing for life on the move.
Missoni
Sex appeal hasn't been understated for spring. Body-flaunting forms defined the debut catwalk collection of new Missoni creative director Alberto Caliri, who delivered bold, seductive looks which tap into S/S 2022's youth-focused insouciantly sexy mood. Torso-revealing knits and patchwork body suits, in Missoni's signature chevron stripes and colourful hues, were paired with slouchy denim, zig-zag and zebra-print weave dresses were daring in cut-out details and bikini tops were layered with oversized shirting. Fabrics glittered and the skin shimmered. Missoni's spring woman is prepped for a party en plein air, and she's anything but a wallflower.
Tod's
A sportswear-centric ease defined Walter Chiapponi's most sophisticated offering for Tod's to date. In a collection revelling in luxurious, naturalistic and bold tones, subtly space age padded jackets traced the contours of the body, decolletage-flaunting A-line dresses skimmed the thigh, and shirt dresses curved with balloon sleeves. Focus on fabrication and handcraft was key as cowl-neck T-shirts and cropped jackets were imagined in buttery leather, asymmetric blazers in dark denim, and mini-dresses, polo shirts and gently flaring trousers in colourful intarsia knits and with densely fringed details. 'Sartorial design and materials from jersey to the finest leathers are used to construct a wardrobe that has a desire for relaxation, but at the same time exalts good taste and quality,' read the brand's show notes.
MM6
For many, Fashion Week has offered the experience to reconnect with peers, and experience a sense of immersion within the creative scene. For S/S 2022, MM6 was inspired by the sense of people coming together in the bars and restaurants of cities, and the 'surreal, cinematic experience of seeing faces from different walks of life once again come together in the same place'. Bringing together notions of the familiar, exalted with aesthetic references to surrealist artists Claude Cahun, Leonora Carrington and Dorothea Tanning, models sported tuxedo suits paired with checkerboard sweaters and floating collars, sheer spider web-shaped dresses and balletic pleated calico skirts paired with optical body suits. Silhouettes draped and tied around the body, forms were deconstructed, leather-effect fabrics imagined in metallic and distressed tones, and accessories blown up to bulbous proportions, like Derby shoes with swollen soles.
Blumarine
A yearning for Y2K has been prevalent in recent seasons – noted in the body-con skimpy silhouettes and lingerie fabrics on the S/S 2022 catwalks. It's a The Simple Life-centric aesthetic made most explicit by Blumarine's Nicola Brognano, who was made creative director of the label in 2019. For spring, the brand served up a collection of candy-coloured, skin-flaunting, wispy silhouettes suitable for Gen Z It-girls everywhere, featuring denim hot pants, candy floss pink biker jackets, trompe l'oeil denim dresses, beaded crop tops and fur-lined cardigans. This look is unabashed, unapologetic and revelling in bad taste. If the butterfly-motif, crystal-sparkling accessories aren't enough for you, a pedigree dog is sure to set off the Blumarine silhouette. The collection's stylist Lotta Volkova had her poodle Dima backstage.
Emporio Armani
Emporio Armani is a brand emblematic of the city of Milan, and in the midst of its landmark 40th anniversary celebration. At the brand's Tadao Ando-designed Teatro Armani show space, a celebratory decade-spanning film opened the S/S 2022 catwalk show, charting Emporio Armani's impact on global fashion worldwide: its attention to tailoring, sensuality and style. For spring, Mr Armani imagined a desert adventure culminating in a colour-drenched oasis, with a men's and women's collection swathed in sandy hues, refreshing blues and jewel-tone greens and reds, featuring deconstructed denim and signature soft suiting, relaxed sportswear and embellished evening wear looks that sashayed down the runway drenched in beading and sequins. An exhibition charting four decades of the brand is housed opposite the Armani Teatro in the Armani Silos space, brimming with extensive historic imagery, archive pieces and an extraordinary sense of achievement.
Etro
In their out-of-office inspired, escapist attitude, brands are dipping across decades for inspiration. Cue Veronica Etro, who for S/S 2022, seamlessly blended the tropes of 1970s and 1990s dressing, with a collection of glamorous, insouciant, holiday-ready looks, swathed in embellishments ready to jangle on the shores of sandy beaches or on an open-air dance floor. To the transportative sounds of Moby and Massive Attack, models walked the catwalk sporting pieces riffing on bohemianism and sportswear, from floral polo necks paired with chainmail mini skirts, to slouchy denim sported with colourful crochet bras, sarong skirts teamed with cropped bomber jackets and fluid dresses revealing flashes of torso. Modern, soulful silhouettes made for an adventure-filled, glittering escape.
Boss x Russell Athletic
Baseball fans, buckle up. In celebration of their latest collaborative collection, Boss and Russell Athletic took guests to the Kennedy Sports Centre, where an immersive sports game-cum-catwalk show ensued. Cue guests munching on mini pizzas, ice cream and hot dogs and sipping beer from the bleachers as a brass band blared 'Eye of The Tiger', cheerleaders performed nail biting twists and turns, dancing popcorn and baseball mascots whipped up the crowd, and a smoke canister-wielding flash mob made their debut. The collection designed to knock it out of the park? An offering of sporty, varsity-inspired men's and women's silhouettes sure to drive Gen-Z wild, including check baseball jackets, bright jersey shorts, baseball-stripe crop tops, slouchy tailoring and puffer jackets. TikTok creator Khaby Lame, who has attracted 113 million followers in just 18 months, also made his runway debut.
Max Mara
Escapism has been high on the agenda for spring, and Max Mara's Ian Griffiths dived into the sun-drenched seductive pages of Françoise Sagan's famed novella, Bonjour Tristesse, written in 1953 by the then 18-year-old Françoise Quoirez under a pseudonym, reimagining the wardrobe of a stylish bourgeois rebel, holidaying in a secluded villa, tempted by casinos, speedboats and hedonistic exploits. This translated into a wardrobe of breezy, ease-fuelled pieces worthy of weeks on the Amalfi Coast and the Côte d'Azur, in sandy, sunburst, nautical, and deckchair shades – like striped boxy shirts layered insouciantly with mini skirts, modernist fisherman's smocks, workwear jackets, denim blazers and long vests, in denim, canvas, gabardine and poplin. The only accessories for a budding Beat Generation writer? A thin Alice band, chunky-soled Mary Jane sandals, slouchy shoulder bags and the concept for a sell-out literary classic.
Fendi
Kim Jones looked to the spirit of the Studio 54 dancefloor for spring, referencing Jerry Hall, Tina Chow, Pat Cleveland, Bianca Jagger and Grace Jones as inspiration. An abstract figurative illustration by Antonio Lopez formed the starting point of the offering – one which celebrated the creative circle of former creative director Karl Lagerfeld. This image was reimagined in intarsia leather, gleaming jacquards and engineered lace, tessellated across chubby fur coats, thigh-high boots, body-hugging mini dresses and gauzy silk gowns. The brand's optimistic disco-age offering, which also marked Jones' first live collection, was celebratory and joyful, also serving up silk suiting and fringed dresses in organic, metallic and exuberant hues. It's time to take your turn under the disco ball.
N°21
Shimmering sequins, frothy of ostrich feathers, voluminous folds of taffeta, gauzy layers of organza: the materiality of Alessandro Dell'Acqua's S/S 2022 show was idiosyncratic of N°21, a label that revels in glamorous embellishments and after-dark, boudoir-inspired tones, all offset with subversive sportswear and utilitarian twists. For spring, Dell'Acqua spoke of giving in to the temptation of design, flirting with couture techniques, intuition and hand work. Dresses and bomber jackets were imagined as chunky hand-woven knits, tailoring and athleisure tropes were juxtaposed with going-out pieces – think jersey crop tops paired with plumed wrap mini skirts and silk negligees emblazoned with varsity typography. Dell'Acqua is the master of bringing a relaxed contemporary ease to seductive dialled-up dressing. What could be a more fitting style mantra for 2021?
Jil Sander
Think of Jil Sander's S/S 2022 show as an ASMR experience for fashion obsessives, featuring a collection that revealed the sounds of crisp denim and textured leather, jangling sequins, swishing feather-light silk and tactile bouclé. Smocking, cording, padding and coating were all details noted in Lucie and Luke Meier's S/S 2022 offering, which drew on the duality of dressing, featuring graphic lines, diaphanous shapes and fluid forms. Deckchair-striped dresses were draped around the body, chunky crochet polo shirts were paired with loose denim, trousers sparkled with delicate floral sequins, and oversized suiting was secured asymmetrically across the frame. The designers also spoke of not taking themselves too seriously, an approach exemplified by details riffing on good taste, including tiger print and crystal embellishments.